It was 7pm and my 6-year-old was in the middle of her 20 millionth meltdown of the day. (Or at least, it darn well FELT like that many!)
I suggested she take a bath and get ready for bed—to which she responded like I had suggested we pull out some teeth just for the heck of it!
I looked at her tear-stained face and her giant, red-brimmed hazel eyes and had this sudden moment of clarity…
"Hey Quinn!" I said, with considerably more energy in my voice than I'd had a minute before. "You know what you need? A 'taking care of Quinn' night."
"A what?" she asked, perking up almost imperceptibly.
"Well, when I'm having a rough day, I like to take extra good care of myself at bedtime. I turn on some music… have a bath… maybe do a face mask… Would you like to do that? I always feel so much better after."
My daughter nodded vigorously.
So that night, we did almost exactly what we would have done had it been any other night: I gave her a bath and got her ready for bed.
But this time, we added a few special touches and really sank into the spirit of it, rather than rushing through.
I turned on some Enya (I mean, who else?!), lowered the lights, and gave her a palm-full of body wash, acting like it was liquid gold given to us by the Pharaoh's queen. I told her to lean back, relax, and think about the good things in her life.
(PS. There's something about watching your child bliss out to Enya that will just MAKE YOUR DAY.)
Twenty minutes later, she came out of that bath a different person.
Gone were the meltdowns and the life-is-so-unfair attitude. In their place? A warm-bodied, cheerful 6-year-old who went down for the night easier than she has in weeks.
A 20-minute dose of self-care completely turned my girl's night around.
I'd say I was surprised, but really? I wasn't.
I wasn't surprised because a dose of self-care does exactly the same thing for me. Give me a few intentional minutes of journaling, walking outside, soaking in a bath, doodling to music, or reading purely for fun and I am NOT the same version of me that I was just minutes before.
I've come to believe that self-care isn't about duration; it's about frequency.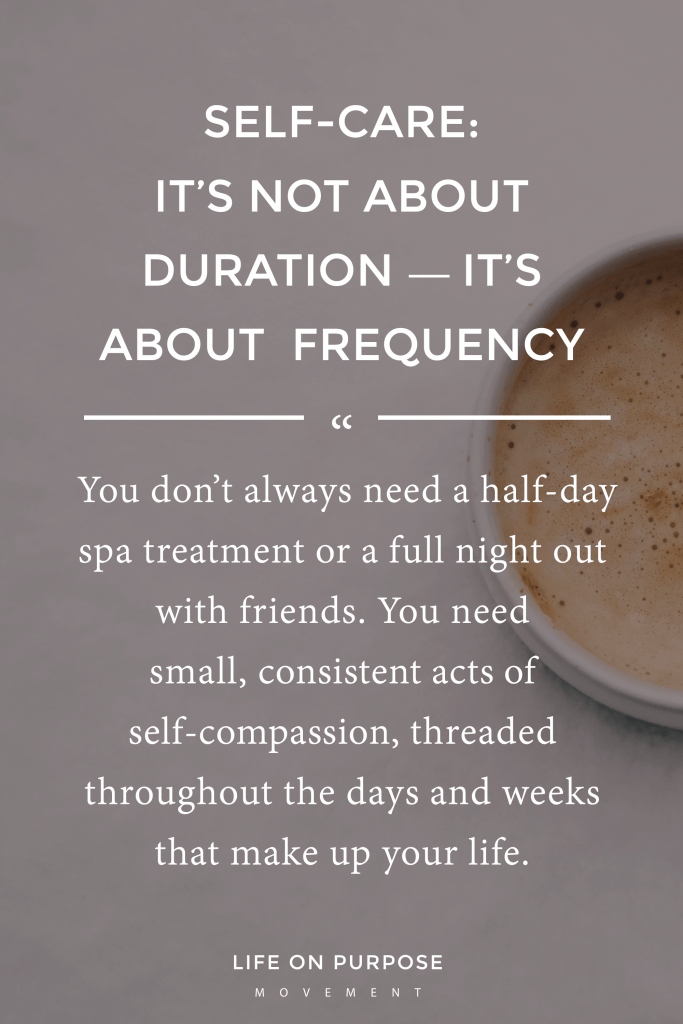 You don't necessarily need a 90-minute massage, a half-day spa-treatment, a full night out with friends, or a weekend away with your spouse. (Not that I recommend turning any of those down!)
What you need are small, consistent acts of self-compassion, threaded throughout the days and weeks that make up your life.
Three deep breaths.
A gentle mantra repeated in your head.
A 20-minute jog.
A hug.
A mindful walk around the block while on your lunch break.
Ten minutes of reading some quality fiction rather than scrolling on your phone.
A hot drink held in two hands.
Accepting your flaws while gently challenging yourself to grow.
Forgiving yourself when you've made a mistake.
Holding your self-worth above all else.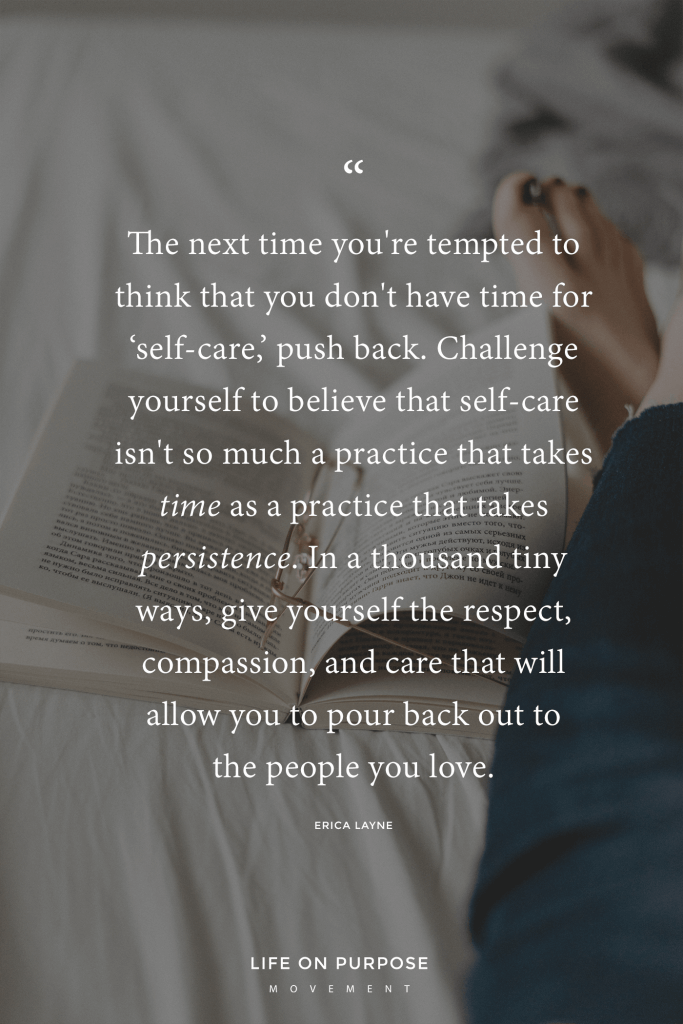 The next time you're tempted to think that you don't have time for "self-care," push back on this thought. Challenge yourself to believe that self-care isn't so much a practice that takes time as a practice that takes persistence.
It's a way of thinking—even more than it's a list of things to do.
In a thousand tiny ways, give yourself the respect, compassion, and care that will allow you to pour back out to the people you love.
xo,

---
Discover Your Purpose
One of the best forms of self-care that I know of is to uncover your purpose in this season. I'd love for you to download my free worksheet—
---
While you're here, I'd love to hear—What does self-care look like for you today? What is it that you need to offer yourself?