Today we're mixing things up with a Q&A episode! I answer your questions values and purpose, deciding when to volunteer, managing anxiety, my favorite quick weeknight dinners—and more!
As always, you can listen in the player at the bottom of this post or in your favorite podcast app, or read the Q&A right here. (And let me know in the comments what you think about this format!)
Terri: What is something you do to preserve yourself during times that maybe you are feeling overwhelmed, boxed in, super anxious, or even panicky? Anything that really 'saves' you when you are really losing it?
By far and away, the best thing I do is write it out. Most of my journals are not written for posterity. I always laugh in my head as I write and think, "I hope no one ever reads this," because I sound angsty!
But once I have written it all out, I immediately feel relief and I'm able to recalibrate, see common threads, and make some adjustments in my life that help me feel better.
For example, I recently noticed that my brain kept giving me a thought about my husband: "Why is he always so disagreeable?" I've always called my husband a pot stirrer. He loves to debate and enjoys getting people a little bit riled up, and he definitely does it with me.
I noticed I kept having this thought come up in my journaling. Once I had identified that thought, though, I was able to step back and think, "Is that thought serving me?" Through that discovery, I was able to work on letting that thought go and try to focus on the things I do love about my husband and our relationship—and focus LESS on that one little thing.
When you write out what you are feeling, you can look for those recurring thoughts—emotional clutter—that your brain keeps giving you that might be creating some of your angst, anxiety, overwhelm, or whatever it is you're feeling.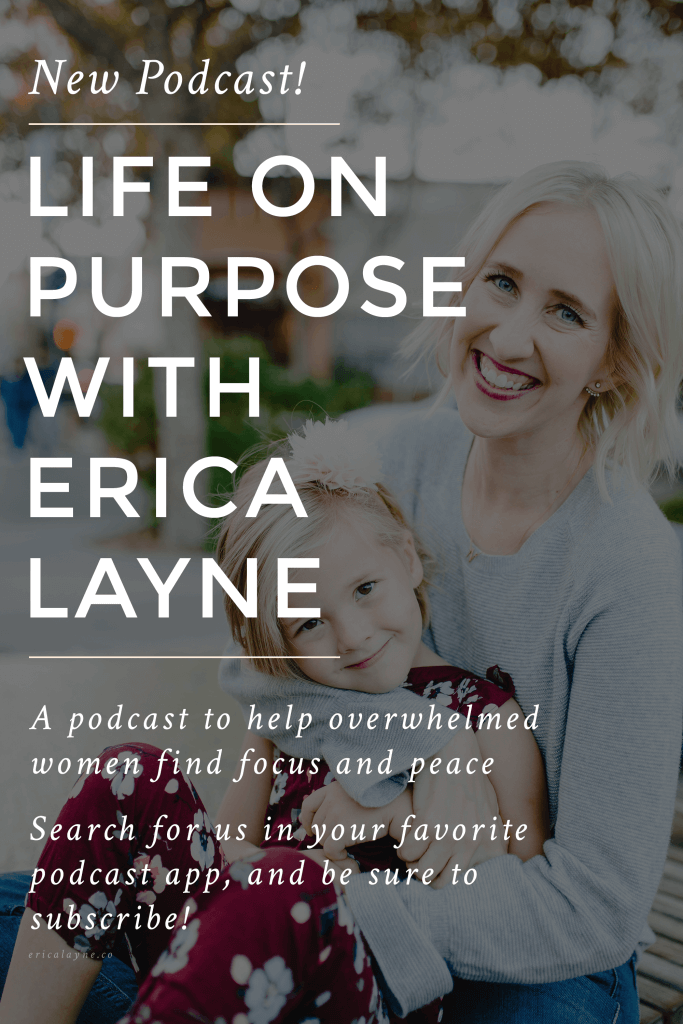 Colleen: Fave quick weeknight dinner?
One of the things I like to do that is quick and easy and offers a lot of variety is Burrito Bowls. Think of like building a burrito bowl at a place like Chipotle. You start with a base rice or lettuce. I love doing a lime rice, but brown, white, or Spanish rice are all great starting points.
Then you can add your protein like beans, chicken, or shredded pork. Then add your toppings. You can make it go Mexican in flavor with toppings like guacamole, pico de gallo, or fajita-style vegetables. Or you can go Greek in flavor with toppings like feta cheese and chopped cucumbers. I can make it a fun/fancy and put out a lot of toppings or we can keep it super simple with just a few options.
One of my favorite foodies to follow on Instagram is Lillie Eats and Tells. She has great cookbooks and many of her recipes have ways to repurpose the proteins.
Jen: How many volunteer commitments do you regularly do? How do you say no?
First of all I have to tell you, I'm fighting my own sense of not-enoughness as I answer this question, because I really don't volunteer much at all! I often – but not always – have one volunteer commitment though church, and that's about it!
I consider my kids and my work to be my greatest contributions to the world right now and I'm totally okay with that. To me those are beautiful and meaningful. I think a lot of time as women, we forget that raising our children is a contribution to the world. It's possibly the most important contribution we'll make through our lifetime. So, I don't want you to negate that. I want you to remember that if you are raising kids right now, that is something really beautiful and important.
As for the question on how to say no? Well, I do say no sometimes and I always encourage people to use as much honesty as possible in their "no." The reason I encourage people to do this is because it normalizes saying no, it normalizes the fact that you might have different priorities than someone else and that's okay. You can simply say "Hey, thank you so much for asking me, but right now my main focus is my kids and that's all I can commit to, but thank you again."
Or "Thank you so much for thinking of me. I'm really touched. I'm sorry, but I'm pretty overwhelmed right now and I'm trying to be careful about what I put on my plate. But thanks again."
Those kind of responses that tell a bit of your story and include an element of vulnerability can be so powerful because it gives others permission to do the same.
Of course, it's also true that no is a complete answer and you don't always need to give a reason. And that's totally okay. But I think sharing your authentic reason can be so powerful for others, so I always support that as well.
I shared more on this at Becoming Unbusy in my article, A Practical Guide to Saying No.
Erin: How can I get past my own sensitivities towards my kids helping, particularly in the kitchen? I want to have them involved, but I get overwhelmed with three extra "helpers" so easily!
My first thought is this: you don't have to! Just so you know, you don't have to like having your kids in the kitchen. You can find other ways to connect. One thing I do is tell my kids exactly where to be when they are in the kitchen with me. If they are wandering between the stove and the sink and the fridge and petting the dog, that is too much stimulation for me while I'm trying to cook. So, I will tell them "Hey, if you want to be in the kitchen right now, I need you to sit at the bar and you can talk to me from there."
Another thing you can do is try one kid at a time. Look at them like mini mom-child dates in the kitchen. I find that I can handle well one child at a time when I can have them sit at the counter with me and help with things like dumping ingredients into the mixer. That's much less stressful than having them all underfoot and moving around while I'm trying to cook.
Also, try structuring your days with blocks of noise & engagement followed by quiet & independence. So if you want to include the kids in the kitchen, bookend that with some quiet activities that don't require you to engage. I like to ebb and flow my day with high engagement activities where I'm with the kids and doing things like cooking together or working with them on homework, followed by quiet times where they are doing something independently like screen time or an art project or video. As long as I'm alternating between high engagement and then low engagement activities, my day goes much better and I can be a better person, mom, companion for everyone in the house.
My last suggestion is to talk yourself down. This idea is that what we tell ourselves IS our reality. So the more you build up the story in your head that you can't handle the kids in the kitchen with you, the stronger it's going to be. So just remember to try to hold that story loosely in your hands and to create your reality with your thoughts.
But ultimately, if you don't want your kids to be kitchen helpers, that's okay. You can find lots of other ways to connect. There is no one way to be a great connected parent.
More about parenting as an introvert here! Talked Out, Touched Out: Learn to Thrive as an Introverted Mom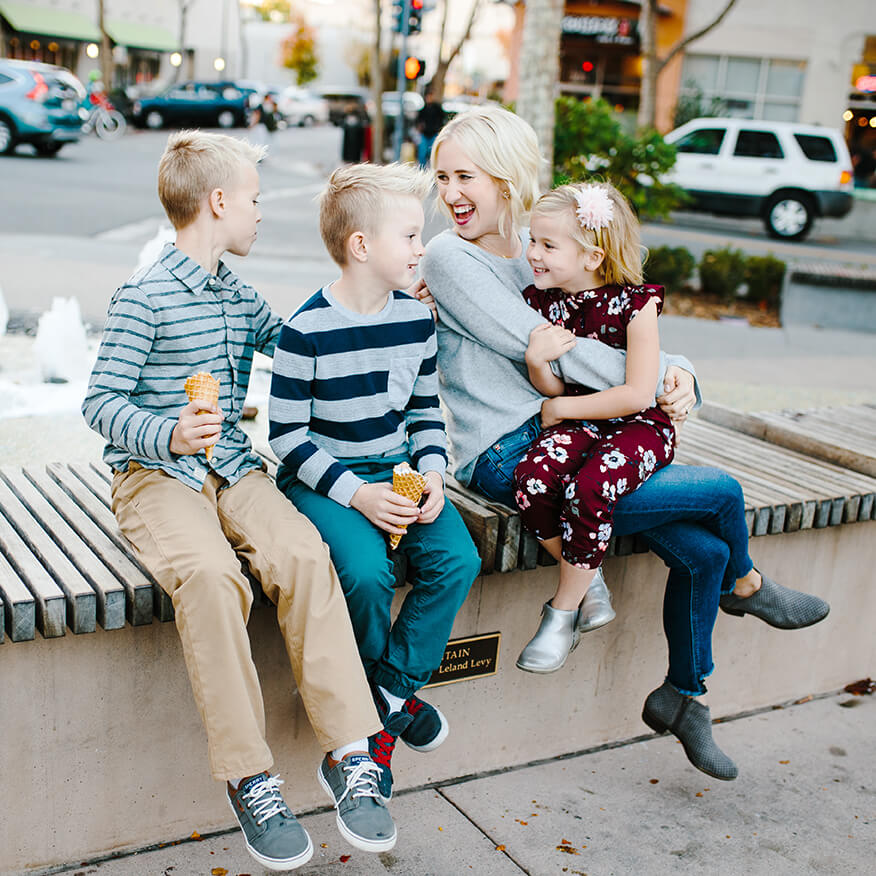 Kelly: Curious how to define and differentiate between values and purpose. How do they inform or influence each other?
I was just talking to my husband about how I feel pretty good about my life right now because I feel like it's in alignment with my personal values. My top three personal values are simplicity and inner-peace, authentic connection, and meaningful contribution. Those are the values I want to build my life on. I feel like they are intrinsically me and I feel the most alignment in my life when I am choosing activities and making decisions that are in line with me values.
Then there is purpose. If our values are our foundation, then I think of purpose as our outreach. What we are going to do with those values, how we are going to build on them. I think of my purpose as helping women believe that they are inherently enough. I get to do that in my work here at The Life on Purpose Movement as well as in raising my kids to believe that about themselves.
You can download my free worksheets, Determine Your 3 Core Values and 21 Questions to Discover Your Purpose to help you figure out your values and purpose.
Amanda: Houseplants are totally in right now and for many (myself included) "collecting" can turn into what seems like hoarding. What's your green thumb status? Do you now or have you ever grown houseplants and/or do you know anyone who spills over into this hoarding category with plants?
In the beginning of my book, The Minimalist Way, I shared a story about walking into someone's apartment and it was so packed with plants that you could barely move around in their living room and soil was pouring out onto the floor. So, I definitely think it can go a little bit far!
I have a few houseplants and some fake greenery throughout my house. I don't think there's a right or wrong here. That apartment that I walked into felt like too much, but it's really about whatever feels right for you! I think with any decision you're making, you should always check in with your values. If your amount of plants feels in line with your personal values, then you are good. But if you're like me, and simplicity is one of your top three personal values, you want to consider that when deciding how many plants to have around.
"notlostforever" : As a highly sensitive person, how do I not let others' emotions define me? How do I allow them to feel what they feel without absorbing them?
I struggle with this too! I'd suggest doing some reading on empaths. Empaths are a little different than highly sensitive people, though they are often correlated. Empaths really take on other people's emotions and that can be so heavy. This is my reminder to you that you can support a loved one without truly taking their burden on as if it is your own. That really won't help them, anyway. But they will feel your love and support.
This is something I am constantly practicing in my family, because I often want to take on my husband or my children's feelings. As a mom, I'm the one that receives all of their negative energy: their complaints, hurt feelings, moods about the day, things their friends or teacher said, and that can be really heavy for me. I constantly remind myself to let everyone have their own story and to try and stay centered in who I am and how I want to feel.
Becky: Do you have something you say to yourself/read/look at to orient yourself everyday? I'm looking for the perfect thing 🙂
I created The Authenticity Calendar for this exact purpose. I wanted to have something in my morning routine to better orient myself for the day, but I couldn't find exactly what I was looking for. I tried several different things and while raising my young children, I just didn't feel like I had time to sit and mediate or read a whole chapter. I created the calendar because it takes seconds to change each day's card and you get to read something inspiring and centering to start your day. So take a look at The Authenticity Calendar. It's on sale right now with a Buy 2, Get 20% off deal. Order by April 29 if you'd like to guarantee shipping by Mother's Day!
Another idea is a journal I've recently discovered. My friend Rachel of the 3 in 30 Takeaways for Moms Podcast created a journal called Flecks of Gold. I love it because it gives you space to just write a few sentences about your day, then the next year, you'll write your sentences for each day right under the previous year's, for a total of three years. So as you fill the journal out over three years, you'll be able to look back and see how life is changing from year to year.
Danielle: How do you settle on Core Values? I think I finally have mine figured out after trying different ones out over the last 6 months. However, I think they have changed dramatically for a few different reasons. How do you move forward and let your "True" Core Values shine?
I love this quote from happiness researcher, Dan Gilbert: Human beings are works in progress that mistakenly think they're finished. We always think that we have arrived, that who we are right now is who we really are and who we will always be. The truth is we are constantly changing, we are learning and growing and that's okay. It's part of life. If you feel weird about your values having shifted, I would encourage you not to! They don't have to be written in stone and they can definitely change as you change. I think that this just means that you are growing and evolving as a human and that is a beautiful thing.
---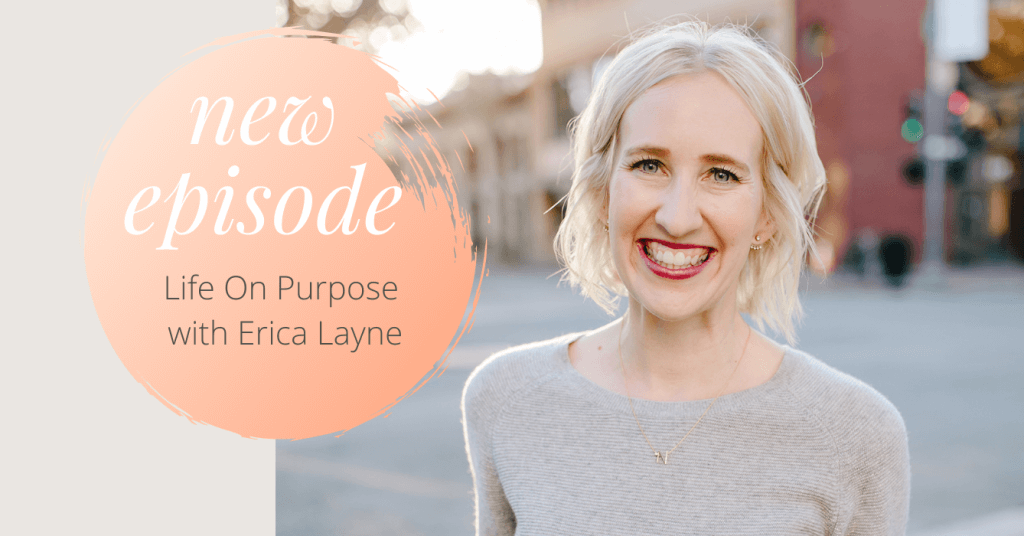 More from Episode 24 of "Life On Purpose with Erica Layne"
Here's what else you can hear in the latest episode of the podcast!
The Authenticity Calendar: My page-a-day calendar of inspiring quotes & affirmations makes the perfect Mother's Day gift! We're currently running a "buy two, get 20% off" sale. Order by April 29 to ensure they arrive on time.
Facebook Community: I would love to have you join my Facebook group Life on Purpose with Erica Layne, a place where listeners can continue the conversation and join together to help each other find more focus and peace.
Have a suggestion or comment? If you have a comment, suggestion, or question you would like to hear answered on an upcoming Q&A episode, send an email to podcast@ericalayne.co.
Listen to the full episode in your favorite podcast app, or in the audio player below! And be sure to hit subscribe!
Apple Podcasts | Google Podcasts | Spotify | Overcast | Stitcher | Amazon
I hope you enjoyed this Q&A! Would you like to see more episodes in this style? LMK!
xo,