I've struggled for most of my life with this recurring thought: "No one really sees or appreciates the things I do."
I can vividly remember venting this frustration, with tears filling my eyes, to a mentor of mine as early as my mid-teens. And it only became more pronounced when I started my career, got married, and had children. (Toddlers are not known for articulating their heartfelt thanks!)
But over the last few years, I've begun to recognize this internal narrative as emotional clutter. It weighs me down and creates resistance in my soul. It holds me back from focusing on the good.
And when I can let go of that thought, I feel SO much lighter.
Whatever your emotional clutter is, I want this for you, too.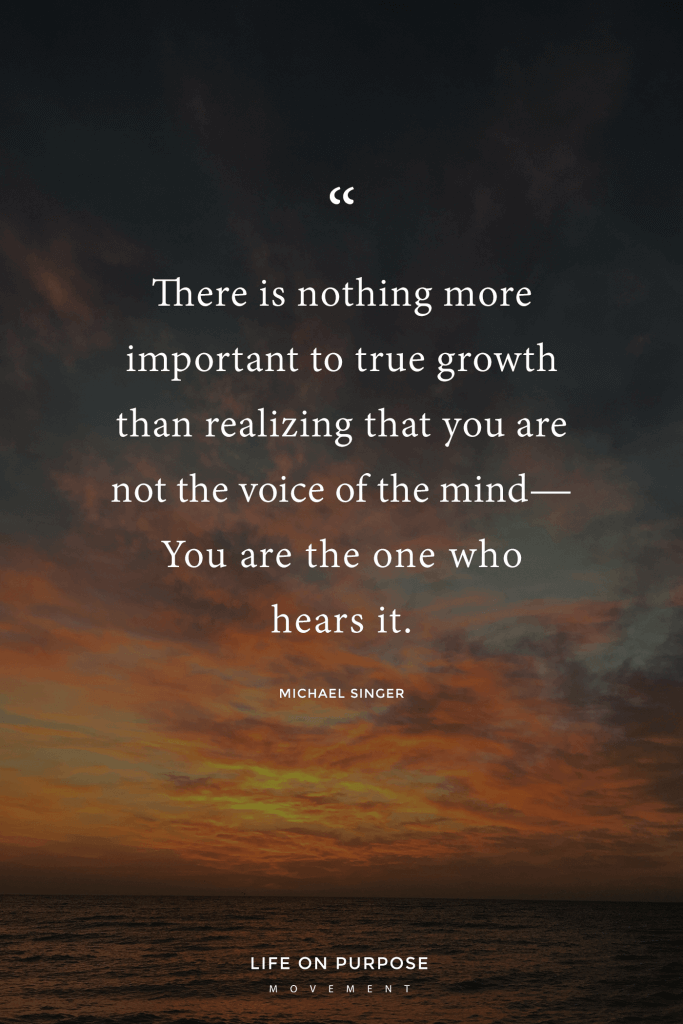 What Is Emotional Clutter?
How many of these thoughts have run through your mind?
"I should be more ______."
"I'm so overwhelmed."
"I can't handle everything that's on my plate."
"I'm not appreciated."
"I do everything around here."
"He should know how I feel."
"I'm a bad [mom / partner / sibling / friend]."
"I can't do this." (whatever this is, in your situation)
"My kids deserve someone better."
"I'm gonna lose my mind!"
"I have no self-control."
"I'm not [confident, successful, smart, or thin] enough."
These thoughts are what I call emotional clutter.
Emotional clutter is the persistent, negative thoughts we have about ourselves, our lives, and others.
Like physical clutter, emotional clutter weighs us down. But where clearing out your physical clutter can give you a sense of lightness and freedom…
Clearing out your emotional clutter will you give you that feeling a hundred times over.
Imagine if you could let go of or rewrite the most common negative scripts inside your head. Imagine how that would change how you FEEL on a daily basis.
The Problem Is…
The problem is… Your brain really likes those negative thoughts!
It's so used to thinking them that at this point, they might even feel like facts about yourself or the people in your life, instead of what they are—just thoughts.
Let's say you're on a hike.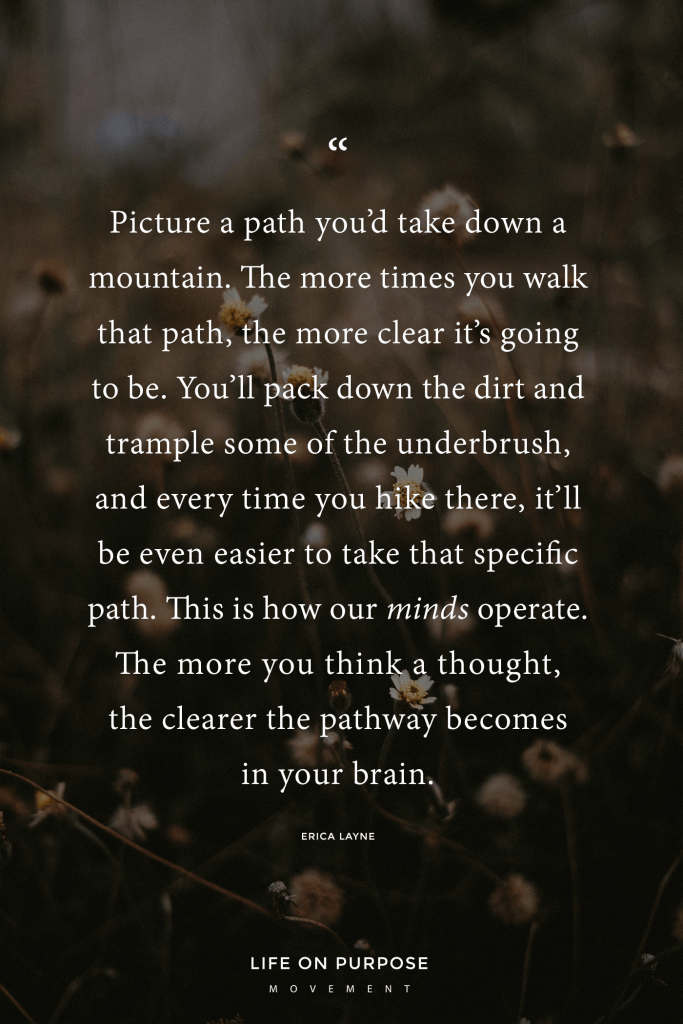 Picture a path you'd take down a mountain. The more times you walk that path, the more clear it's going to be.
You'll pack down the dirt and trample some of the underbrush, and every time you hike there, it'll be even easier to take that specific path.
This is how our minds operate.
The more you think a thought, the clearer the pathway becomes in your brain.
The great news is that with consciousness and repetition, we have the power to change those negative pathways. We can carve out a new path down the mountain. (This, I bet you already know, is called neuroplasticity.)
Next to pinning down my top 3 personal values this is some of the most important and most life-changing inner work I've ever done, and I'm so excited to share it here.
I've got 5 steps that will help you recognize and then clear out your own emotional clutter. (Be sure to check the bottom of the post for a printable worksheet/checklist you can use as you do this work!)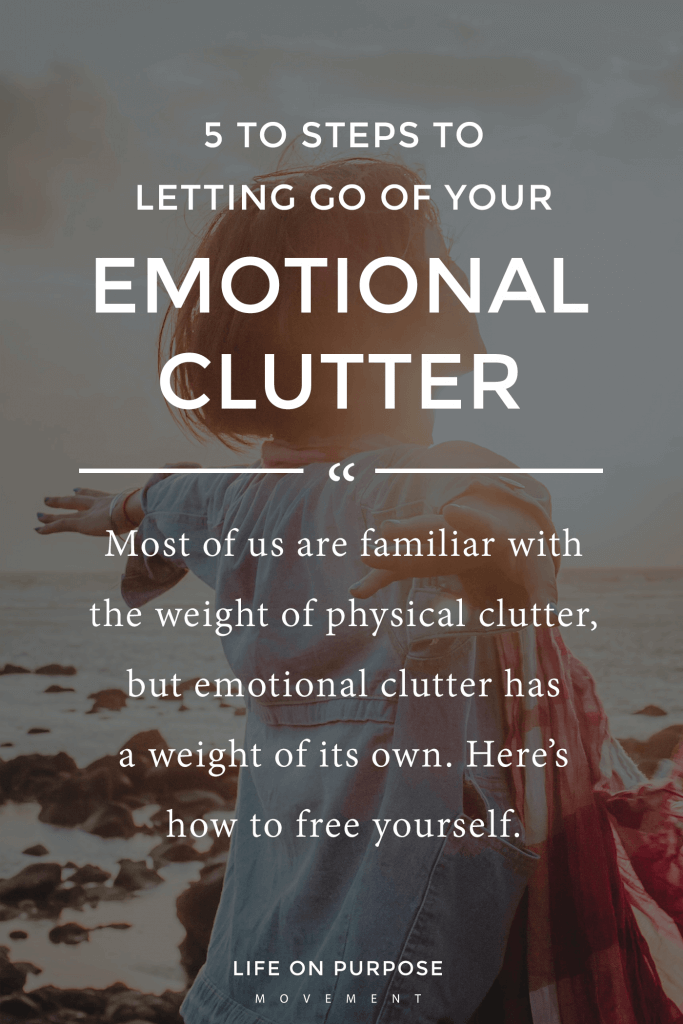 5 Steps to Letting Go of Emotional Clutter
Step 1. Identify your most frequent negative thoughts—your emotional clutter.
One of the best things you can do to SEE these thoughts is to pause any time you're experiencing a negative emotion. If you feel sad, stressed, overwhelmed, hurt, resentful, disappointed—anything!—stop right there and see if you can trace what you're feeling back to a thought.
Everything you feel starts with a thought. Not your circumstance at the moment or something someone did to you; it all starts with a thought about that circumstance.
Like I mentioned in episode 16 of the podcast, a lot of times it's the thought that something "should" be different than it is.
Someone should treat you a certain way. You should be able to handle everything that's on your plate, etc.
So step one is simply to start a running list of your negative thoughts—your emotional clutter—in a journal or the notes app on your phone.
Step 2. From that list, highlight ONE thought that regularly causes you to feel negative emotion.
As much as I wish we could take them all on at once, I recommend focusing on one at a time to really make progress clearing out your emotional clutter.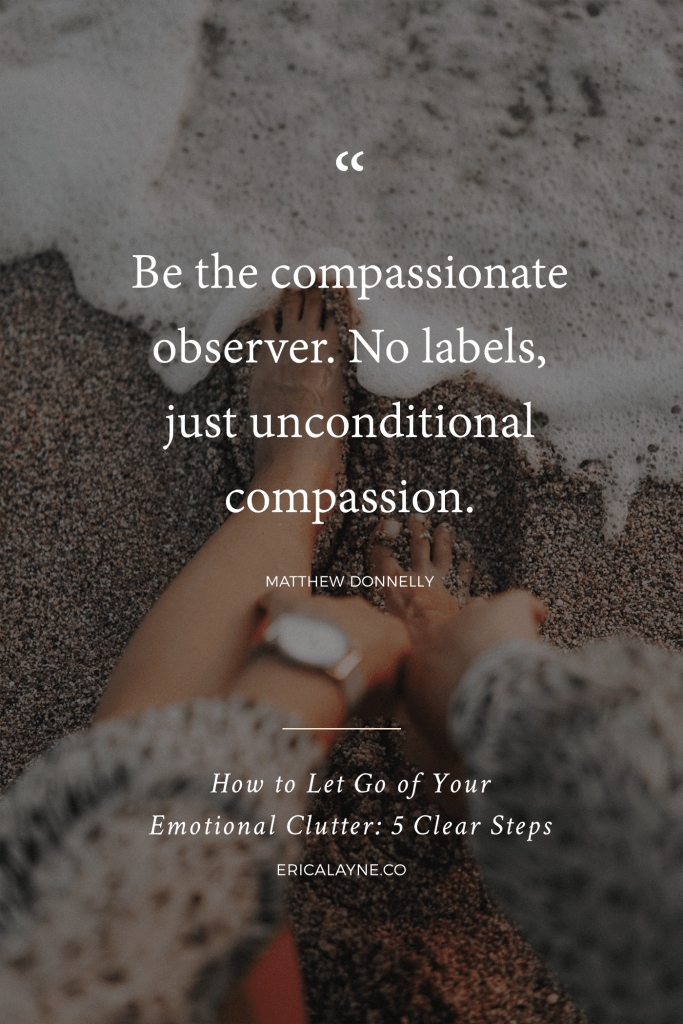 Step 3. Practice noticing the thought every time it crosses your mind.
Tip: You may not notice yourself consciously thinking the thought you've identified. Remember: your brain has taken this pathway so many times it might be automatic. So one thing that helps me is to look for the feeling that always follows the thought. I don't know about you, but I usually notice my negative feelings. 😉 From there, I can look at my list and see if one of those thoughts is at the root of what I'm feeling.
Step 4. Drop the thought altogether or shift it to a more positive alternative.
You don't have to believe everything you think. You can decide if your thoughts are serving you, and if they aren't, you can drop them!
Take, for example, the thought, "I can't handle everything that's on my plate."
Is that thought serving you? My guess is you've survived all of your busiest seasons in the past. I bet you can get through this one too—one day, one small task at a time. (Not to mention – there are usually ways to get some things OFF your plate and people who want to support you.)
What if whenever that thought creeps up on you, you shift it to, "I'm not alone in this, and I'm taking one thing at a time."
A couple of tips for writing your new thought:
(1) Always make small, believable shifts. If you try to jump to a thought that's 180 degrees from the original, your brain just won't buy it.
For example, it's a big leap to go from, "Nobody cares about me" to "Everybody loves me!" Instead, make a small, positive shift that you really believe, such as, "My family cares about me, and I care about myself."
(2) Keep the new thought as simple as possible.
I've done this exercise with a hundred students who've taken my course Declutter Your Life, and sometimes I see people write whole paragraphs to replace their old thought. Keep it simple. Edit it down. You want something your mind can easily grab on to.
Step 5. Repeat, repeat, repeat!
To replace the negative pathway previously carved in your brain, you'll need to create a new one. And the way to do that is by running the new thought through your brain over and over—and over again.
Consciously repeat the new thought loop in your mind every time the old one comes up. Write it in your journal every day. Say it out loud while you drive a familiar route, while you take a walk in nature, or while you look at yourself in a mirror.
Repeat it so much that your brain slowly starts taking this path—on automatic—rather than the old one.
---
Ready to Make Real Strides to a Kinder Inner Voice?
While you're here, download this printable worksheet so you can work your way through these steps and find relief inside your head. ❤️
---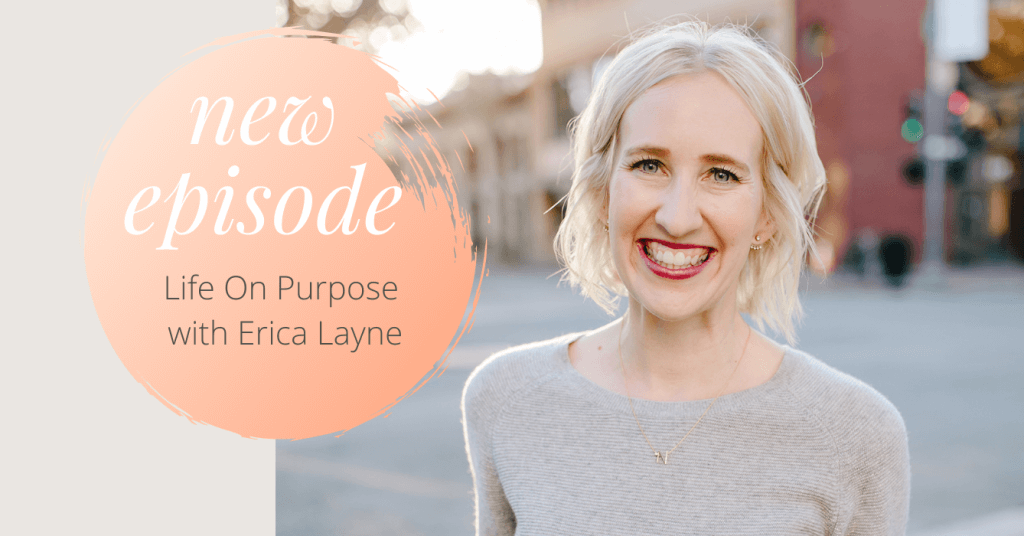 More from Episode 17 of "Life On Purpose with Erica Layne"
Here's what else you can hear in the latest episode of the podcast!
Try-On Session: A segment where I propose a new thought you can try on for size. Today we'll talk about the messy, in-between seasons of life.
I'd love to hear your old and new thought—and possibly share it on the podcast! Email me at podcast@ericalayne.co
Listen to the full episode in your favorite podcast app, or in the audio player below! And be sure to hit subscribe!
Apple Podcasts | Google Podcasts | Spotify | Overcast | Stitcher
Show produced by Callie Wright