I grew up with three siblings and four double cousins. My dad and my uncle (who were brothers) happened to marry a pair of sisters (my mom and my aunt), and each couple then had four kids.
It was awesome growing up because it meant that my cousins and I had the same extended family on both sides. We had the same grandparents and were at all the same family reunions. I swear I was 10 before I realized that my other cousins had different cousins than I did. 😉
As kids, on one side of the family, we often heard the family motto "Williams are workers." On the other side, we come from a long line of incredible hostesses.
Gathering after family gathering, year after year, we watched our moms and aunts and grandma cook dinner, serve dinner, and clean up dinner.
They're the kind of women who offer you something to drink the moment you come in and offer you candy or pie — or the seat closest to the fire — until the moment you leave.
Meal prep often started days before a family gathering, and my mom, aunt, and grandma barely sat down until every dish had been washed. If you looked around the house after the last guest had finally been hugged goodbye, you'd barely even know that twenty-five people had been there most of the day.
These women I come from? They thought of it all.
So naturally, that desire to keep moving and tending and serving is in my blood.
I remember especially in my early years of being married that if my husband walked into the house from work and found me sitting down, I'd feel this deeply-held impulse to jump up and look busy.
I still feel it sometimes.
But I fight it, because I believe in rest.
I'm coming to believe that my worth isn't based on my productivity.
My worth just is. It's inherent.
As I share my story, I hope you're internalizing this message, too. Your worth has nothing to do with the state of your to-do list. It has nothing to do with your productivity. If you get nothing done today, you will be just as valuable of a human being as you would be if you conducted a board meeting, rescued a kitten, and crossed every last item off that to-do list. Your worth has NOTHING to do with how much you get done. 👊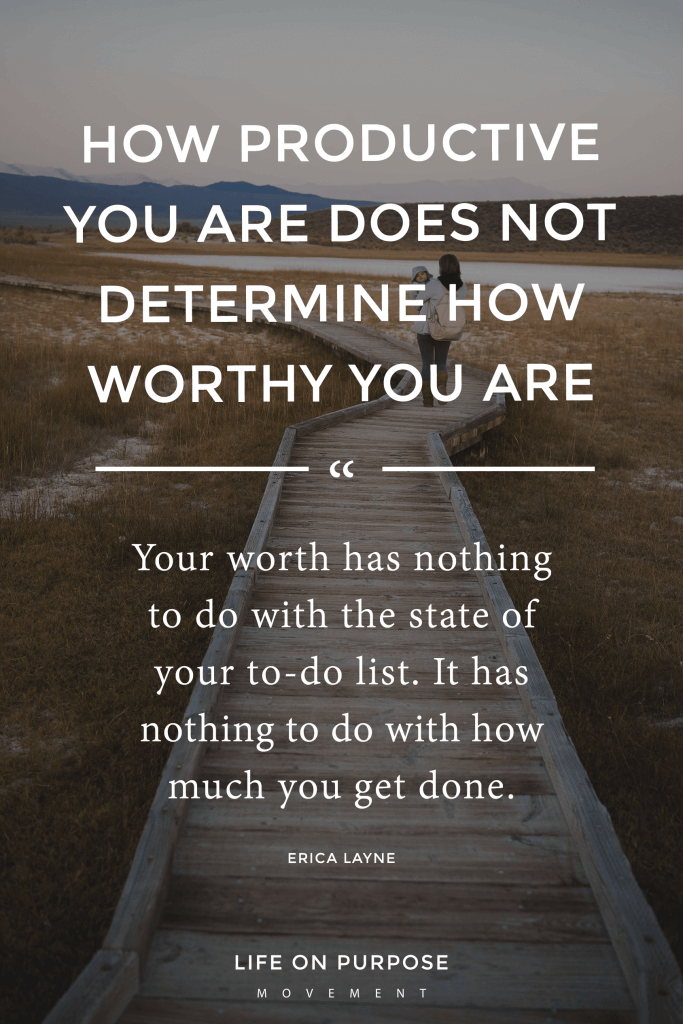 3 Dangers of Valuing Productivity Over Everything Else
1. Productivity is never finished.
It's an endless loop. A to-do list grows as fast as it shrinks. When you hold productivity up as your highest value, it's never satisfied—and there's a cost for that.
2. Overvaluing productivity depletes your reserves and inhibits your engagement with your life.
The first thing to fly out the window when I become hyper-focused on productivity is my ability to engage at a heart level with my husband and kids, neighbors and friends. The to-do's feel large and looming; pausing long enough to live in the moment seems like a luxury I can't afford.
On my better days, I know this isn't true and that living in the moment is, in reality, exactly what I want to make time for.
Operating on empty blinds us to the beauty around us. I believe you're meant to live from a place of fullness.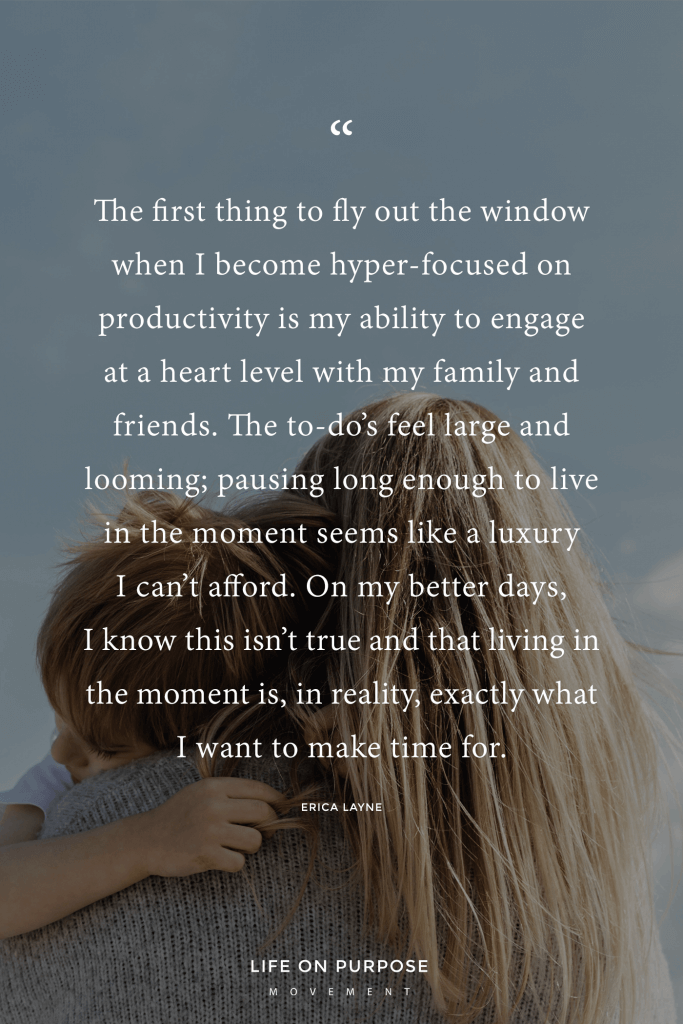 3. Lapses in your productivity may trigger shame.
Have you or someone you love ever been forced to slow down? So many things can bring life to a giant halt—a job layoff, bedrest, a car accident, a health diagnosis.
I once slipped in a puddle while carrying a baby inside my belly and a toddler on my hip.
The stroller I'd been lightly pushing went down hard as I scrambled to keep my babies safe while we fell. I remember looking at that stroller—turned on its side, one wheel spinning in the air—as I sucked in a shallow breath of air after landing with all of our weight onto my right knee.
Thankfully, both of my little ones were safe, but my knee was no longer whole. I didn't know it in that moment, but my knee cap had broken clean into two.
The craziest thing is, I didn't ask for help, and I barely slowed down. I did my very best to carry on as if life were normal—despite the fact that my knee looked like a grapefruit left too long on the tree.
If you're forced to slow down but have your self-worth tangled up with your productivity, it's going to be a million times harder to accept a season of rest.
Worse yet, there's a good chance that your reduced output will trigger feelings of shame. Brene Brown defines shame as the intensely painful experience of believing that you are flawed and therefore unworthy.
For example: the thought that if you can't maintain your typical productivity—if you can't measure up to the standard in your own head—you are less valuable of a person. I know you can see the danger in that.
There are a hundred values you could choose to prioritize over productivity, but today I want to share three of my favorites:
3 Values You May Choose to Hold Up Instead
1. Hard work.
I think there's a subtle but significant difference between hard work and productivity. Hard work doesn't come with a stipulation of continuousness. You can work hard — and then relax after a job well done.
2. Whimsy & wonder.
Or in other words, engagement with your life. Living with your heart and eyes wide open — looking for wonder wherever you can find it — is one of the greatest benefits of not overvaluing productivity. Presence is a gift we can give to ourselves and the people we love.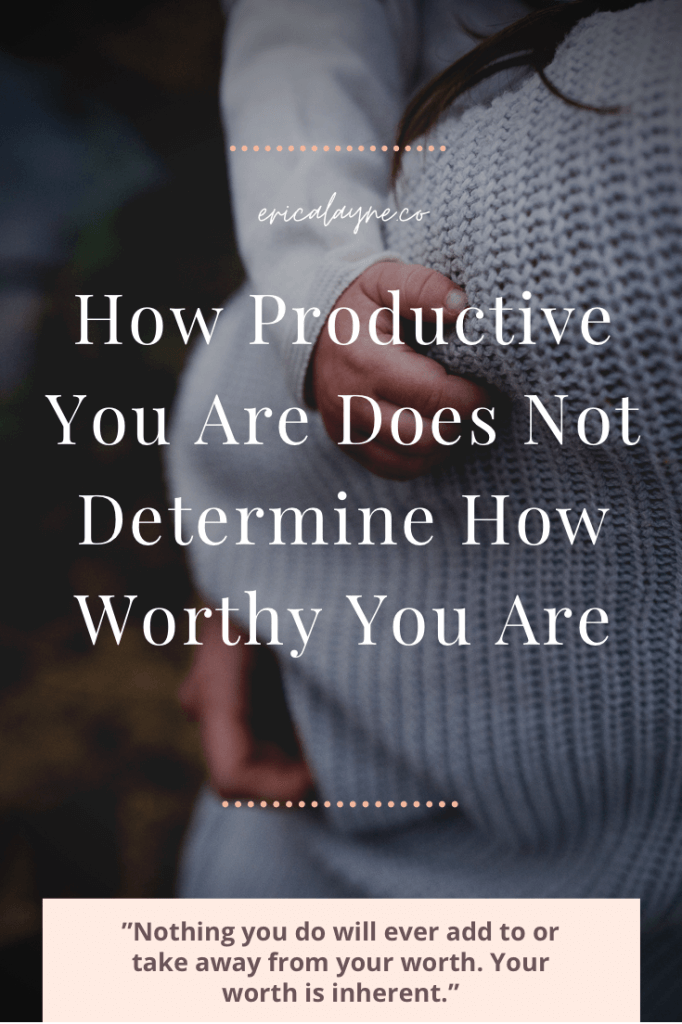 3. Your self-worth.
Not long ago, I sat on a sofa across from my therapist. She hugged a cup of steaming coffee with her hands and probed my soul with her eyes. (If you've been on a couch like that, you get what I mean.)
"It's hard for me to play," I said. "It's hard for me to let go."
It's hard for me to let go of my control over a clean house, polite children, inbox zero, homework that is fully filled out and lovingly corrected by yours truly—and a thousand other things.
But I know, when I pull back a few layers, that my worth isn't based on results. It isn't based on how efficiently I can write a podcast episode or make dinner for five. It's not based on how quickly I can move or how thoroughly I can wear myself out.
My worth just is — and yours is too.
---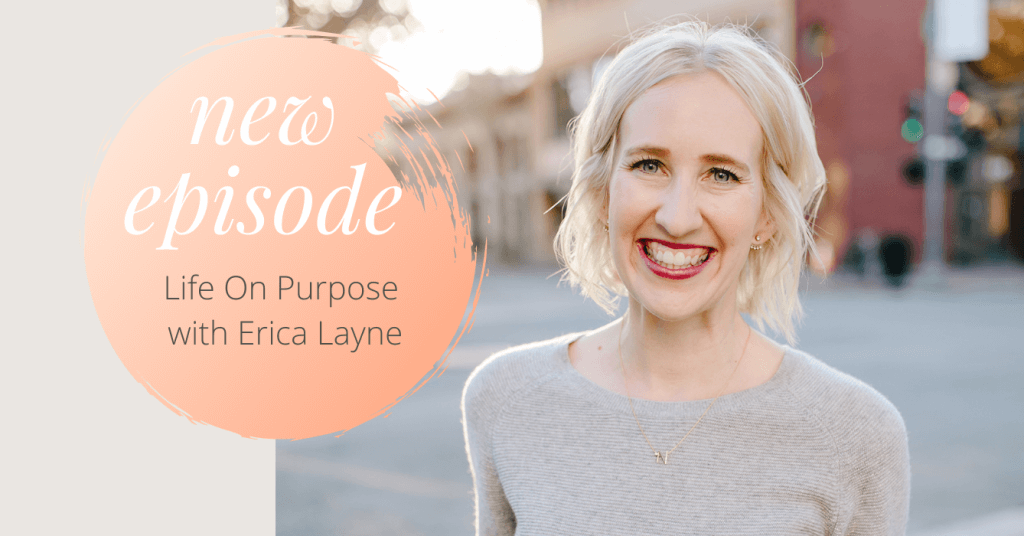 More from Episode 20 of "Life On Purpose with Erica Layne"
Here's what else you can hear in the latest episode of the podcast!
Decluttering Tip: A decluttering tip that focuses not on physical clutter but on your calendar clutter.
Off-Ramp: A segment where I point out something I see women doing that I'd love for you to quit! In this episode I encourage you to quit letting other people's opinions matter more than your own.
Listen to the full episode in your favorite podcast app, or in the audio player below! And be sure to hit subscribe!
Apple Podcasts | Google Podcasts | Spotify | Overcast | Stitcher
Do you know exactly what you value most?
If you're ready to ditch productivity as one of your top values, it'll help to know exactly what you want to hold up instead. Use my free guide to discover your three core values—
---
This post, written by me, originally appeared on No Sidebar. It has been republished here with permission.