Before I started venturing into minimalism nine years ago, if you'd asked me the best way to simplify your life, I would have said to cut your belongings in half … or maybe permanently practice the one-in-one-out rule. Something like that.
But after having done both of those things for YEARS, I can tell you that they HELP, for sure. But they're not the real answer.
The real way—the BEST way—to simplify your entire life is to know exactly what you value.
Maybe this wasn't the answer you were hoping for, and I get that. I wish the answer was some kind of easy hack, too. But stay with me, because this is important!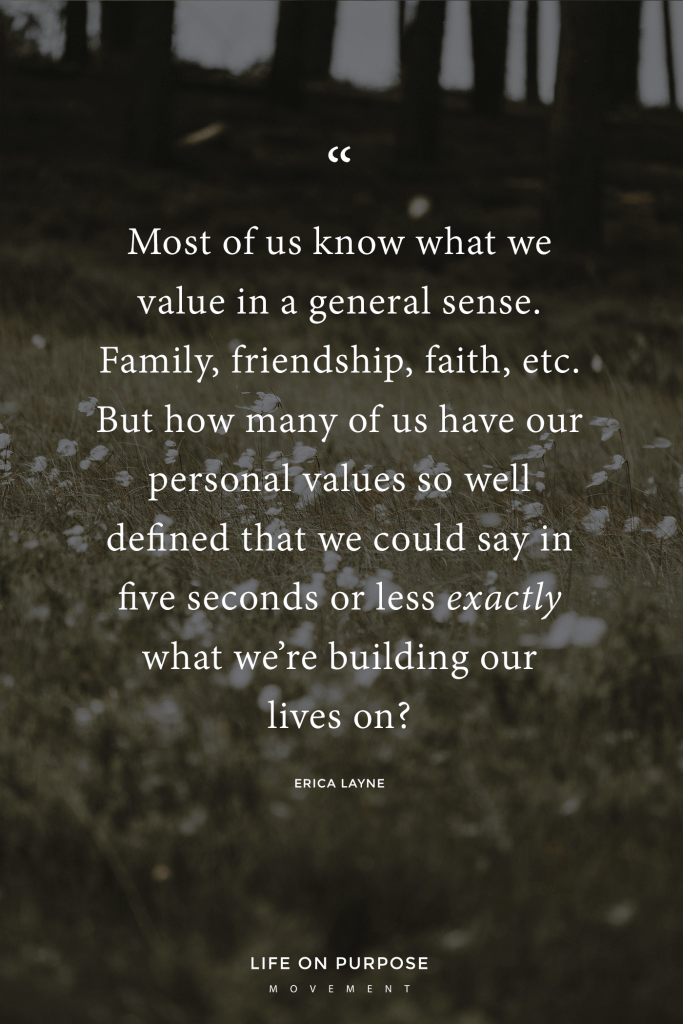 Most of us know what we value in a general sense. If I asked you right now, you might say that you value family, friendship, faith…
But how many of us know exactly what values we'd hold on to even at a cost?
How many of us have our personal values so well defined that we could say in five seconds or less EXACTLY what we're building our lives on?
I think of values as your personal judgment of what's important in life, and yours might include principles like… Adventure, authenticity, balance, curiosity, empathy, integrity, inner peace, stability, simplicity, and so much more.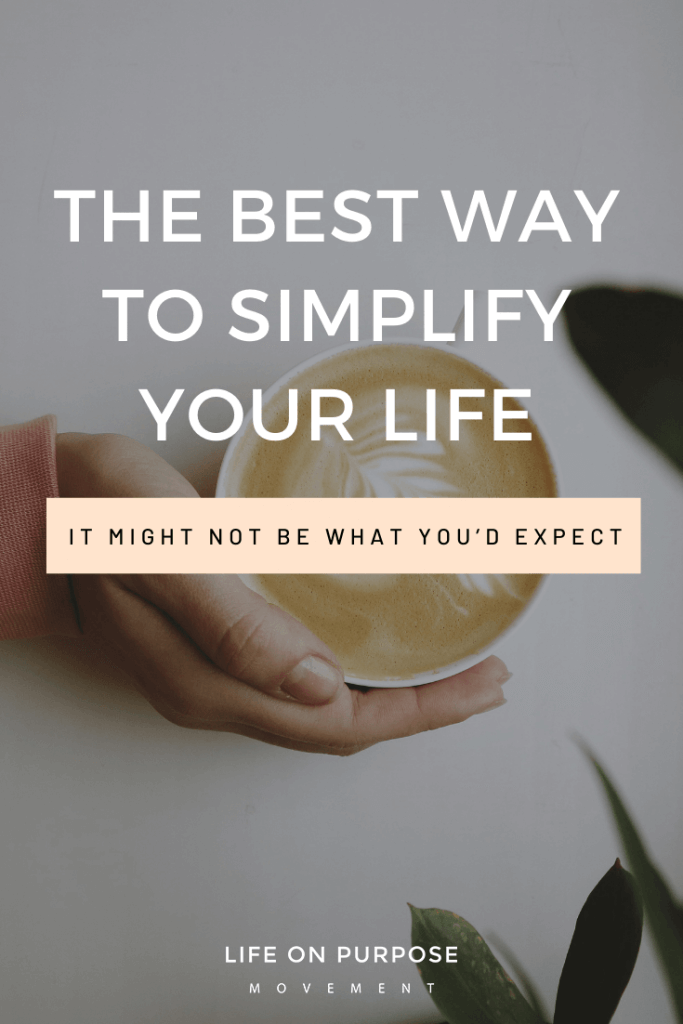 3 Reasons to Know Your Values Like the Back of Your Hand
1. Knowing your values allows you to ruthlessly edit your life.
When you know exactly what you value, you're able to prioritize the few things that matter most to you—and let the rest fall to the side, guilt-free.
This is a beautiful thing. (Especially if you tend to be overwhelmed by everything on your plate!)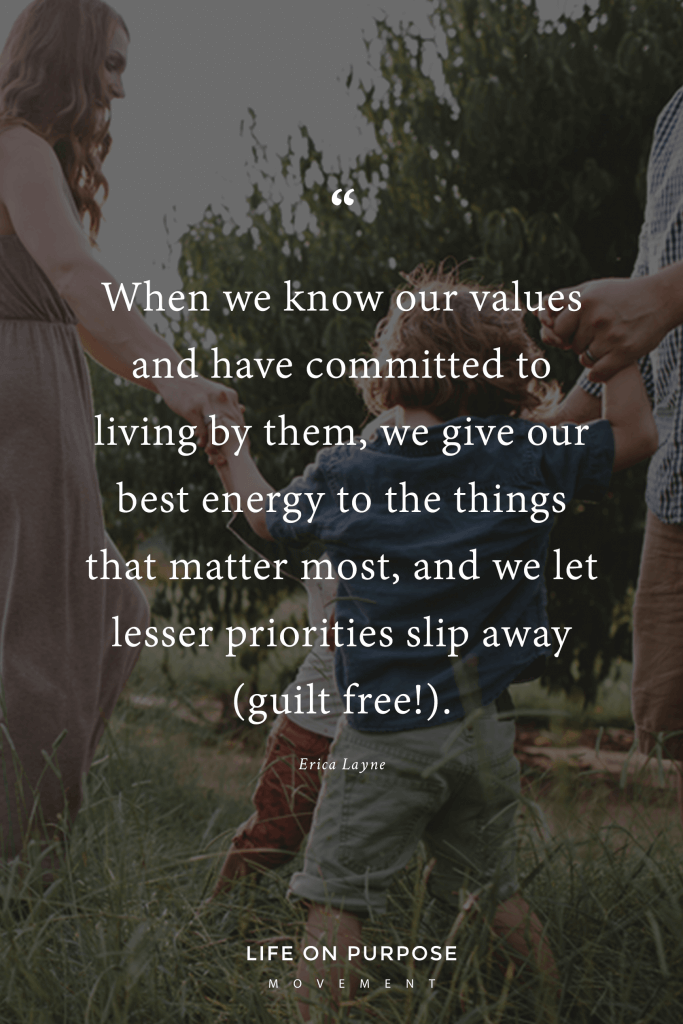 2. Your values will provide clarity in a world with a million options.
Should I volunteer for that one project at work—the one that would really impress my boss?
Should I homeschool my kids or send them to school? If school, WHICH school? (Seems like everybody was making this decision a couple months ago!)
Can I turn down that invite to the HOA board, even though I know no one else wants to step up?
Should I keep my grandma's china, the china we've never used?
Can I share my real opinions (on politics, religion, or social movements) with my parents or my inlaws, even when I know their opinions are very different from mine?
Knowing your personal values will help you answer every one of these questions. They can become a filter through which you run all of your life decisions.
Let's take that last question, for example—the one about sharing your real opinions with your parents or inlaws. And let's say one of your top values is "authentic connection."
Maybe you spent the first twenty or thirty (or more!) years of your life people-pleasing (this sounds suspiciously like me…), but as you've gotten older, you've come to care more about authenticity than the superficial acceptance that people pleasing often brings.
You care deeply about bringing your real self to every interaction — but doing it in a way that connects you with others (and doesn't distance you from them). "Authentic connection."
In that case, maybe you WOULD choose to be more transparent about your opinions and beliefs but gently – and with respect for people (like your parents) whose opinions are different from yours.
Which brings me to my last point…
3. Living in alignment with your VALUES brings immeasurable peace.
In this case, honoring your value for "authentic connection" will feel so. much. better. than choosing not to—just for fear of disappointing someone.

Through the years that I've really been focusing on my own values, I've felt more inner peace than ever before. Life hasn't been easier… Like anyone, I still sometimes compare myself to other women, feel inadequate as a mom, get in arguments with my husband, and forget to reply to texts. 😉
But under it all, I don't feel as much tension as I used to between how I was showing up in the world and who I really wanted to be.
Knowing my values and doing my best to live by them—imperfectly but on purpose—has helped me feel more whole and more at peace.
It'll do the same for you.
More on Episode 5 of Life On Purpose with Erica Layne
Here's what else you can hear in the latest episode of the podcast!
A try-on session: A segment where I suggest a new THOUGHT for you to try on for size! Today's thought will help you lower your day-to-day stress and anxiety.
Self-care spotlight: A book recommendation that will help you drop your resistance to REST. The book? Do Nothing by Celeste Headlee
How much clutter could you get rid of in 7 days? Find out here! ↠↠ Declutter-Destress
Listen to the full episode in your favorite podcast app, or in the audio player below! (And be sure to subscribe, so you never miss an episode!)
Apple Podcasts | Google Podcasts | Spotify | Overcast | Stitcher
---
Show produced by Callie Wright