It was midnight. My husband (the night owl in our relationship) heard my feet on our stairs and, before I even came into his sight, said—
"Can't sleep, huh?"
"Nope," I replied in frustration, heading of course for the cereal cabinet. (Does anybody else eat a bowl of cereal if they can't sleep??)
This exchange between my husband and me had become way too common over the last year, and although I knew several factors could be at play, I had my eye on one habit that was likely affecting my sleep.
Before-bed screen use.
But dangit, I didn't want to give it up! It's more convenient to read using my Kindle app… It's so delicious to watch a show in bed… It's really, really hard to resist that final check-in on Instagram.
But as I'm sure you know, the research on tech before bed is not good. Blue light suppresses the body's melatonin production and pushes back our circadian rhythms. Where blue light can be useful in shifting our cycles toward more wakefulness when we need it (like first thing in the morning), it has a negative effect when we want to go to sleep.
Blue light has a dark side – Harvard Health Publishing
Why is blue light before bedtime bad for sleep? Scientific American
When I was ready for rest, my mind suddenly wanted to replay every exchange with every human I'd ever met. I'd stew over my latest parenting dilemma, I'd mentally rehearse my to-do list for the next day, or I'd suddenly need to know how overdue our library books were. Great timing, right?
But I didn't really even need the research to tell me that; I could feel that my technology was often given my mind a second wind—right when I wanted it least.
There are other downsides, too, to using screens before bed, like how easy it is to slide into a late night scrolling spiral on social media, which does nothing good for the mind or heart.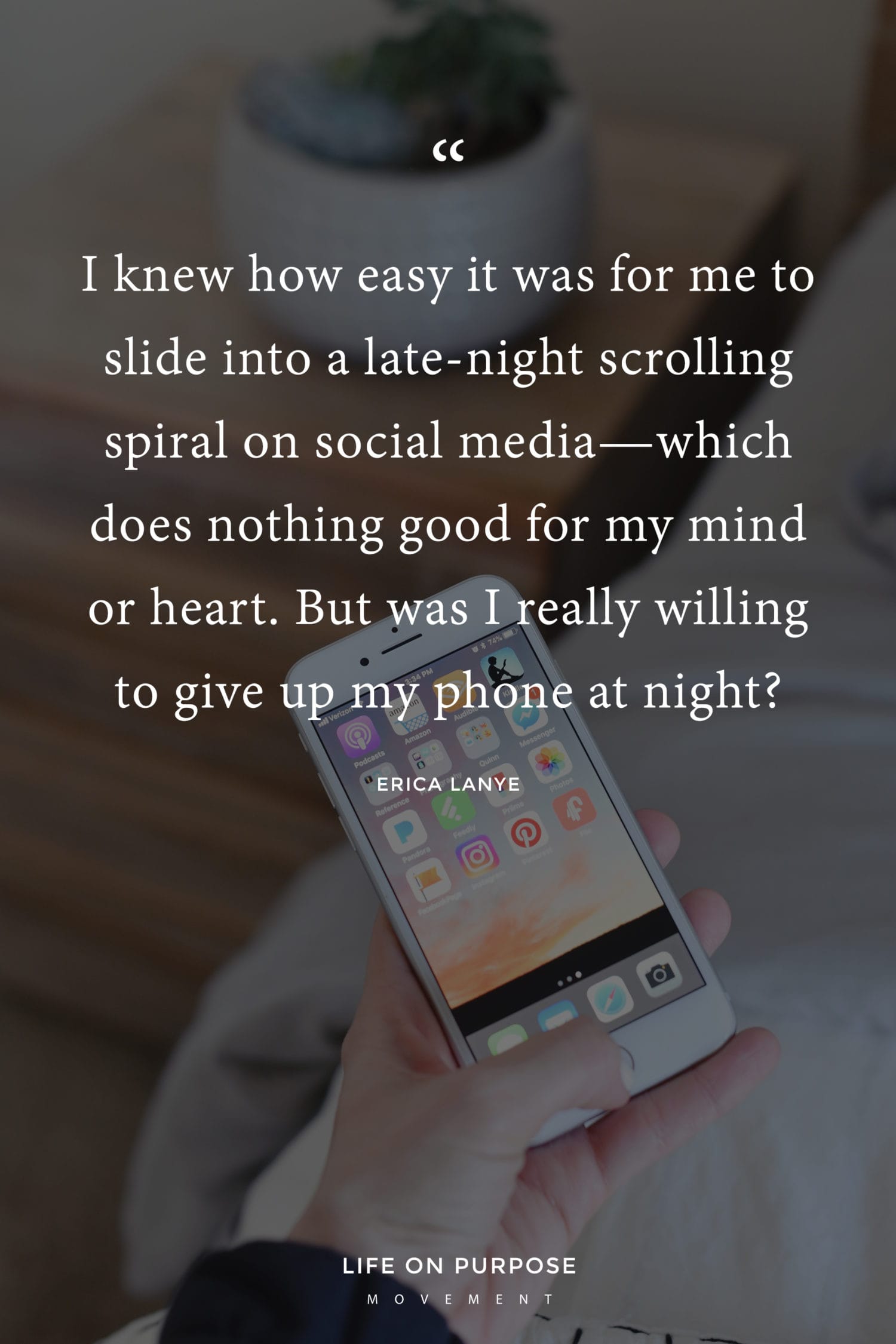 But like any normal human, I resisted the idea of shutting my electronics down early.
Until finally, it dawned on me to re-frame.
Focus More on What You're Gaining Than What You're Giving Up
Instead of thinking about what I was giving up (my screens), I began to think of it as—What could I add IN to my bedtime routine that would help me go to sleep feeling amazing?
I decided to put my screens away thirty minutes before bed (more when I could manage it, but thirty minutes felt realistic and sustainable for me). Instead of staring at a device and falling asleep feeling as drained as ever, I started taking a hot bath, writing in my journal, finally getting serious about a gratitude practice, listening to mellow music, and more.
It was a beautiful change, and I didn't miss my devices for a single one of those thirty minutes.
5 Reasons a Bedtime Routine Might Work Better for You Than a Morning Routine
For years, I felt like I'd been hit over the head about the power of a morning routine. It seems like allllll of the big names in business and entrepreneurship swear that their morning routine is the secret to their professional success and personal fulfillment.
So every time I read another article or heard another influencer rave about their morning routine, I'd give it another try.
And every single time, I'd give up within a few days.
My reason for giving up was that no matter how early I woke or how silently I tiptoed through the house, my kids always caught onto me. (It's like they have a sixth sense that alerts them the moment I wake up.) I found it more frustrating to HOPE for time to myself and then be disappointed than to just…keep sleeping and get up when they did. 🤷‍♀️
A morning routine might not work well for you if you—
Have a baby or young kids
Already wake up at the crack of dawn for the early shift at work
Have a job or other role that requires late nights
Have a light-sleeping partner
You've always been more of a night owl than an early bird
And that's okay!
I've done it for long enough now that I don't think I could ever go back.
That last hour of my day is essential to my mental health. Essential to my ability to keep on giving to the people around me, because I've taken the time to fill myself up first.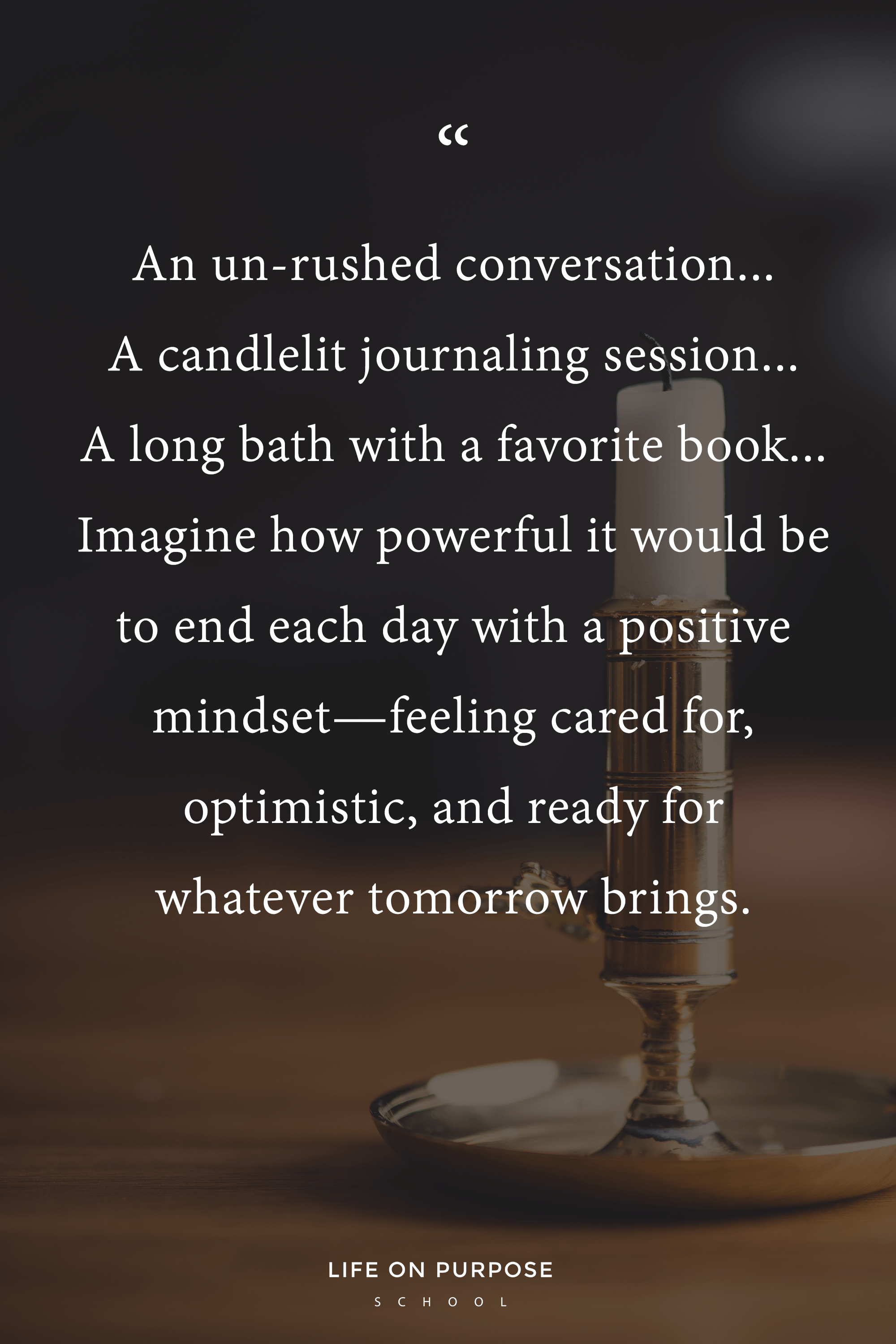 Join Us
If you're under-utilizing your bedtime routine, I'd love to have you take a look at my 7-day mini-course for women just like you. Women who want to end their days on the best possible note—and to see how that intentionality spill overs into the rest of their lives.
Sweet dreams!
Erica
PS. Let me know in the comments what your nights are typically like! Is this something you've mastered, or are you (like most of us!) a work in progress?