Right in the moment, my knees go weak.
Then later my brain fixates on what happened and won't let go.
Brené Brown says our physical reaction to shame is much the same as our reaction to trauma.
When I first heard Brené talk about shame, I didn't think I'd relate. My life is pretty straightforward right now (married, 3 kids, a blog…the usual), and I don't have many skeletons in my closet.
But as I continued to read and listen to Brené talk about her research, I learned that shame for most of us is just that quiet feeling of "not enough."
Now that is a feeling I'm familiar with.
It's not so much that I feel inadequate in general. I actually feel pretty worthy, pretty complete on the whole. I bet many of you are right there with me.
But at the same time, I'm keenly aware of the qualities I don't have. And those are my "not enough's."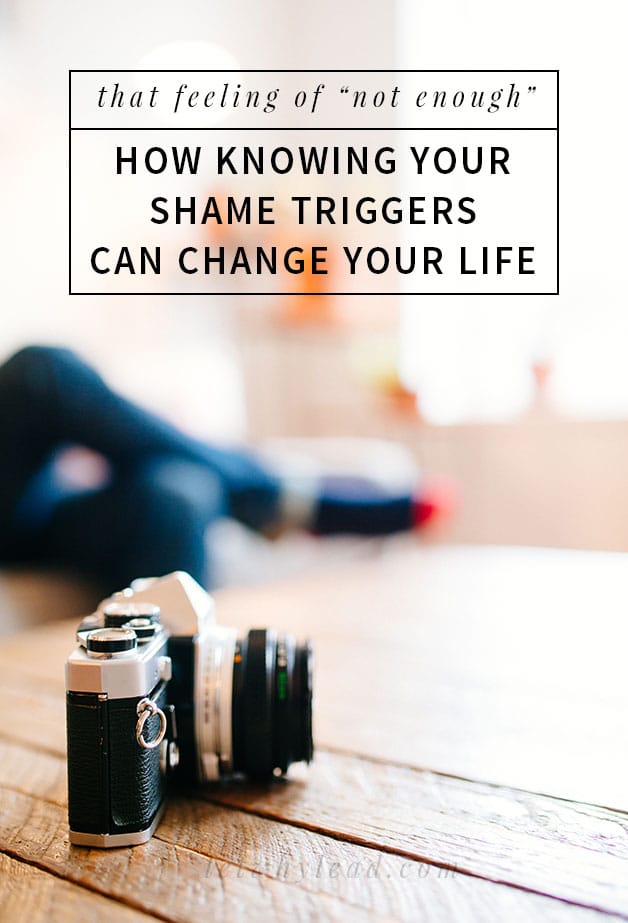 For the sake of my own authenticity, today I'm sharing four shame triggers that I'm particularly susceptible to, as well as a whole list of others that get me from time to time—and I'm guessing, probably get you too.
Not extraordinary enough. Even as a kid I hated that icebreaker where you introduce yourself by sharing one unique thing about yourself. I felt pretty darn ordinary. Then as I got ready to go away to college (BYU), people kept making comments about how I'd get married and start having kids before I became anything. I still feel this pull to be someone, when really, I'm already someone.
Not authentic enough. Considering how much I want to live fully, to be all in, it drives me nuts when I'm not feeling true to myself. I feel like a failure when I say yes too much or when I get caught up in busy-ness that isn't meaningful to me.
Not easygoing enough. Smaaalllll chance I have a family history of micromanaging. 🙂 So when I find myself following suit, I instantly feel shame that I haven't completely shaken it. I tell myself I'm "not easygoing enough" or "not flexible enough." That's shame at work.
Not spiritual enough.
More shame triggers you may be familiar with:
Not organized enough 

Not certain / decisive enough 

Not quiet enough

Not thin enough 

Not creative enough

Not outgoing enough 

Not compassionate / generous / selfless enough 

Not productive enough

Not qualified enough
Wholehearted people know what qualities they don't have, but they wake up every morning and still feel "enough." I want my kids to wake up with that feeling.
But first, I've got to cultivate shame resilience in myself by learning to recognize when I feel it and by practicing moving through it.
---
Sneak peek: The way you move through shame is by telling your story to someone who is worthy to hear it. More on that here: Wholehearted Living: Moving Through Shame
SO, who's up for a challenge? 🙂 If you feel like sharing a part of your authentic self with Let Why Lead readers—what triggers do you think you are particularly susceptible to?