Tracy is the founder and CEO of dClutterfly—an organization and decluttering company in Los Angeles, California. Which means—she has been inside of hundreds of homes and helped thousands of people with their clutter.
She's also the author of two beautiful books:
My personal favorite part of her bio: "Tracy lives in Los Angeles and knows where her keys are." (Not everyone can say that!)
Welcome, Tracy!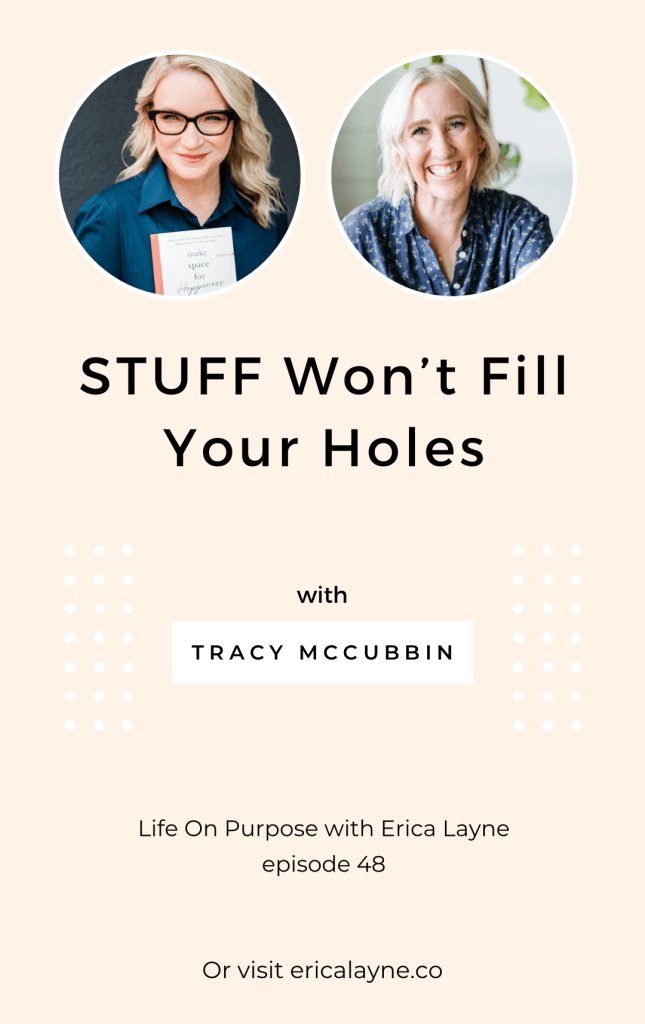 Are We In a Clutter Crisis?
Erica: As someone who runs a decluttering company, I'd love for you to help us get a sense of the clutter issue we're facing. The reason I ask this is because I've talked for years about the impact of decluttering and minimalism, and I think a lot of my listeners are on board. But I wonder if your perspective could help us zoom out a bit and really SEE what's happening in our homes and our country in terms of clutter.
Will you tell us a bit about what you're seeing?
Tracy: We are in a clutter crisis. Majority of people don't own their stuff. They are owned BY their stuff. Take a look at the hundred billion dollar storage unit industry. I have been in thousands of storage units and I can tell you that I have never been in one where the items in the unit cost more than the price of paying to store them. It's so upside down. Only 25% of Americans can park their cars in their garage, people have rooms in their homes they can't use. There's just so much stuff.
I think what happened during the pandemic is that while spending more time in our homes, many of us realized our homes were not working for us. So people really got on board with decluttering during that time, but there was a piece that was not connecting.
If you want to truly live with less stuff, you have to look at the acquisition cycle.
You have to look at what you are bringing in. So many people in this decluttering conversation have only been talking about the letting go part, and not the bringing in part.
We are all stewards of our stuff and because it has gotten so easy to accumulate, we all have too much of it. And we do have to ask ourselves, "When I throw things out, where is it going?"
When I work with clients, I take everything out of their house and put it into a big warehouse before deciding what to bring back in. From what remains, we sort out what can be donated. I try my best to find places where items can be repurposed or reused, but still SO much just has to go to the dump.
I talk about the Donation Myth in my second book. People justify buying stuff with the idea that they will just donate it later. But donating uses resources too. So we have to start thinking about more than just decluttering, but also about the broader cost of accumulating stuff.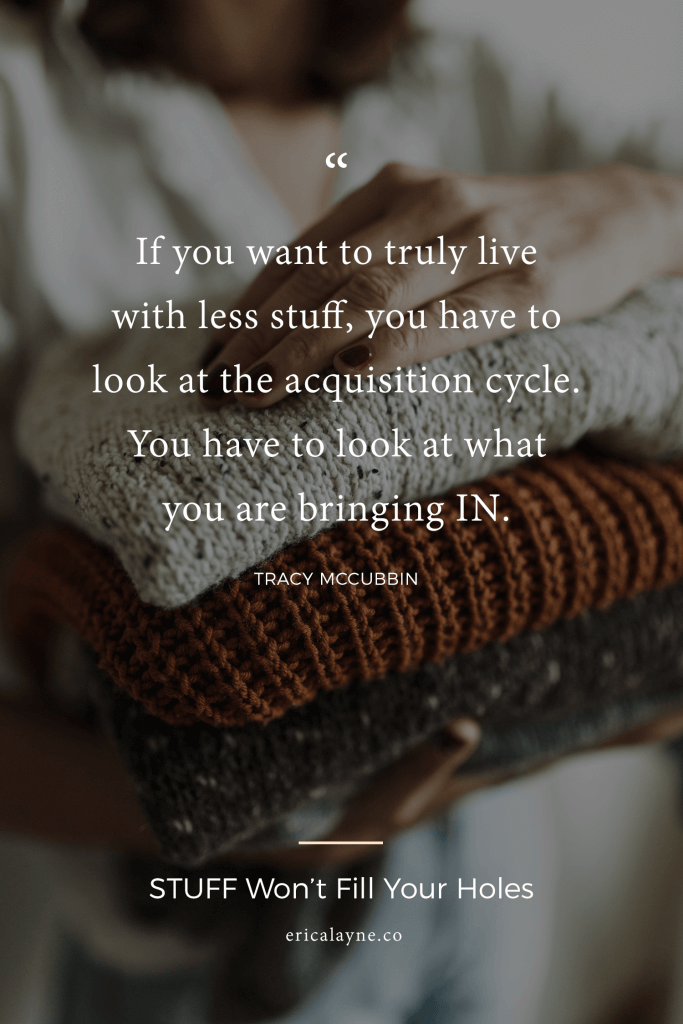 What Holes Are We Trying to Fill With Our Stuff?
Erica: I LOVE that you talk about the emotional layer of decluttering, especially in your latest book, Make Space for Happiness. In my own work, I've seen that unless people find clarity on WHY they collect and keep clutter, it'll just keep coming back.
When you dig deep with your clients, what are some of the holes that we're trying to fill with STUFF?
Tracy: Yeah, we definitely use stuff or the thrill of shopping for stuff to fill these holes or pieces of our lives that we can't seem to fill in other ways. Loneliness, loss of social connection (a big one starting in 2020), low self-esteem, need for love, boredom.
___________
How Do We Look for Purpose Through Our Stuff?
Erica: One of your clutter magnets is Real Purpose. As the word "purpose" is literally in the name of this podcast, I thought I'd ask—
How do we use STUFF in a (possibly misguided) attempt to find purpose? What does that look like?
Tracy: It's so interesting how this clutter magnet shows up in our lives. Side hustles are now the new way on social media to show we're really going after our passion or purpose. Where once, being an upstanding member of the community was enough purpose. We might simply volunteer at the library or church or show up for a community clean up project, but we've somehow decided that wasn't enough. That we aren't enough if we're not doing more and more. Now, everyone seems to be an influencer or have an Etsy shop or makes cupcakes on the side. This is what we've turned purpose into.
But purpose is a combination of what good we do in the world, how productive we feel, and what makes us happy. We are so leaned into this idea of a side hustle or being more, but maybe just taking a walk on the weekend makes you happy. And you don't have to buy or acquire anything for that.
___________
Make Space for Happiness
Erica: Putting clutter aside, what's one thing we can do to bring more happiness into our lives today?
Tracy: Here is the simplest thing we can do to change our acquisition cycle right now. Instead of saying, "I need a new pair of jeans," change it to "I want a new pair of jeans." And often times when you acknowledge that it's actually a want and not a need, it will go away. You might look in your closet and see 10 pairs of jeans and go "Oh, yeah. I think I'm good on jeans." We can change our behavior by changing our language.
Another way to bring more happiness into our life, is to go do something nice for somebody else. It will raise your dopamine and make you feel good if you're feeling a little down. It can be as little as returning the cart for someone at the grocery store.
Erica: What's one item in your home that you'll never part with?
Tracy: My husband to be!
---
A big thanks to Tracy McCubbin for sharing her years of decluttering experience with us!
As Tracy and I talked about in this episode, you'll never truly free yourself of clutter until you dig into the emotional element—until you know your why.
I happen to have a free worksheet to help you uncover yours! It's called, "Digging Deep: A Worksheet to Help You Explore Your Relationship with Clutter So You Can Finally LET GO," and you can download it HERE.
---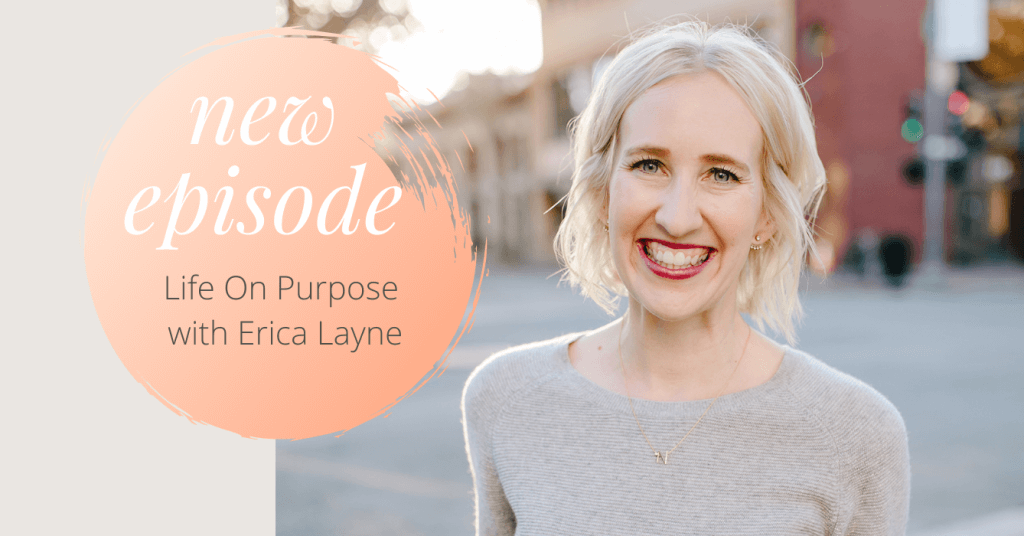 More from Episode 48 of "Life On Purpose with Erica Layne"
Here's what else you can hear in the latest episode of the podcast!
Try-On Session: A segment where I propose a new thought you can try on for size. Today's thought: I'm so proud of myself!
Listen to the full episode in your favorite podcast app, or in the audio player below, and be sure to hit follow!
Apple Podcasts | Google Podcasts | Spotify | Overcast | Stitcher
Show produced by Astronomic Audio