I vaguely remember signing the permission slip—a paper and pen shoved into my hands amid the morning hustle.
A couple of weeks later, my son woke up at 7am, just like my kids do every weekday, and told me with a smile in his eyes that he was staying home—he was job shadowing me.
The memory of a permission slip flashed in front of my eyes. I had agreed to this?? Oh. RIGHT. I HAD agreed to this.
My son was staying home to watch me work. 😬
My heart dropped to my stomach as I realized that I had appointments out of the house that day that weren't related to my work. Of the seven hours that my kids are typically at school, I would be gone for almost five of them.
It wasn't going to be the day my son had imagined.
After the other kids left for school, he sat next to me at my desk for a while before I left. I showed him some of what I do online and answered twenty interview-style questions about my career, which he recorded on a worksheet.
But then I had to go.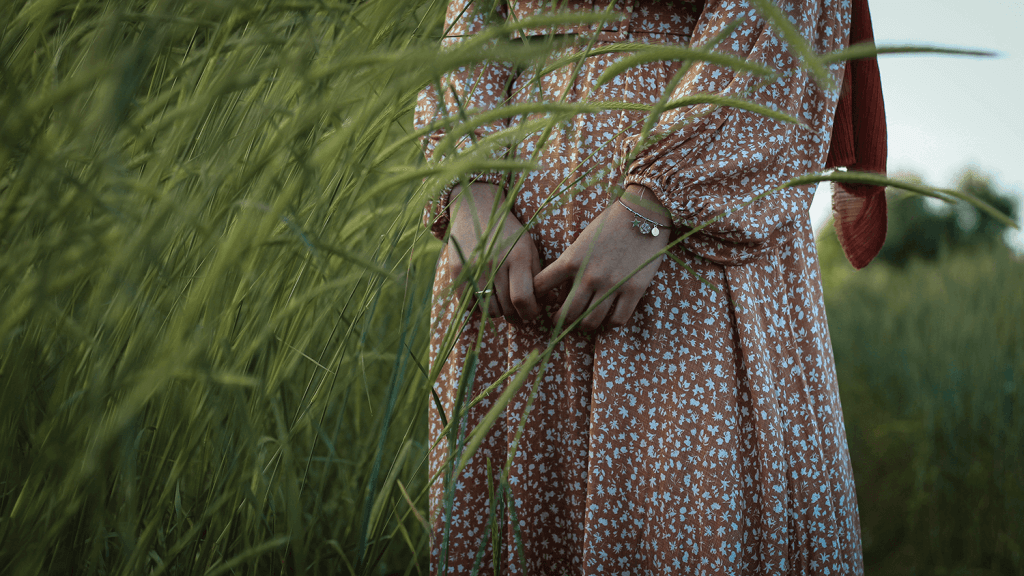 This particular kid is our middle kid. He's easygoing and doesn't ask for a lot. He's also very tender-hearted, although he often tries to cover it up. I tend to worry that he pushes his feelings down—that he's storing more than he speaks.
As I drove away from the house, I felt like I was swimming in guilt.
Logically, I knew he was okay in that moment. He'd literally told me he'd be just fine, hanging out with the dog and working on his report. I promised I'd Facetime him a while I was out and that I'd record a podcast episode later that afternoon so he could watch. 🙂
But oh my goodness, I could not shake the guilt.
So while I drove, I tried to identify the sentences in my brain that were causing the guilt and shame, and I found them:
The first was, "He asks for so little, and I couldn't even manage this."
The second? "If you'd gotten this on the calendar, you wouldn't be in this situation."
And third, which came quickly behind it, was, "Why are you so spacey; you always miss stuff."
That day's job-shadowing situation just happened to hit on one of my shame triggers: that I'm not great with details.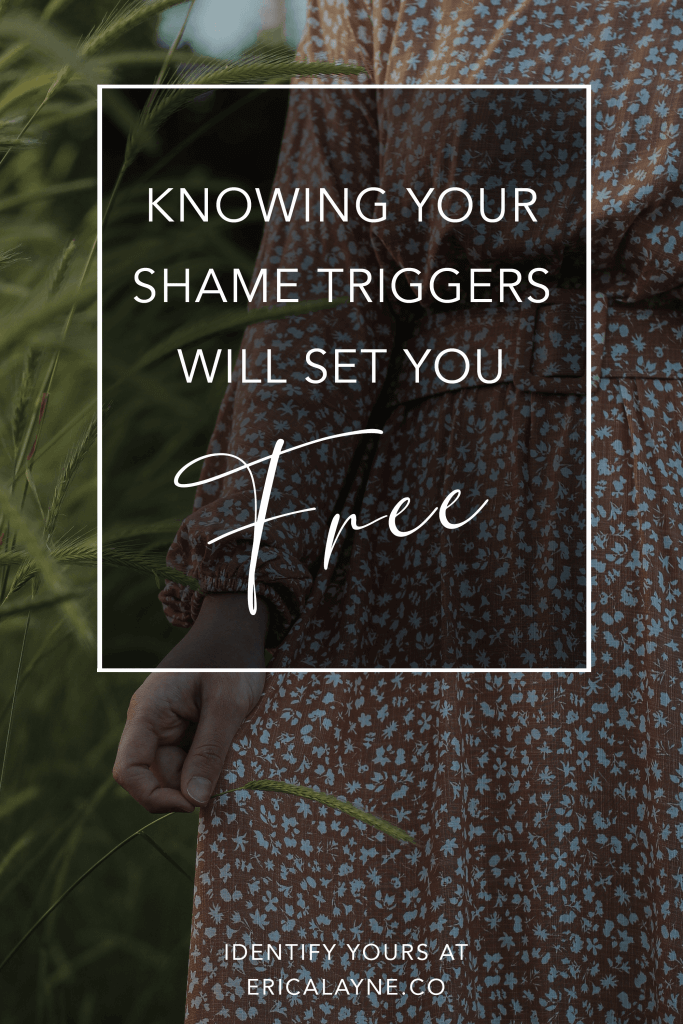 Knowing Your Shame Triggers Will Set You Free
Do you know your shame triggers?
Brené Brown defines shame as the intensely painful experience of believing that we are flawed and therefore unworthy of love and belonging.
But I just like to think of shame triggers as the things that hit a tender place—and are hard to shake.
One reason I recognized it the other day is that I just couldn't let it go. Usually, when I feel a ping of guilt or shame, I can pretty easily see where it's coming from and remind myself that I'm OKAY—that I'm doing the best I can from moment to moment and that it's enough.
But the other day, I could see where the shame was coming from, but nothing I told myself helped me release it. It had taken up residence in my body and I knew there would be no out-thinking it. That shame wanted to be felt—to be processed on its own timeline, not on mine.
But because I understood it—"Oh, this is hitting my 'I'm spacey' trigger"—I could make room for it. I could drop my resistance and trust that the shame would move through me when it was ready.
Because I could see it, it wasn't as scary.
Do you think of yourself as any of these?
Unorganized
Forgetful
Too loud
Too quiet
Uninteresting
Too small, physically or metaphorically
Too large, physically or metaphorically
Inflexible, not easygoing enough
Under-qualified
A procrastinator
A starter, not a finisher
Do any of them hit a particularly tender place for you? Those might be your shame triggers.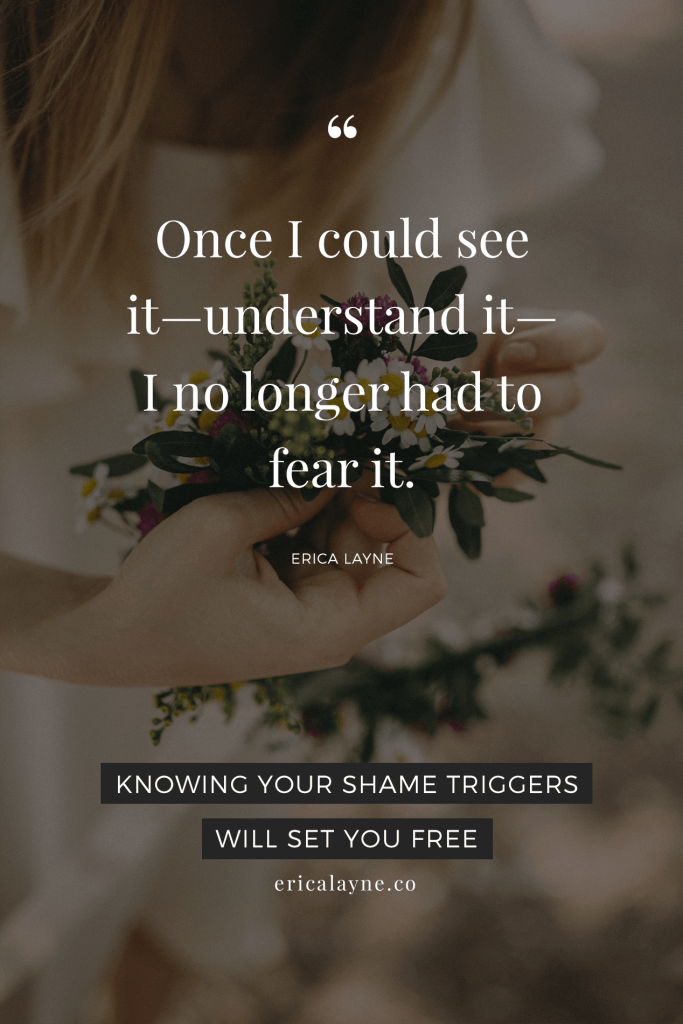 Your Shame Triggers Have an Origin Story
When I think back on my life, I can see experiences that created—or at the very least, contributed to—my shame triggers.
For example, the "I'm so spacey" trigger: At least twice as a newly licensed driver, I locked my keys in the car—while it was running. Another time, I set my purse on top of my car and then drove away a bit later. My parents had to help me search for loose items from my purse on a freeway on-ramp. A pair of broken sunglasses here… a cracked tube of lipgloss there.
In my adult life, I've forgotten to put important things on our family calendar, I've ruined clothes because I didn't pay attention to washing instructions, and I've forgotten to call people when I said I would.
Over time, these experiences—and the (usually well-meaning) criticism I've gotten from the people in my life—have built up my story that I struggle with details.
Now that I KNOW MORE and can zoom out from those experiences, I can see that most of the time, things worked out just fine. I can see that the feedback I received from my parents, husband, or friends taught me how they prefer to do life—not how *I* need to do mine.
But… Is the Shame Even Necessary?
I internalized some shoulds that weren't moral. They weren't good or bad, right or wrong—honestly, they were just preference.
On top of that, I internalized some beliefs about myself that weren't necessarily TRUE. At least, not in any provable sort of way. I mean, I forget some details, sure. But doesn't everybody? And I manage to keep track of a LOOTTT of other details.
Seeing all of this is helping me slowly strip away the shame over what I've always thought of as my weaknesses.
What To Do The Next Time You're Triggered
So the next time you're triggered—the next time something hits a tender place for you—what can you DO?
I suggest…
Identify the belief you have about yourself that's causing the shame. To find it, it may help to use the phrases "I'm too ______" or "I'm not ______ enough."
Ask yourself these questions:

How did I pick this belief up?
Is it even TRUE? As in, irrefutably true? What evidence can I find for it not being true?
Do I want to keep giving it so much weight?
I believe these questions will help you gradually detach from self-beliefs that aren't serving you. And in the meantime, the shame that takes up residence in body won't be so threatening, because you understand it.
Knowing your shame triggers will set you free. ❤️
---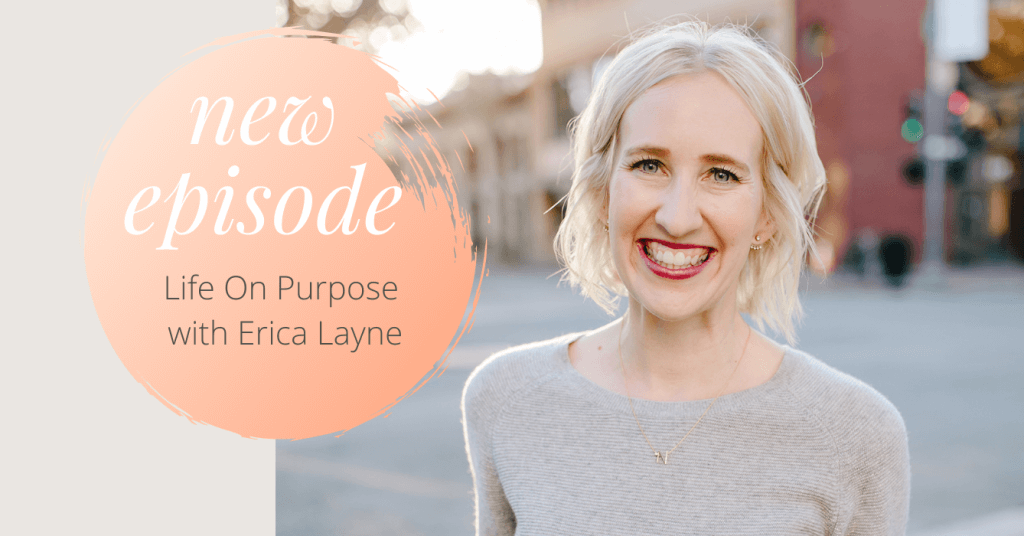 More from Episode 49 of "Life On Purpose with Erica Layne"
Here's what else you can hear in the latest episode of the podcast!
Trace It to Face It: A segment where I identify something I'm struggling with and talk myself through it in real time. Today I consider that many things don't need to be fixed; they just need to be seen.
Quiz: DID YOU KNOW that we're all susceptible to three distinct sources of stress but that each of us has ONE source that drives us straight to the edge? I have a quick 6-question quiz that will identify YOUR unique source of stress—and teach you how to diffuse it. You can find the quiz at ericalayne.co/clutterquiz. It's quick and I promise — SO useful!
Listen to the full episode in your favorite podcast app, or in the audio player below, and be sure to hit follow!
Apple Podcasts | Google Podcasts | Spotify | Overcast | Stitcher
Show produced by Astronomic Audio
---
xo!