When our kids were little, I remember feeling completely overwhelmed by their toddler antics. Some late-night googling led me to an article about how preschool-aged children thrive on rules.
It's something in their brains. Their genetic makeup. Preschoolers like rules. 
I stuck a giant post-it note on the wall, and the boys and I talked through some potential rules. I drew rudimentary pictures to help them visualize our new rules—
A pair of shoes meant "put your shoes away."
A chair with an X through it meant "no climbing onto the kitchen counter to find the chocolate I hid above the fridge!"
Then I let them scribble all over the huge post-it, and it became their own.
Crazy thing—it worked. They were the perfect age for the boundaries that our family rules gave them.
Now that our kids are older, I don't have to refer to "the rules" in the same way that I used to.
But there's still something about the tidiness, the predictability, of rules that appeals to my kids, and over the last few years, our family purpose statement has gradually taken the place of that giant post-it note.
They thrive on the identity that we created together during our sessions of writing our family purpose statement. I'm honestly amazed at how often they bring it up in our day-to-day talk.
And I want your family to experience this too.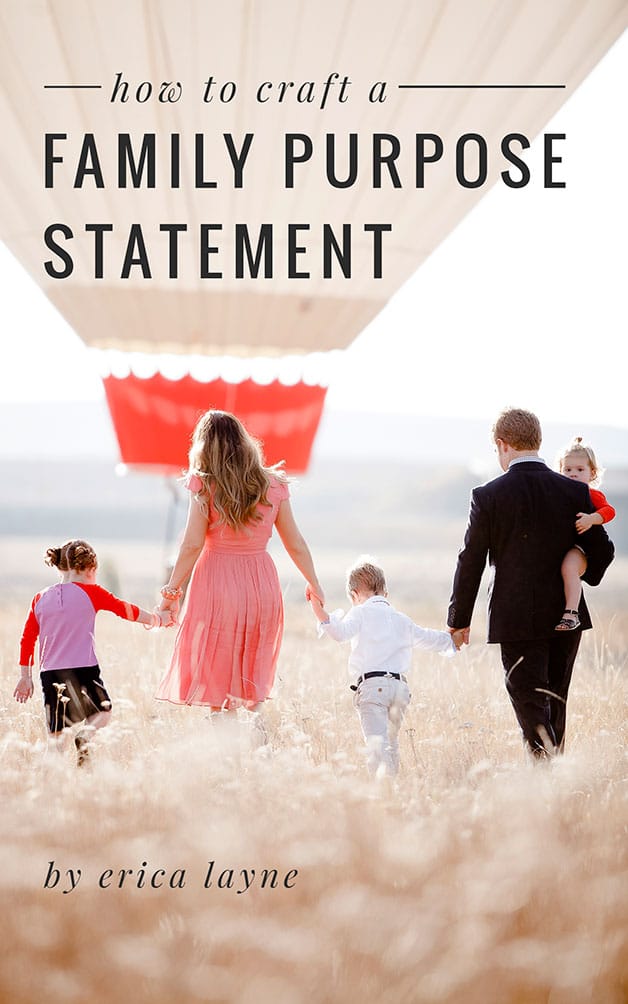 I'm so happy to share that my ebook, How to Craft a Family Purpose Statement, is now live on Amazon!
If you've been around here long, you know that I'm passionate about this topic. It was about time I put it into a more digestible form!
I've spent the last few months writing and editing and narrowing it down, all in the hopes of giving you just the info you want and need.
I think it will inspire you to create a family that is full of love and belonging—and give you one powerful tool (a family purpose statement) to help you get there.
I thought today I'd share the table of contents, so you know exactly what you'll be getting if you buy the book!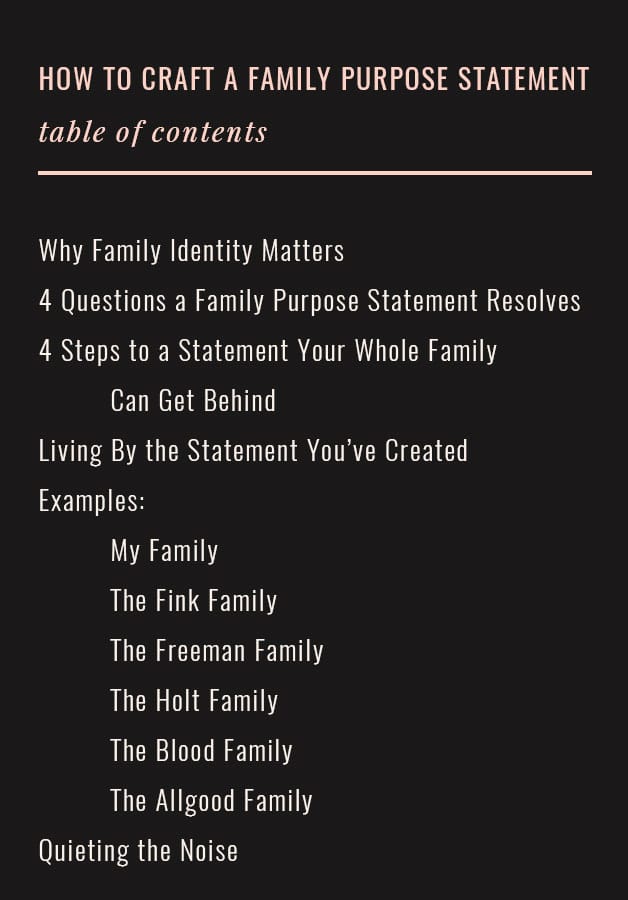 As I've mentioned before, I don't like it when writers pad books just to make them longer—because goodness, a parent's time is valuable! At about 30 pages, I think it's a great mix of inspiration and practical application. I hope you'll agree!
I really believe this short book will re-inspire you to parent purposefully and to live with more joy as a person and as a family.
Thank You!
I owe a big, big thank you to those who have already pre-ordered the book, and I owe another HUGE thank you to anyone who does buy it!
How You Can Help
If you have friends who would enjoy this ebook, I would SO appreciate you sharing or pinning this post!
Also, amazon reviews are apparently really important (this is my first rodeo), so I will owe you for LIFE if you leave one.
How to Craft a Family Purpose Statement: A Guide to Discovering the "Why" of Your Family and Building an Identity that Will Stay with Your Children Forever
Thank you so much, friends!!! Happy family building!