My husband and I sat at a table, waiting for our server to bring out our food. I scanned the restaurant and noticed that if I craned my neck, I could glimpse five TVs mounted on the walls. A soccer game was showing on the TV next to the bar, but the other four sets featured various news channels.
Just by scanning the room, I could see an earthquake and possible tsunami in Japan, a drug bust at a local high school, a kidnapping that had made national news, and a fatal shark attack in Australia.
It's hard to turn on the TV or scroll social media without feeling overwhelmed, sad, or helpless. Sometimes it feels like the world is on fire.
But the more we consume, the more we believe that the sad news is all that's out there.
Intellectually, we get that despite real tragedy in the world, an abundance of good still exists. But if we're not seeing that regularly in the media we consume, it becomes harder and harder to believe.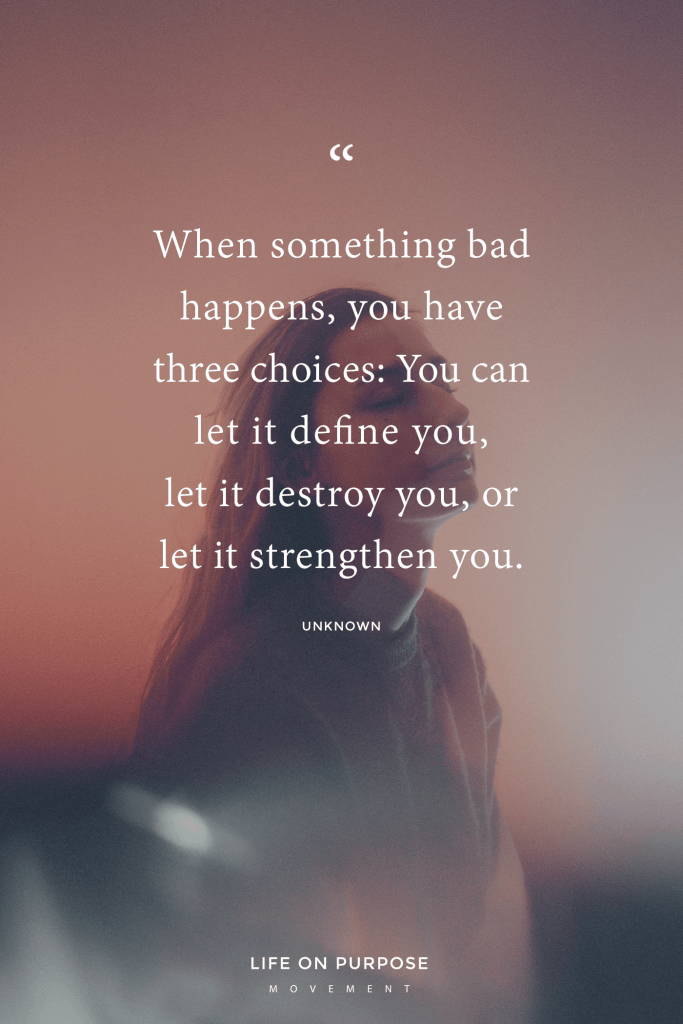 So let's counter the heavy and hard by diversifying our news sources and making space for the helpers, the heroes, and the stories of compassion, kindness, curiosity, and innovation.
"When I was a boy and I would see scary things in the news, my mother would say to me, 'Look for the helpers. You will always find people who are helping. To this day, especially in times of 'disaster,' I remember my mother's words and I am always comforted by realizing that there are still so many helpers ― so many caring people in this world."

Fred Rogers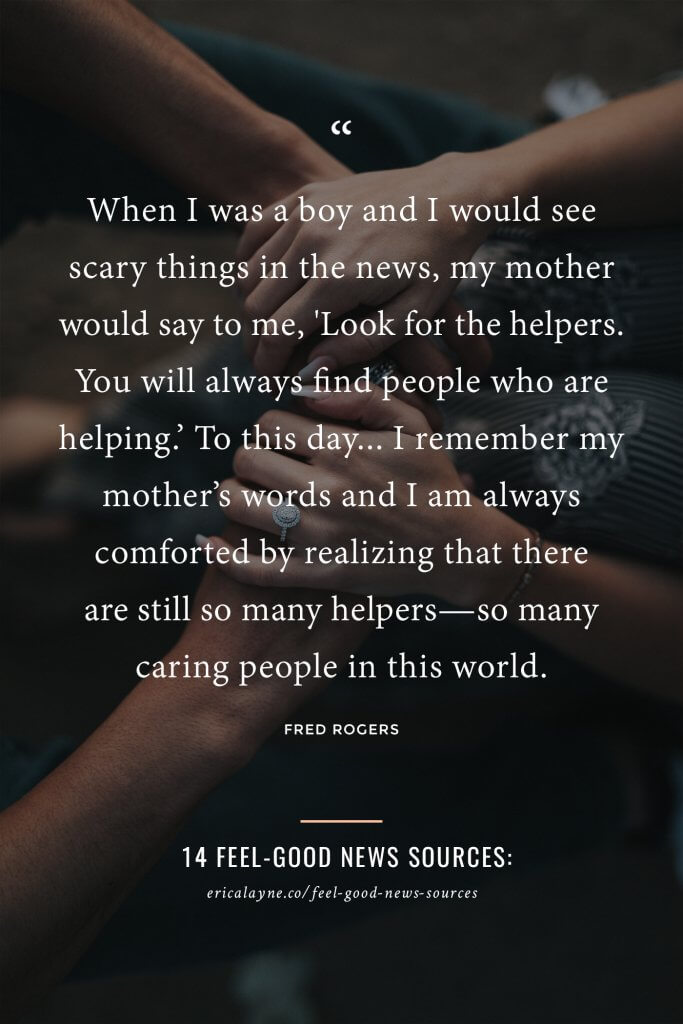 Here are 14 platforms to help you see the good. I've divided this list into three categories: feel-good news sources; just-the-good-stuff from mainstream media outlets; and Instagram accounts that will help you balance your feed.
There is always good to be found if we look for it.
Feel-Good News Sources
Good News Network
Good News Network has been a source of positive news stories for more than twenty years. You can look back and see decades of uplifting stories coming from around the globe, confirming that good news is not in short supply, even if we don't see it reported on as often.
Website | Instagram | Facebook | Twitter | YouTube
Good Good Good
Taglines like "We help you find the helpers" and "Real good news, not just feel-good news" makes this a stand out source for those who really want to keep up with current events, but in a way that doesn't leave them feeling overwhelmed or helpless. Good Good Good doesn't shy away away from the hard stuff going on in the world but it shares the stories of people being helpers and heroes and also offers information about real ways you can help.
Website | Instagram | Facebook | Twitter | TikTok | Podcast
The Optimist Daily
The Optimist Daily is a fascinating source of solutions-focused, good news. From groundbreaking science discoveries to research backed ways to better your mental or physical health, you're sure to find something that will give you a breath of hope for the future!
Website | Instagram | Facebook | Twitter | YouTube
The Happy Newspaper
"When the world feels dark, it's so important we recognise the moments of light." This quote from The Happy Newspaper instagram page sums up what it is all about—sharing the positive, happy news from around the world. This is a unique resource because you can actually get a printed newspaper every three months with happy news only. The design by creator and artist Emily Coxhead, of the UK, is bright and whimsical and would be a fabulous coffee table addition—fun for kids and adults alike.
Website | Instagram | Facebook | Twitter
The Happy Broadcast
The Happy Broadcast had me at anxiety-free! They aim to improve the mental health of readers by sharing fact-checked stories and resources. They also have a podcast and a highly rated self-care app to help you build better habits through mindfulness, journaling, gratitude practices and more.
Website | Instagram | Facebook | Twitter | Podcast | Self-Care App
Upworthy
Love it or leave it, Upworthy makes good news entertaining. Known for their long-form, often clickbaity headlines, if you land on their homepage, you'll likely stay awhile—because you just can't stop clicking!
Website | Instagram | Facebook | Instagram | Twitter | YouTube
Just the Good Stuff—from Major News Outlets
You know the five minute spotlights at the end of the local news that share the heartfelt stories of rescued puppies or children making a difference in their community? You can find those stories on many news outlets in their own section of the website. For just the good stuff, try some of these national news sources and check to see if your local news station has a similar page that you can bookmark.
USA TODAY's "Humankind" Section
The New York Times' "This Week in Good News"
Feel-Good Instagram Accounts
Love What Matters
Love What Matters spreads real stories submitted by real people all over the world that celebrate love, kindness and compassion. Stories that remind us to #LoveWhatMatters.
Website | Instagram | Facebook | Twitter | YouTube
Humans of New York
What started out as a storytelling photo documentary sharing the stories of individuals that photographer Brandon Stanton met in the streets of NYC, has expanded to stories from humans all over the world. People are drawn to the authenticity in these stories of those just like you and me. Humans of New York shares stories of love, regret, addiction, and strength that remind us that everyone we meet has a story to tell.
Website | Instagram | Facebook | Twitter
Some Good News
While John Krasinski only aired eight episodes of his wildly popular pandemic YouTube Special Some Good News, the instagram feed is still spreading good news with adorable videos and inspiring stories that will leave you with a smile on your face.
Instagram | Facebook | Twitter
Good News Movement
Run by a journalist, this good news only social media feed shares sweet, adorable, and touching headlines from around the world.
Instagram | Facebook | Twitter
Tanks Good Life
"Positivity with a hint of humor," this profile will fill your feed with heart-warming stories and a few irreverent memes for good measure. 😉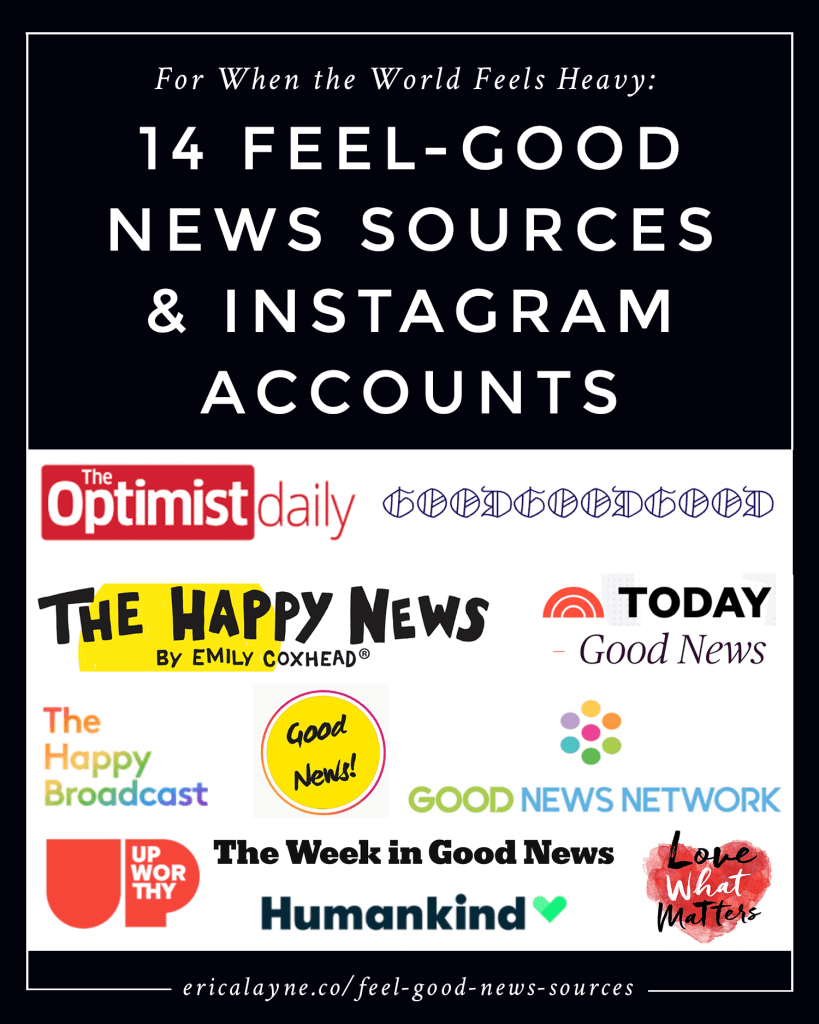 Do you seek out good news to balance out all of the heavy news? Who else are you following, and what websites or social platforms would you add to the list? Let's discuss—and continue building this list of feel-good news sources—in the comments!

P.S. I aim to make my social media feeds completely angst-free. If you're looking for a safe place to land and learn, I'd love to invite you to follow me on Instagram or Facebook. ❤️