January is a great time to reevaluate what chores your kids are doing—or to get started if you haven't! A couple years ago, I had no idea where to start. So today I'm sharing the simple system that's working at our house.
Daily Jobs
A few months before Trenton's fourth birthday, I started talking up how awesome it was that he'd get a daily chore when he turned four. (Just like his big cousin Landen!) He took to his job proudly because of how important we made it sound. 🙂
At first his job was putting away the silverware. When he turned five, he switched to helping me unload the dishwasher and do the laundry. When our younger son turned three, he started wiping down the dining table every morning after breakfast.
They also put their shoes away whenever we come home, clear their plates after every meal, *try* to make their beds (when I remember to remind them), get dressed, and brush their teeth.
Money Chores
Every Monday, I put ten chore magnets on the fridge, and throughout the week, the boys can choose one whenever they want to earn a quarter. Once they've done the chore, we put the magnet on the side of the fridge and they can't do it again until the next Monday, when I put all of the magnets back on the front.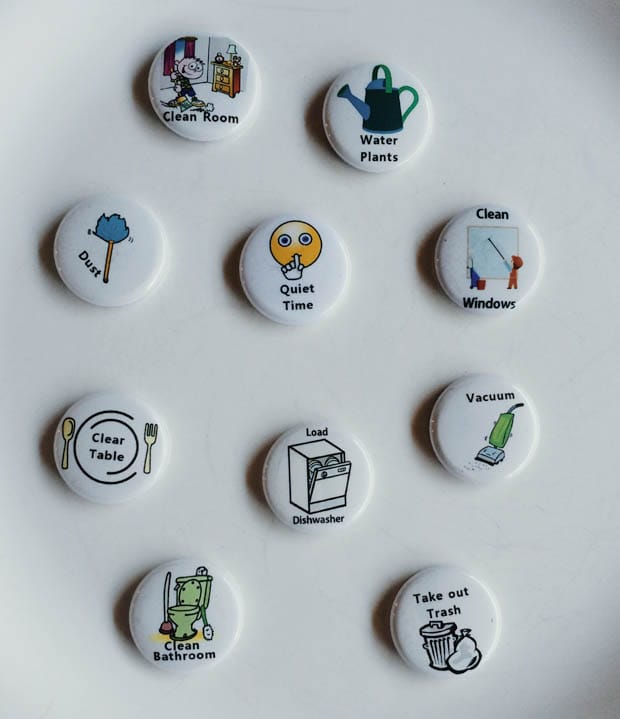 I emphasize that they can't do money chores unless they are doing their daily jobs consistently—and in general, doing whatever I ask of them.
I also remind them that I need their chores to actually be helpful for me if I'm going to give them my own money for it. Granted, they're young, so they do need help/supervision on some of the jobs, but if I end up doing more than they do, they don't get paid. 🙂
Overall, I love the sense of autonomy our children have gained from earning money. Trenton has bought things he has regretted (like the $2 toy boat he bought on impulse), and he has opted not to buy something in order to save for something else. Plus, at a rate of a quarter per chore, it takes them a good while to earn any significant amount of money. Delayed gratification at its finest!
Now, in case you need some ideas—
Age-Appropriate Chores: Kids 5 & Under
Clean windows or mirrors. 

Dust a room. Or the whole apartment/house, if your child is closer to five. 

Clear the table.
Make beds.
Help unload the dishwasher.
Put away the silverware.
Wipe the table after a meal.
Water indoor or outdoor plants.
Fill a pet's water or food bowls.
Put dirty laundry in the washer.
Switch laundry from the washer to the dryer.
Fold clean towels.
Match clean socks.
Clean their room. (Or for younger kids, one aspect of it, like putting away the blocks.)
Empty the bathroom trashcans.
Have 20 minutes of quiet time (or reading time) in the bedroom. (Yes, I pay my kids a quarter to give me 20 minutes of peace! Only once a week, though…)
Vacuum an area of the house. (Best suited for the 5-year-olds.)
A Giveaway! 
Last thing. 🙂 Several months ago, when I ordered the chore magnets from TrainMeUp (an etsy shop), I had a feeling I'd like them, so I ordered an extra set of ten magnets for one of you!
Leave a comment, before Friday at midnight, if you'd like your own set, and I'll get it in the mail to our winner! You're welcome to grab additional entries in exchange for following me (facebook, pinterest, email in the sidebar), sharing this post on social media, or even just sending this post to a friend with small children. Just let me know if you do. It's really the perfect system for young kids and laid-back moms.
Update: Congrats to Jordann on winning the giveaway! Thanks to everyone who participated! 
Now the real question is—How are chores going at your house?