If you remember from when I shared some easy alternatives to family dinner, my husband and I have mixed feelings about family meals. (And by mixed, I mean my husband wouldn't mind bagging it for a few more years…)
So when we do sit down at the dinner table, I want our time to count. 🙂
With his own kids, Bruce Feiler of The Secrets of Happy Families aims for just ten minutes of quality talk per meal, with the kids talking for at least half of it. And the way I see it, if we're going to go to the effort of serving up dinner and refilling a hundred cups, we might as well pack in some added benefit!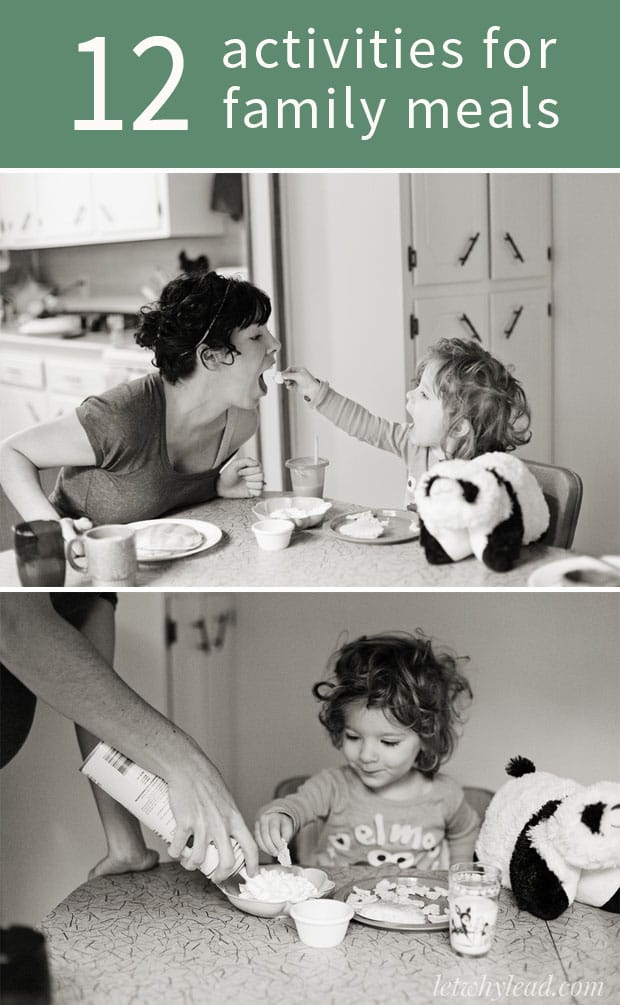 12 Activities for Family Meals
For a printable version, click here!
To Build Sense of Self
Autobiography Night
Ask each child to recall an experience, and then follow up with opened-ended (who, what, when, where, why) questions. Boston researchers found that children who were encouraged to reminisce retained memories better than those who weren't. Memories also translate to self-esteem, which makes me smile even more when my son talks about the cooked carrot we tried to put on a snowman when he was two years old.
The Happy Sad Game
Have everyone at the table share one sad and one happy thing that happened to them that day. I love that this gives kids a chance to see their parents and siblings work through hard things. Feiler says this simple exercise helps children develop "empathy and solidarity with those around them." Beautiful.
The Dinner Guest Game
If you could bring one person, past or present, to dinner, who would it be, and why?
To Build Family Identity
The "Do You Know Me?" Game. Have the kids ask questions about themselves (What is my favorite food? What do I do at recess?), and then have them answer questions about YOU (What town did I grow up in? What is my favorite book?). I love the idea of showing our children that it takes effort and thoughtfulness to really know another person.
Service Suppers. I recently heard one mom say that to combat some characteristics of the current "selfie generation," she has her teenage children share one thing they did that day to serve someone else. What a great way to encourage children to look outside of themselves as a habit.
An Attitude of Gratitude. Ask: What is one thing you are grateful for today? We've done this a lot lately, and I'm often touched by the range of blessings we share in one sitting, from a deep love for grandparents and family legacy to my son's appreciation for candy. 🙂 If gratitude is a muscle that grows stronger with exercise, I want my children to be bodybuilders!
Pain Point. Come to dinner prepared to share one sore point from your life, and allow your children to brainstorm ways to handle it. (Examples: A neighbor complained about how long you go in between mowing the lawn. You scheduled two appointments for the same time. You want to donate to the PTA, but you're saving to buy a house.) Brainstorming together encourages problem solving skills and family unity.
Roots. Share a story from your family's history. This one may break Feiler's rule of having the kids do at least half the talking, but it's worth it. If we want family identity to seep into our children's souls, storytelling is a powerful way to achieve that. (I know it can be hard to think of stories off the top of your head, so try printing some old family photos to use as a springboard for your stories.)
To Build Verbal & Other Skills
Describe Your Day. Have each child describe their day in a few sentences—without using any words that start with a certain letter.
Tough Questions. Throw out a topic, and encourage curiosity by having the kids come up with questions about that topic. The toughest question wins. (Topic ideas: photography, basketball, Broadway, air travel, nocturnal animals.)
Similar Words. Give the kids two dissimilar words and have them brainstorm what's similar about them.
Human Thesaurus. Toss out a common word (play, quietly, happy) and ask everyone to come up with as many alternatives as possible.
—
Believe me, I know you can't do this every time you sit down. On the nights when my ears are ringing from the wild laps the boys ran around the table right before dinner, I'm just happy when the food in their mouths has quieted them down.
You also may not have time at dinner for the whole family to share, but if you keep plugging away, I really believe those dinnertime chats will help your kids come to feel like they are a part of something bigger than themselves—your family.
You know I'd love to hear what's happening at your table! Have you done any of these? Do you have any to add?
---
Resources:
The Secrets of Happy Families by Bruce Feiler
How to Craft a Family Purpose Statement by Erica Layne