Shoes on the stairs, misplaced phone chargers, lost homework folders—these everyday annoyances add up, keeping us from living the calm, present lives we're all chasing. (There's some irony in chasing a calm life. But sometimes that's just how it feels, right?)
When we moved to our new home, all I cared about was setting up systems that would eliminate some of the friction from my life.
A place for everything. Decent habits from the get-go.
Fewer of the irritants that prevent me from living this beautiful string of moments with my family.
To get your wheels turning, I thought I'd share 20 things you could do to reduce friction in your home life and help you live more fully.
Reducing Friction to Live More Fully 
1. Designate two to three spaces where you are allowed to set down your devices. At our new place, I chose a spot on each floor where I keep my phone. It is saving me the oh-too-frequent insanity of "Where did I put my phone??"
2. Hang hooks in your entry. It's the simplest change that makes a HUGE impact, especially if you have little ones.
3. Get a really good doormat, and help your kids get in the habit of swiping their feet twice before they enter. I'm considering buying this doormat
, but I'm not sure if the word Dr. in it is influencing me. I think it may be but I don't even care! Anything to reduce the amount of dirt that comes into the house.
4. When you make sandwiches for your kids' lunches, make enough for at least two days. For me, it's the sandwich that is the stumbling block. Making them ahead = problem solved.
5. Keep phone chargers where you need them, such as by your bed, in the kitchen, in the car, or at the computer. Buy an extra one or two and save yourself some headache!
6. Use the subscribe and save feature on Amazon for items that you need on a regular basis but somehow never remember to put on your list. (I use it for dishwashing
 and laundry detergent
.)
7. Consider using hanging closet organizers for the kids, instead of dressers. Setting clothing inside cubbies is easier for kids (and busy moms!) than folding and putting away in drawers.
8. Have hanging file folders in the kitchen, or wherever you sort through the kids' papers.
9. Rework your car storage. Think: diapers and wipes, a change of clothes your potty-training toddler, jumper cables, emergency snacks.
10. If your kids tend to get crazy sandy/wet at the park, keep baby powder in the car. A dusting of it on their legs and feet instantly will dry the sand out and allow you to brush it right off, which means…a cleaner car!
11. Buy hooks for your car—to hold purses, backpacks, reusable grocery bags. Hooks of any kind are my best friend. These
 are next on my wish list.
12. Set up the world's easiest chore system for your kids, rather than feeling guilty over the fancy system you never remember to follow through with. (Been there!)
13. Use the timer feature on your iPhone / iPad when your kids use your devices. A timer telling them time's up seems to spare us a lot of whining / arguing, compared to me telling them time's up.
14. Choose ONE thing on this list to let go of for a season.
15. Have multiple laundry hampers (lights and darks) so that laundry is sorted before you even head to the washer.
16. Reduce the number of bathroom towels you own. One set per bathroom / family member will do. Having fewer motivates you to wash them and hang them back up promptly, instead of getting backlogged.
17. Make this DIY after-shower cleaner to prevent hard water buildup and extend the time between deep cleanings.
18. Avoid power struggles with your kids by not engaging in any discussion AFTER you've given the directions. It's like quicksand. The more you struggle, the faster you sink! Read more in this great post.
19. Have family meetings! I know you've heard me say this before, but a quick meeting where we discuss what went well last week and what we can do better at the following week gives us such a warm and productive forum to broach behavior issues with our kids, and they can bring up issues with us too(!), which helps them feel like they have a voice in the family.
20. Every night when you're in bed, think through what you're going to wear the next morning. It's amazing how twenty seconds of thought can save you minutes of hassle in the morning!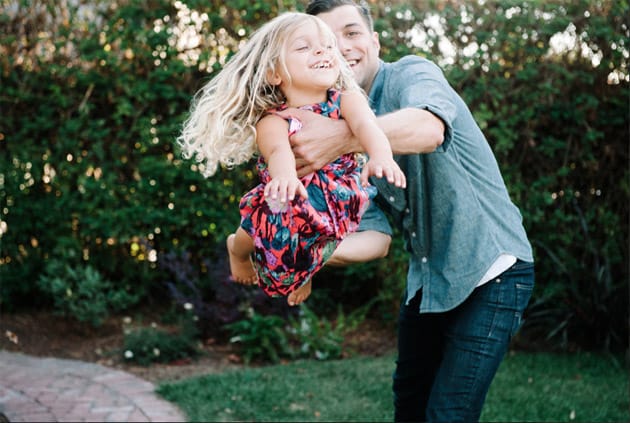 I hope this list gave you some new ideas, but when it comes down to it, it's not really about what you do; it's just about doing it. It's about removing obstacles, setting up systems that make life a little more effortless, and ultimately, connecting more with the people we love.
So let's hear it—What is a point of friction in your life right now, or one that you recently alleviated?
---
Photo credit: My incredibly talented, SF-based friend Jen, at Jen J Photo.