As I got ready to record this episode (and write this post) I kept asking myself when it was that I first got into HABITS. I wanted to come up with some magical origin story. Like a time when I set a single habit and it changed my whole entire life, forever and ever.
But as much as I've racked my brain for that story, it hasn't come.
What slowly has risen up through my mist of my memories is more of a line than a story. It's a line from one of my favorite nonfiction authors, Gretchen Rubin. And I think it was this tiny little line that converted me to the power of habits.
"With habits," Gretchen says, "we conserve our self-control."
If you fell off your seat just now, don't worry, I'll wait. I know. It's good.
With habits, we conserve our self-control.
We all know the feeling of running out of self-control. It's a daily roller coaster, for me anyway. I start every week—every day—with determination to stay on track. To nourish my body with healthy food and movement. To make eye contact with my kids and actively listen to their stories. To read more books and scroll less Instagram.
But my reserves typically only take me so far. Self-control seems to evaporate as the day goes on.
But habits? Habits are something we do on autopilot. They don't take self-control because they don't require a decision. They're routine.
Since this discovery, I've become low-level obsessed 😉 with learning about habits, and before we dive into my top 5 lessons, I wanted to share two of my very favorite resources on creating habits. These books have literally shaped and changed my life.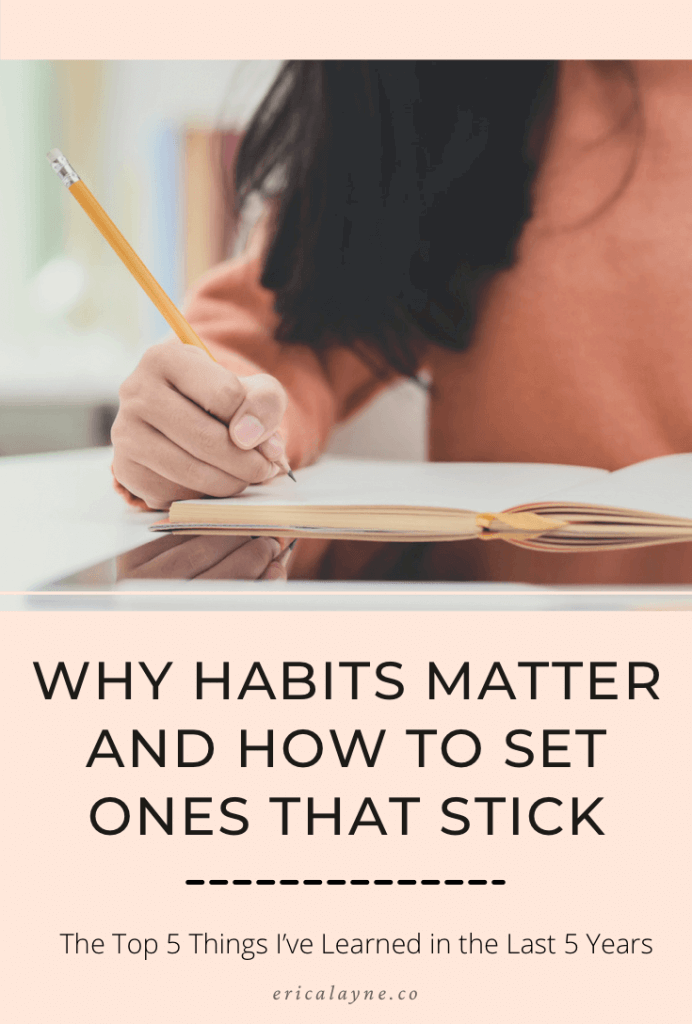 The Top 5 Things I've Learned about Habits in the Last 5 Years
1. Habits allow us to accomplish our goals and fulfill our values.
This one has a lot to do with what I talked about above. Habits take willpower out of the equation, and if we've chosen habits that are in alignment with our goals and values, they get us there without requiring so much conscious effort and self-control.
"Goals are about the results you want to achieve. Systems are about the processes that lead to those results. You do not rise to the level of your goals. You fall to the level of your systems."

James Clear
Goals might inspire us, but it's our systems—our day-to-day habits and tiny actions—that allow us to fulfill those goals.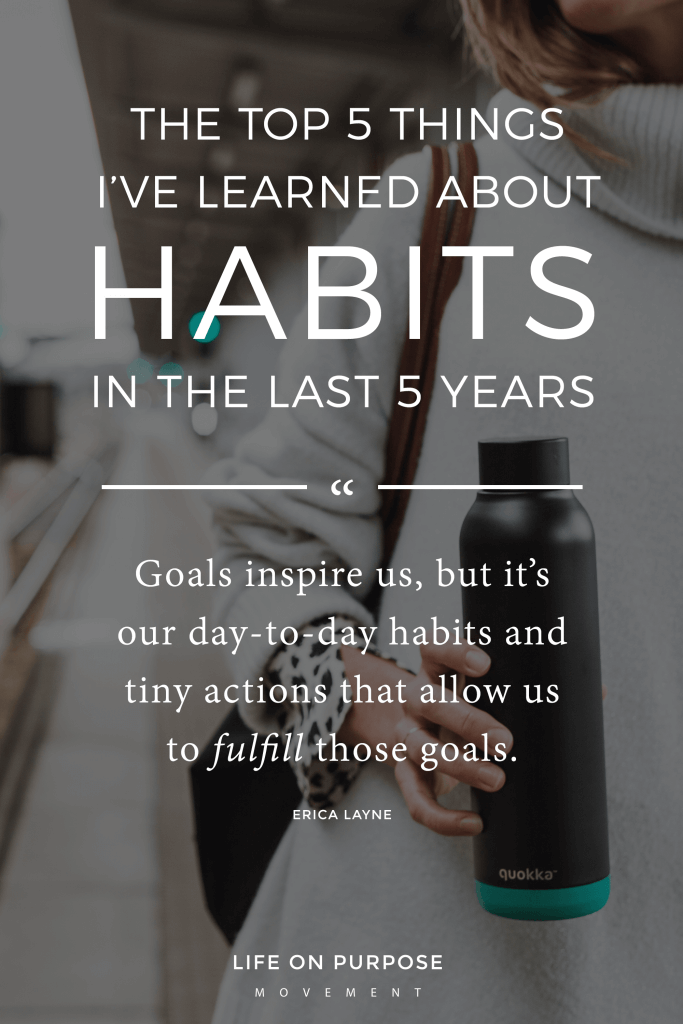 2. To create habits you can meet, know how you respond to outer and inner expectations.
Are you the kind of person who secretly wants to rebel when someone tells you to do something? Or maybe you're the kind of person who actually needs someone to be accountable to (like your boss or a personal trainer) in order to get your best work done.
In Better Than Before, as well as her follow-up book called The Four Tendencies, Gretchen Rubin identifies four types of people in relation to this.
Obligers: The most common group of people. Obligers struggle to meet their own expectations, but they are great at meeting outer expectations.
Upholders: Upholders can uphold both inner and outer expectations. They generally can achieve the goals they set for themselves and be accountable to people outside of themselves.
Questioners: Questioners question both inner and outer expectations. But if they understand the reasoning behind the expectation and are on board with the why then they can fulfill either outer or inner. (I'm a questioner!)
Rebels: Rebels resist both outer and inner expectations. (My husband is a rebel, and as you might imagine, it keeps our life… dynamic!)
In her books (linked above), Gretchen gives lots of strategies for each type, but the gist is this: When you know which type you are, you can work with your personality to design habits and use strategies that are best suited for YOU.
3. Layer new habits onto old ones. (This is called habit stacking.)
Make two columns. In the first column, write down the habits you do each day without fail. In the second, write down the things that happen to you each day without fail. From here you can evaluate your lists and find some great places to layer a new habit into your existing lifestyle.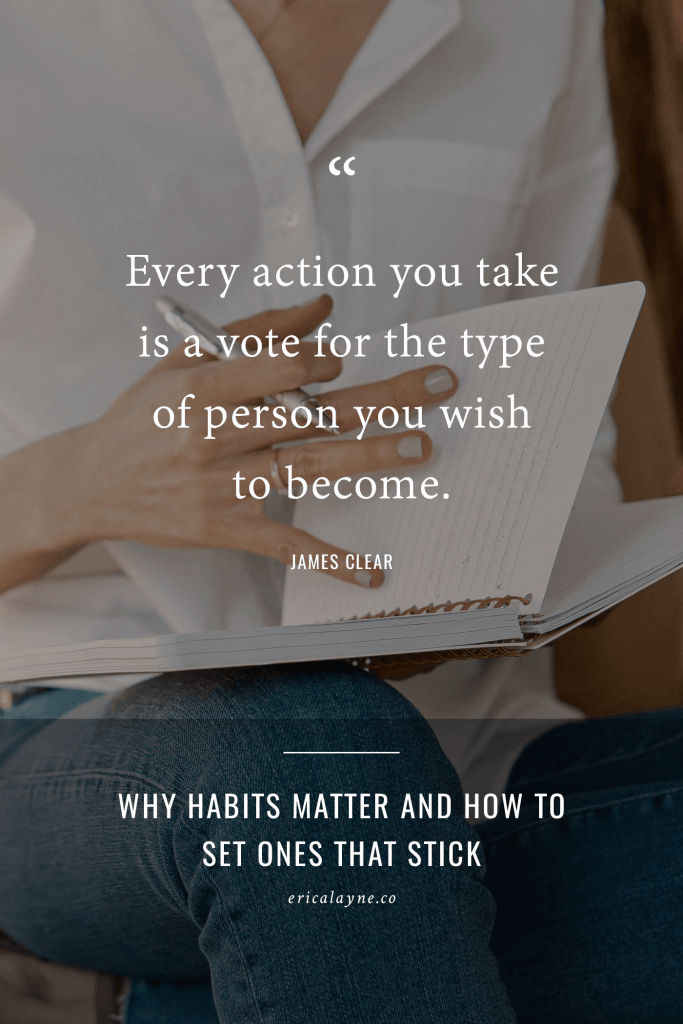 4. Use habit tracking to develop consistency.
I notice that there are two approaches to habit tracking: streaks & monitoring.
If you've ever used the app Headspace to meditate, you'll notice that they track your streak and will tell you how many days in a row you've meditated. You'll also see this feature in fitness apps, on the Apple Watch, and more.
Watching your streak grow is exhilarating and confidence building, but the downside is that it's easy to get discouraged when for whatever reason you finally break that streak.
Last summer, I had more than 100 days going of a movement streak on my Apple Watch. I noticed myself feeling like it was a bit of a burden toward the end. I felt chained to it, like I had no choice but to keep the streak alive. And when I finally did break it, I struggled to get going again.
So instead of growing streaks, I prefer to monitor—or to simply TRACK my habits. Tracking helps me avoid the all-of-nothing element of streaks.
The Habit-Tracking Method That's Working for Me
At the beginning of the year, I felt the idea of tracking sitting on my heart, so like the nerd that I am… 🤪 I made myself a worksheet! On it, I choose up to five habits for every month, and I check a box for each repetition.
The goal isn't perfection—not by any means. I'm not shooting for 30 checkmarks per habit per month. It's just monitoring. Following through with my daily habits helps me feel like I'm on top of life AND in personal alignment, but it's an exercise to help me develop consistency—not perfection.
At the end of every month, I take a look, maybe compare it to the previous month, and see which habits I struggled with and which ones I knocked out of the park! And then I change it up a bit and choose some new ones the following month.
I didn't make the habit tracker intending to share it with our community, but this simple system has been so effective for me that I wanted to pass it on!
Download Your Own Habit Tracker Here ↡↡
One thing I'm LOVING about this method is that the month-by-month approach helps me avoid getting bored with my habits. Every month I evaluate which of my habits I really enjoyed tracking the previous month (and which ones kind of… lost their luster over 30 days). Then I can add mix it up a bit the following month.
James Clear talks in Atomic Habits about how boredom is one the things that derails us. We get bored with our habits and basically sabotage ourselves in search of novelty. Right about day 22, I notice myself getting a bit bored with some of the habits I'm focusing on that month, so I can tweak those ones or swap them out the following month. This system seems to be giving me overall consistency—but just enough novelty to keep me from ditching the system altogether.
Enter your info in the box above, and I'll send a copy of my habit tracker your way!
5. Use the power of identity to help your habits STICK.
"The ultimate form of intrinsic motivation is when a habit becomes part of your identity. It's one thing to say I'm the type of person who wants this. It's something very different to say I'm the type of person who is this." James Clear
Note for anyone who is or loves a rebel – identity is extra powerful. So if you tend to resist being told what to do, whether it's by someone else or yourself, really try to grab onto identity. Grab on to being a person who meditates or goes to the gym or doesn't get on their phone at night.
Tell yourself, I'm the type of person who is this.
---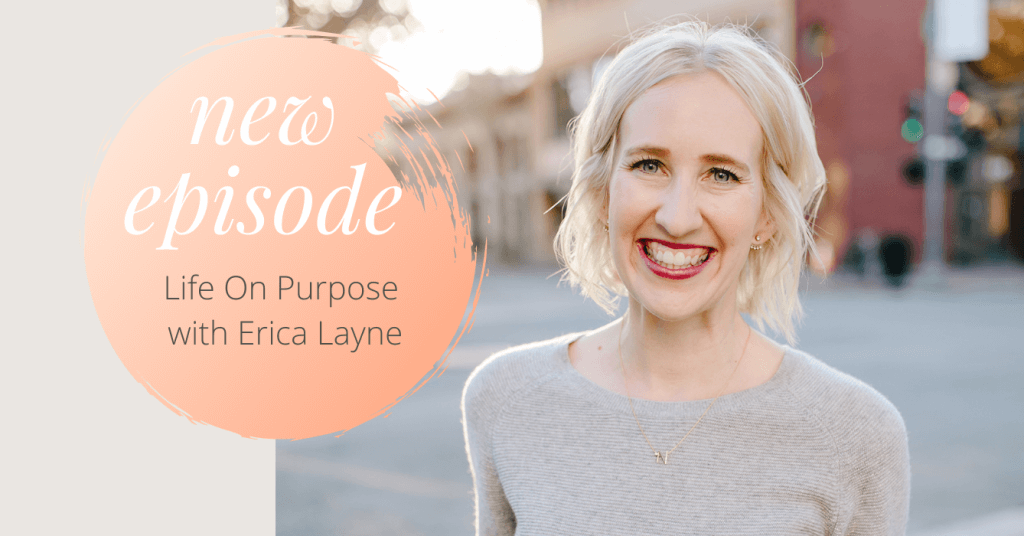 More from Episode 19 of "Life On Purpose with Erica Layne"
Here's what else you can hear in the latest episode of the podcast!
Off Ramp: A segment where I point out something I see women doing that I'd love for you to quit! In this episode I ask two questions: "Do you ever worry about what you'll do with your time once your kids are older?" and "Are you intimidated by the idea of finding traditional work again?"
Self-care spotlight: A segment where I remind you not to neglect the person you spend all of your time with—you! Today I talk about noticing the wall before you HIT the wall.
Listen to the full episode in your favorite podcast app, or in the audio player below! And be sure to hit subscribe!
Apple Podcasts | Google Podcasts | Spotify | Overcast | Stitcher
Show produced by Callie Wright
---
Sending love!

PS. What's one habit you've set (whether consciously or unconsciously) that's working for you?! I'm always looking for new ideas!