For the last few years, I have worn my hair in three styles:
Curled & down.
Curled and back.
Straight and back.
Then when I get tired of blow drying medium-length hair, I cut it short. Rinse & repeat.
But all of the fun hair tutorials I've seen on pinterest inspired me to get a little more creative, so I set out to wear a new hair style every day for one week. They are all pretty simple variations that anyone with fine, medium-length like mine hair could do pretty quickly—and still feel pulled together.
Beachy waves. My normal style are the bouncier curls you see in #5. This time I just made looser curls with the 1-inch straightener I always use, applied hair spray, and then combed out. I really liked the more subtle look.

Twisted and pinned bangs. Low bun with a couple of clear elastics. Headband from H&M.

Curls and and loosely braided & pinned bangs. I do either a twist or a braid for this one.

Updo that started out as an inside-out pony tail (#9 on THIS tutorial). My hair is short enough I could just tuck away the ends with a couple of bobby pins.

Bouncy curls (not combed out) with H&M clip.

Side ponytail and headband from Loft. (I haven't done a side ponytail since I was a little girl—definitely makes you feel youthful!)

And because every week of great hair comes with at least one goof, below on the left is my attempt at a tutorial, pictured on the right. I love that style, but it is going to take some practice! She makes it look so easy in her video! Check it out HERE. (Kate's blog is a genuine beauty treasure, by the way!)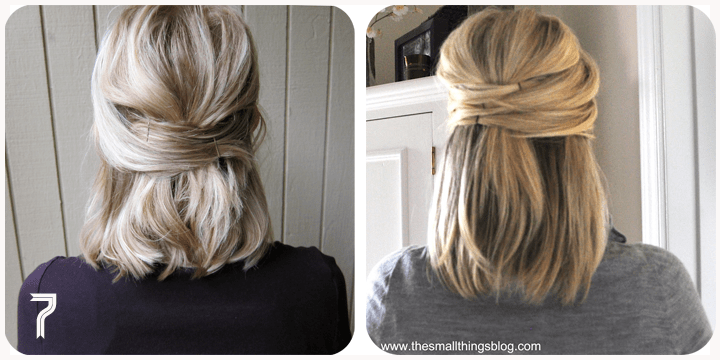 I didn't buy a single new product for this, and I only washed my hair on the days you see it down, so it didn't take a lot of time either. BUT I was sincerely surprised at how much bouncier I felt every day—not just because I felt pretty, but also because I was proud of myself for stepping out of my box. Even if it is just hair. Sometimes changing up even the smallest of things can breathe fresh air into your life.