A big welcome to today's guest writer, Lilly Neubauer of Open Hearted Home!
Three years ago, I sat front row in an auditorium listening to Elizabeth Gilbert speak on creativity. Going out on a weeknight to sit smack in front of a favorite author seems like the chosen activity of a woman with her life in forward movement.
Mine was anything but.
I was there not because I identified with the lightness and creative flow Gilbert so freely exhibited in the present moment. I was there because of how closely I resonated with the broken and bewildered place she shares in beginnings of her memoir, Eat, Pray, Love.

It was the last question of the night where I got what I needed.
"So you're hiding in the bathroom, facing the unknown. Then you have a book deal and are headed to Italy. How did you get from the bathroom floor to getting a book advance to travel the world and write about it?"
Her answer was shockingly feasible. Between her life falling apart and her great idea, Elizabeth Gilbert did a practice called Morning Pages.
What is Morning Pages?
Morning Pages, created by Julia Cameron in the book The Artist's Way, is the daily practice of writing three pages of longhand, stream-of-consciousness writing first thing in the morning.
It can be easier though, to explain what it's not: It's not an attempt to chronicle life from a distanced perspective or to leave a legacy narrative like we typically associate with journaling.
Instead, Morning Pages is the penultimate brain dump: it's the practice of getting out the surface-level thoughts that—for most of us—speak much louder and more insistently than our deeper, creative thoughts.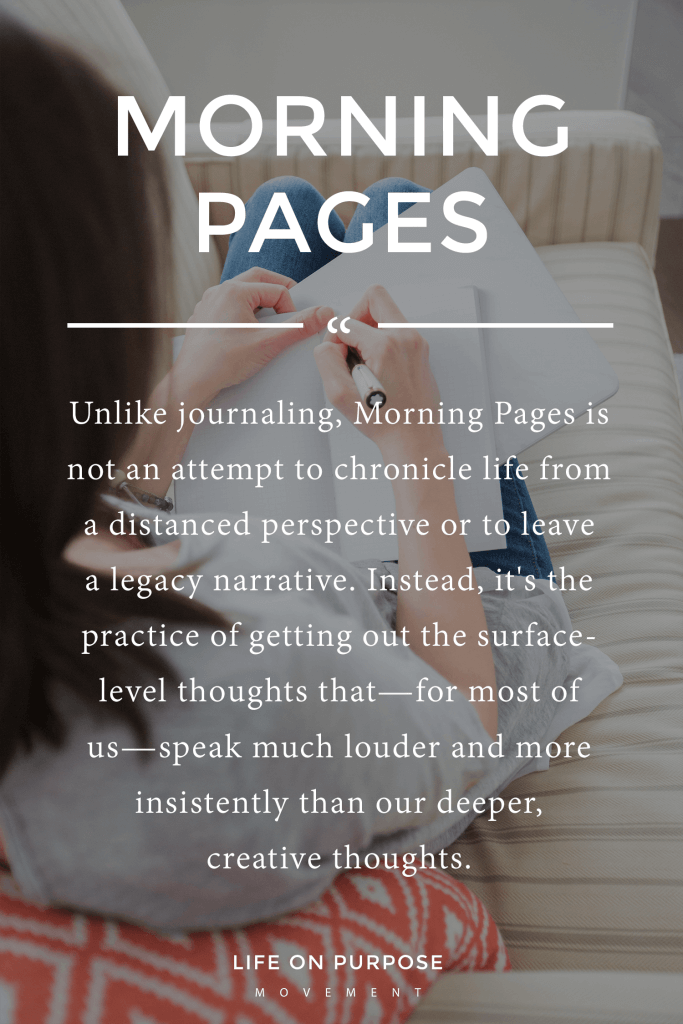 I had nothing to lose…
I'd never been able to journal consistently before, but this time, the stakes were high. I was in enough pain to be willing to try anything. And if Morning Pages got Elizabeth Gilbert an adventure to Italy, India, and Bali, I figured the practice at least had the potential to get me out of my funk.

Initially, it was hard to see my thoughts on paper. They were depressed, hopeless, and extremely angry. How could beginning my day with that be helpful?
But then I noticed how once the journal was closed and I got out of bed and into the world, I felt lighter.
By some form of magic, it feels like the second the chatter from my brain hits the page through my pen, the noise disappears, and I unlock a calmer, deeper perspective for the day.
5 Lessons We Can Learn from The Practice of Morning Pages
1. There's so much more going on in our heads than we ever realize.
The junk shakes out, one by one, line after line. I sometimes feel finished at the end of the second page, but it's always on the last line of the third page that my headspace feels empty—ready to receive and cultivate bigger ideas. Push through until you uncover it all.
2. When we give a voice—even a silent one—to our deepest, scariest thoughts, we release the shame and attachment to them.
Under our surface-level thoughts are the deepest ones that we rarely give a voice to—unresolved anger, terrifying worries, judgmental thoughts. When I fully participate in Morning Pages, the thoughts I try my hardest to deny end up on those pages. And just like that, the shame and attachment to them are gone. I see that it was just a thought in my head like all the lines before and after it in my Morning Pages. (We are not our thoughts.)
3. Putting thoughts on a page keeps us from putting them on others.
Yes, I wouldn't want anyone to see what I had written and think those thoughts and feeling were who I am. But I am better for having found a way to get them out of my head. When I put them on the page, I don't end up putting them on others when my thoughts became too much to carry.

4. With practice, we can train our minds to feel gratitude first.
I'm a mother who loves my child and family, which, for me, can translate into a constant state of worry. Having done Morning Pages for a few years now, I've noticed the first thought that pops into my head when I wake up these days is gratitude, right before the flood of worry.
The benefit of starting my day by looking at my worries (in contrast to my past pattern of jumping out of bed and denying them) is that I have the opportunity in that exact moment to convert the worry into surrender. And somehow, this has made room for gratitude in my life.

5. Regular maintenance goes a LONG ways.
Sometimes my day can look like a series of seemingly tedious tasks—cleaning the lint trap in the dryer, getting my oil changed, and flossing. The commonality in these is how, as much as they can feel like a worthless use of my time, they're investments I'm willing to make for optimal performance. An empty lint trap makes the sheets fresh and crisp, just like I like them. I enjoy driving more when my car runs like a top. As much as I hate to admit it, my mouth feels great after flossing.

It's become the same with Morning Pages.
As much as I would love to roll out of bed some days without the task of putting pen to paper, my family and myself have become used to my head and heart clear of small thoughts and ready for a big day.
Keeping up the practice of Morning Pages is the least I can do to show gratitude for the bigger life the practice brings me.
So if you need to find me, I'll be spending five minutes filling three pages every morning.
Maybe one day it will be from Bali.
---
Lilly Neubauer shares her family's journey to live an authentic, creative life at openheartedhome.com. She lives in Dallas with her husband, Markus, who co-authors Open Hearted Home, their daughter, who was welcomed through domestic adoption, and their many animals. You can find Lilly on Instagram and Facebook.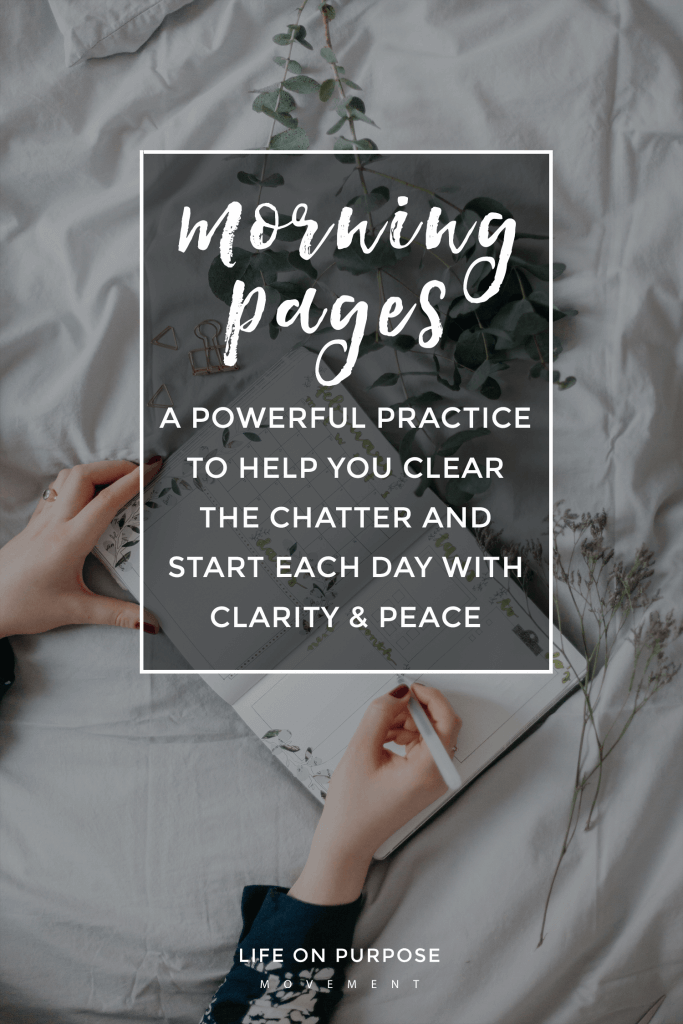 Could you see yourself doing this? Have you ever tried anything similar?