I saw the telltale glow under his covers, so in the soft light of morning, I pulled up his quilt and climbed in. He shined the flashlight into my face as I asked him how he slept.
His brother dozed peacefully in the bed next to us, and I could hear the baby stirring in her crib across the hall.
It didn't feel like magic, being snuggled up with my son and a flashlight at 7:02 am.
It felt normal.
It felt like…Did I start the dishwasher last night? What should we eat for breakfast? What errands do we need to run today? 
It felt like every morning for the last six years that I've been a mother.
—
They splash in the bath. The baby stands up and cautiously toddles over to grab a shampoo bottle. She plops down unceremoniously and concentrates on trying to get the lid open. Trenton, our oldest, suddenly turns on the water full force while Chase puts his hand over the faucet, redirecting the water to spray all over the room.
Sometimes I hide a laugh when this happens, sometimes I ignore it for a minute or two because at least they're happy, and sometimes I tell them to cut it out.
It doesn't feel like magic. It feels like water on my dry clothes.
But if I could watch it on a screen, I might see their bursting smiles instead of the mess.
—
She leans in when she's eating.
When she's in just the right mood, she leans deeply toward me with her head, while she sits in her high chair and I spoon her some yogurt. I lean my head in too, and we touch foreheads with sparkles in our eyes.
But it's so quick and fleeting, and within seconds I'm standing to mop up a spill, or I'm bending down to pick up the half of her meal that she tossed onto the ground.
It doesn't feel like magic. It feels like a tiny reward for loving them through the food throwing and the fit throwing and the I'm-going-to-throw-out-my-back-if-I-bend-down-one-more-time kind of days.
It feels like every day for the last six years that I've been a mother.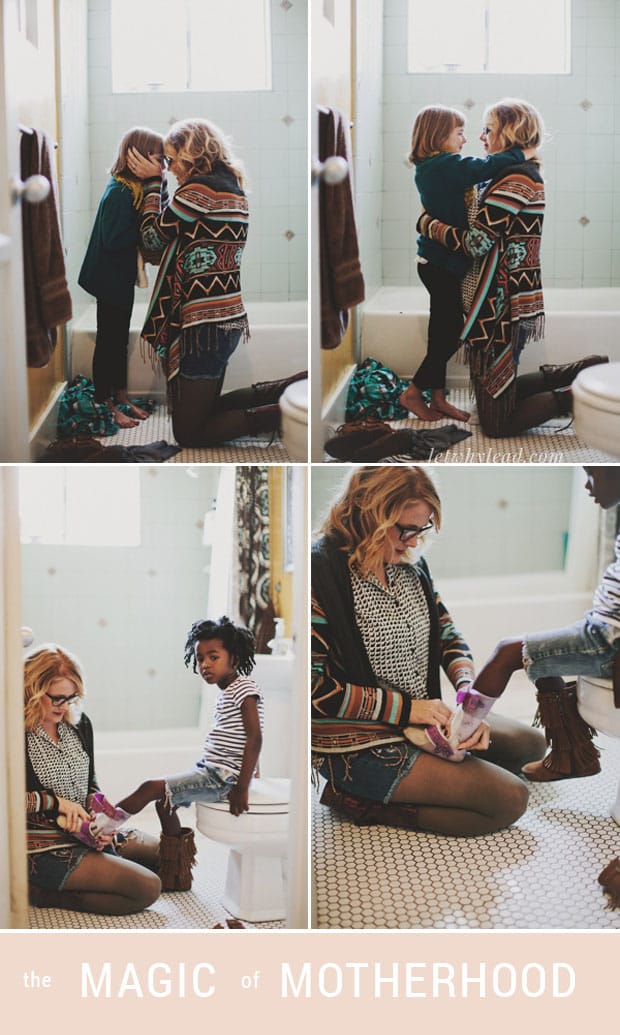 But it'll feel like magic someday. It will feel like a dream.
So why not try to capture the magic now? While I'm actually living it.