Wishing a warm welcome to Anne McOmber of Simplicity Avenue! 
—
Arms full with our toddler, diaper bag, and all the other loose ends from the truck, my husband quickly headed into the house with our kids. They were up the stairs and to the front door before I'd even made it past the sidewalk. I'd rather not be left in the dust to follow from behind, but I couldn't blame him for hustling inside to unload.
With a crutch in each hand and a leg often dragging behind, I'm not much help these days, which leaves my husband to carry everything. (A statement that couldn't be more accurate, literally and figuratively.) In fact, getting myself into the house—no piggyback needed—was quite a victory!
I didn't always rely on crutches (or a walker or a wheelchair). But with a broken connection between my brain and body and the unpredictable disorder it's caused by, I do now. My steps are slower than they used to be. And my life seems to be following suit.
Out of necessity my to-do list is shrinking. And my list of things I can physically participate in is shrinking even faster.
Yet as much as I wrestle with discouragement from the ups and downs of my limitations, I'm uncovering something freeing. If you've ever let go of the rush and surrendered to the moment, maybe you've found it too.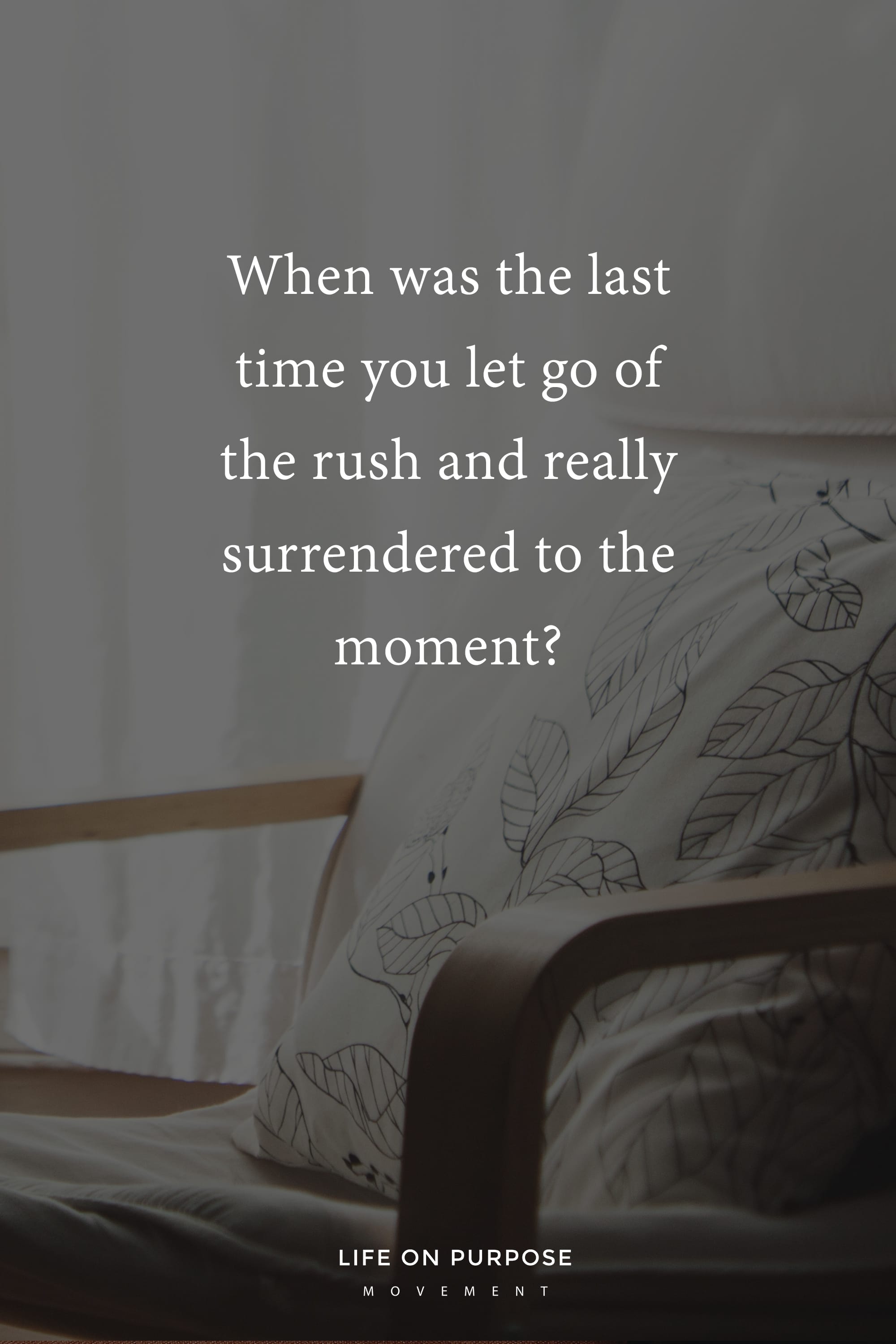 It's there in the sitting, playing and moving from room to room with my little ones, finding excitement within the four walls of our home (because we've long since had to let go of play dates, outings, and walks to the park).
It's there in the afternoon silence as I look out the window from bed, giving my thoughts and dreams all the space they need to wander (and my body the time it needs to rest).
It's there in my husband's arms, snuggled in for our weekly date night with a bowl of fresh popcorn and our current Netflix favorite (something we can enjoy together that actually fills me up rather than drains my limited energy reserves).
There in the minutes of savoring is something special and rare. And my frustrating, demanding, gift of a disorder makes it impossible to miss.
Because it's hard to rush through life when you can't, well, rush.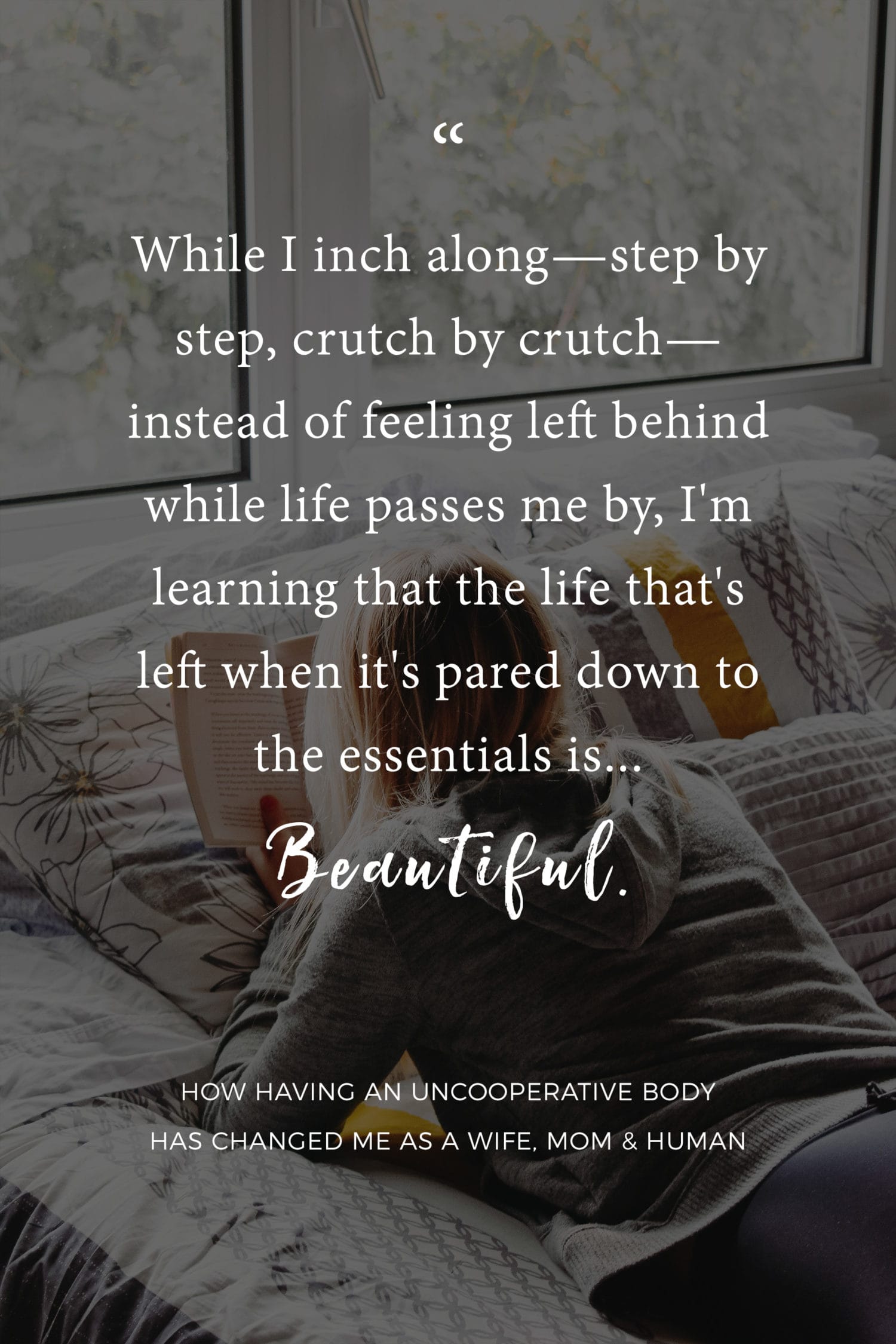 While I inch along—step by step, crutch by crutch—instead of feeling left in the dust while life passes me by, I'm starting to realize that the life that's left when it's pared down to the essentials is beautiful. Not because it's glamorous to only have the energy for one outing a week, to be unable to drive, and to need help getting in and out of the shower. But because there's space to soak in the things that I've chosen to hold onto.
If rushing is keeping you from this kind of savoring, maybe it doesn't have to be.
Before you speed through breakfast to jump into your to-do list, pause. Look around. Savor a new day and a beautiful beginning.
Before you pass by goodness without even a second glance, stop. Wait two breaths more. Witness a moment of kindness, a beautiful sunset, or the feel of fresh air in your lungs.
Before you hustle to the next thing in your schedule, take in your little ones. Let your eyes linger on their busy hands, energetic bodies and squeals of happiness.
Before you rush through one more day, slow your pace and savor the moment. Crutches, optional.
---
From Anne:
If the call to slow down and make the small moments count is tugging at your heart, I think you'll enjoy my heart-centered guidebook, This Moment Matters, 10 days of savoring the simple things. You can download your free copy at SimplicityAvenue.com.