A few nights ago, I sat among seven women—five of whom I'd never met before—and cried my "little girl cry."
I first identified my "little girl cry" a year ago, while I was training to become a life coach. I had volunteered to be coached in front of my class, and the technique my trainer used on me worked: I sobbed in front of my fellow coaches-in-training like…well, a little girl.
Hands in front of my face. Shoulders hunched, my frame shrinking. As if I was hiding.
From reality. From others. From myself.
The thing is, as I cried my "little girl cry," part of me felt excited. Because a year ago, as my coach trainer finished the exercise and my tears began to dry, I felt so incredibly light. In fact, the day after, when I went for a morning run, I wanted to hug—or at least high five—all of the people I passed in the street.
The other night, even as I sobbed, I knew I would feel a similar lightness afterwards. Not because I was crying (sometimes crying only spirals me deeper into despair) but because I was crying to set an emotion free, rather than to roll around in or blow more air into it.
This is what processing emotions looks like.
It's Okay to Cry
But many of us don't process emotion well. We ruminate unconstructively, or we try to push our feelings away instead of naming and accepting them. Worse yet, we tell ourselves we "shouldn't" think or feel a certain way.
But we DO think or feel that way, and it's okay.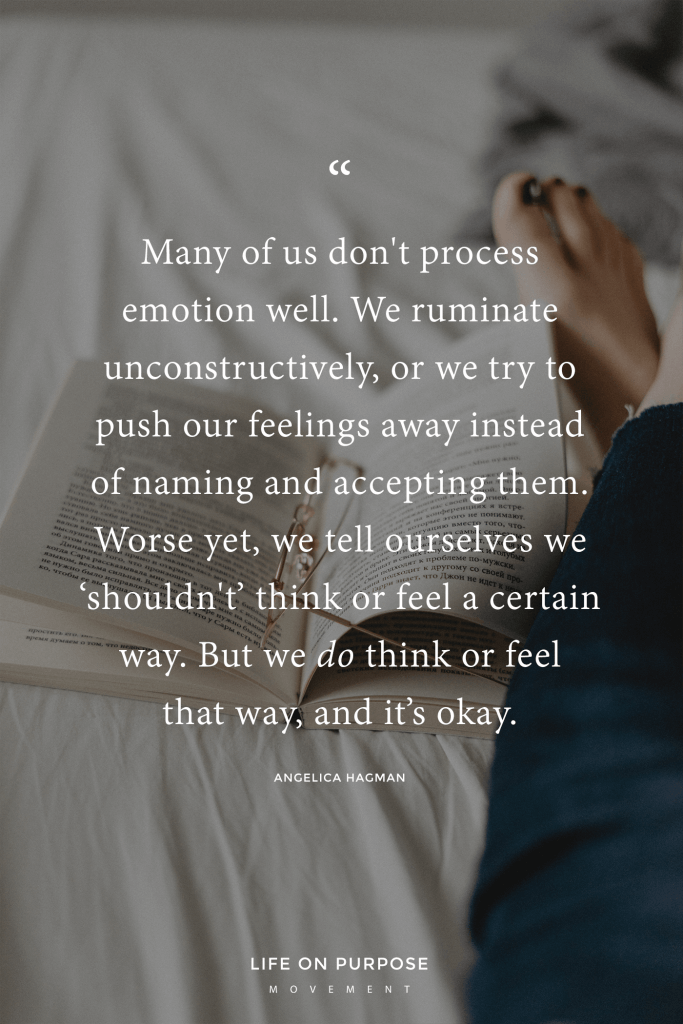 After my "little girl cry," one of the women in my ACA support group (Adult Children of Alcoholics) gave me not one, but two hugs. I realize now that she was probably worried about me and trying to comfort me.
But the truth is that at that point, I didn't feel like I needed the comfort anymore. I had processed my emotions.
I had comforted myself. I had cleared the channel for new thoughts, new feelings.
Of course, I could have processed my emotions safely at home, without showing anybody that scared little girl inside me. But by showing her to others?
Somehow, I gave her exactly what she needed: a chance to be seen. A chance to feel she is important enough to be witnessed. And important enough to be heard.
Don't Expect Instantaneous Results
Granted, this isn't a one-time-and-done thing. I predict that destructive thoughts and feelings will sneak back soon—in fact, they already have. My brain is efficient with its pathways and resistant to change, and I haven't yet perfected the art of processing and changing those thoughts and feelings as they come.
Mostly because sometimes, I don't even want to.
And most of the time, I don't really want to go to my support group. It took me a long time to get to my first-ever meeting; I had a lot of faulty beliefs about seeking help.
Today, I want to address a few of those faulty beliefs, because I know I'm not the only who's fallen into the trap of believing you should be able to "pull yourself up by your own bootstraps." The trap that seeking help is of no use, or maybe even dangerous.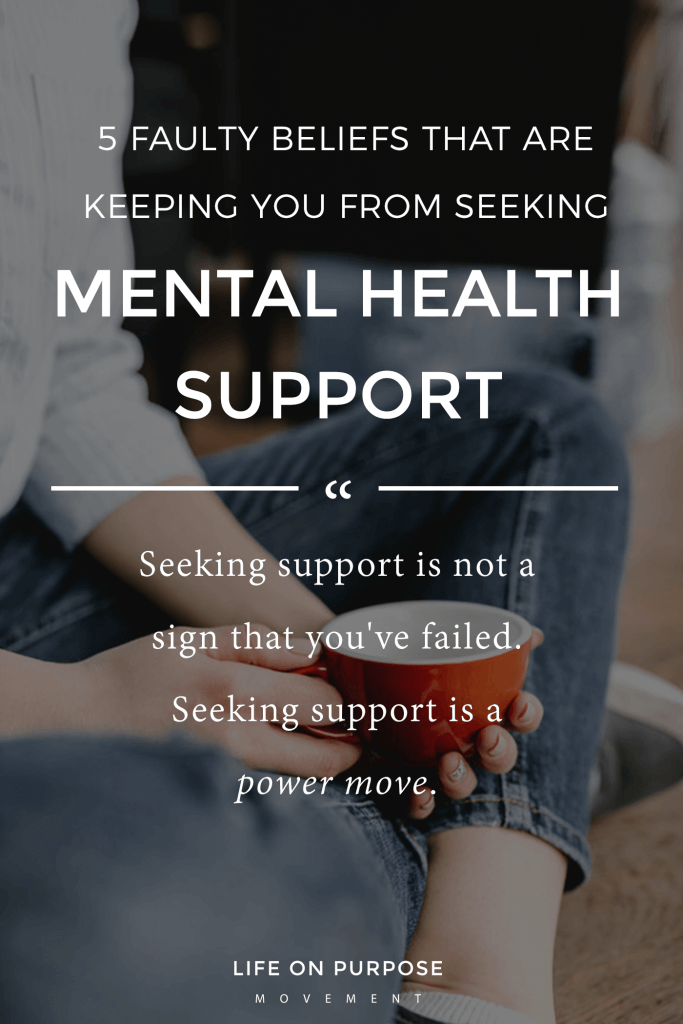 5 Faulty Beliefs That Are Keeping You from Seeking Mental Health Support (And How to Break Through)
1. "I should be able to do this on my own."
You've probably seen a quote floating around online about how going to see a therapist when you're mentally unwell is the basically the same as going to see a doctor when you're sick.
I love that this quote is helping us normalize mental health support, but at the same time, it's not acknowledging the full story—which is exactly why we don't see more people running to therapists and support groups.
We feel like we are (or at least should be) more in control of our mental wounds than we are of our physical wounds.
Also, physical wounds often heal regardless of how we think or feel about them. Not so with mental wounds.
So we don't seek help. Because consciously or subconsciously, our deeply entrenched beliefs stop us.
Of course you feel like you should be able to tackle this on your own. It's the messaging most of us have grown up with.
You feel powerless when what you want to feel is powerful. You want to feel like you've got this (and you do, but perhaps not in the way you think).
2. "Seeking support for my mental health means I've failed."
If we've been taught all of our lives to believe that we should be able to pick ourselves up, it's no surprise that we think we've failed when we just can't get there.
Please listen and understand: Seeking support is not a sign that you've failed. Seeking support is a POWER MOVE. You are exerting your power by making a conscious choice that's for your own benefit. You're steering your feet in a productive direction. You're taking care of yourself. See? A POWER MOVE.
3. "What if I seek help and things don't get better? Or maybe they get even worse?"
If you're thinking this way, I'm proud of you, because it shows that you have hope! It's understandable that you don't want to lose that hope by proving your belief that you can't be "fixed." You're trying to protect yourself from more failure.
Does the response, "What if things get better?" give you any comfort or courage? I promise—it's worth the risk to try.
But know this: No matter the outcome, if you seek help, at least you've made (wait for it)… a POWER MOVE. That's something you can take pride in. You did something incredibly brave: You cared about yourself enough to jeopardize your last shreds of hope.
Brave, brave soul.
4. "What if I do end up feeling better?" *panics*
At first glance, you may wonder why anyone would let this KEEP them from seeking help. Isn't feeling better a good thing?
But there is risk here.
Many of us worry that if we feel better, we'll somehow set ourselves up for another type of failure. If we feel better, we might need to assume responsibility we currently doubt we can handle.
And if we feel better, we should be able to DO better. But what if we feel better, and we can't do better, after all? Or what if we do, and we fail? Or even if we don't fail, what if we still don't succeed the way we hoped (in our profession, in our relationships, etc.)?
Or what if we succeed, and we can't handle our success?
I get it. Getting better is risky. But the thing about gambling on yourself… it's already a win. Also, why do you have so much faith in your incompetence??? 😉 Let's cut that out.
5. "But going to a therapist/coach is so expensive."
Maybe. But you are WORTH IT! You really are. Because you are a human being, and you have infinite worth, no matter what you do. (Also, support groups are free, so you can start there).
You spend so much money on things you can't take joy in because you feel like crap. So imagine that you have less money to go around, but you feel better about the things you use that money on? Win.
Also, POWER MOVE.
And if you do power move after power move after power move…
Well, try it out for yourself, then tell me what YOU created (with your support team).
So…
What's your next power move? And when will you take it? (Hint: I hope that answer is now.)
---
A Certified Professional Coach, Angelica Hagman helps others overcome internal and external obstacles, navigate the plot twists of life, rock their character growth arcs, and achieve their life goals. Based on this description, you likely won't be surprised to learn that Angelica is also a fiction writer: apart from online articles such as this one, she's published more than sixty short stories and non-fiction articles in print magazines. You can connect with Angelica on LinkedIn.