Eight years ago, I slipped in a puddle while carrying a baby inside my belly and a toddler on my hip.
The stroller I'd been lightly pushing went down hard as I scrambled to keep my babies safe while we fell.
I remember looking at that stroller—turned on its side, one wheel spinning in the air—as I sucked in a shallow breath of air after landing with all of our weight onto my right knee.
Thankfully, both of my little ones were safe, but my knee was no longer whole. I didn't know it in that moment, but my knee cap had broken clean into two pieces. All I knew right then was that no one was around to help, and I needed to get us out of that parking garage, up an elevator, and into our apartment.
Believing You Can Do It All… All the Time
I managed to get us home, and I spent the next week hopping and then limping around our apartment, barely able to lift our toddler in and out of his crib—my knee the size of a grapefruit left too long on the tree.
I convinced myself (and my husband) that my knee would be fine, that it was bruised and swollen but would heal with time.
I powered through the last trimester of my pregnancy, had our baby, and—a full year after the incident—finally acknowledged that my knee still wasn't quite right.
When the doctor showed me the x-ray, he told me I was extremely lucky it had healed as well as it had. I'm grateful that some physical therapy got me the rest of the way, and now—years later—I rarely feel that small hitch in my kneecap.
But I recognize now how foolish and short-sighted it was not to get help. I didn't tell my friends and I barely let on to my husband how much pain I was in and what little mobility I had. I even convinced myself I didn't need help from a doctor.
At the root, I think the problem was that I believed I could—that I should—do it all. I thought it was my job as a young wife and a new mom to handle whatever came my way and to do it on my own.
My body told me it was time for a season of rest and recovery, but I refused to listen.
I thought rest was for the weak, and I believed I was strong.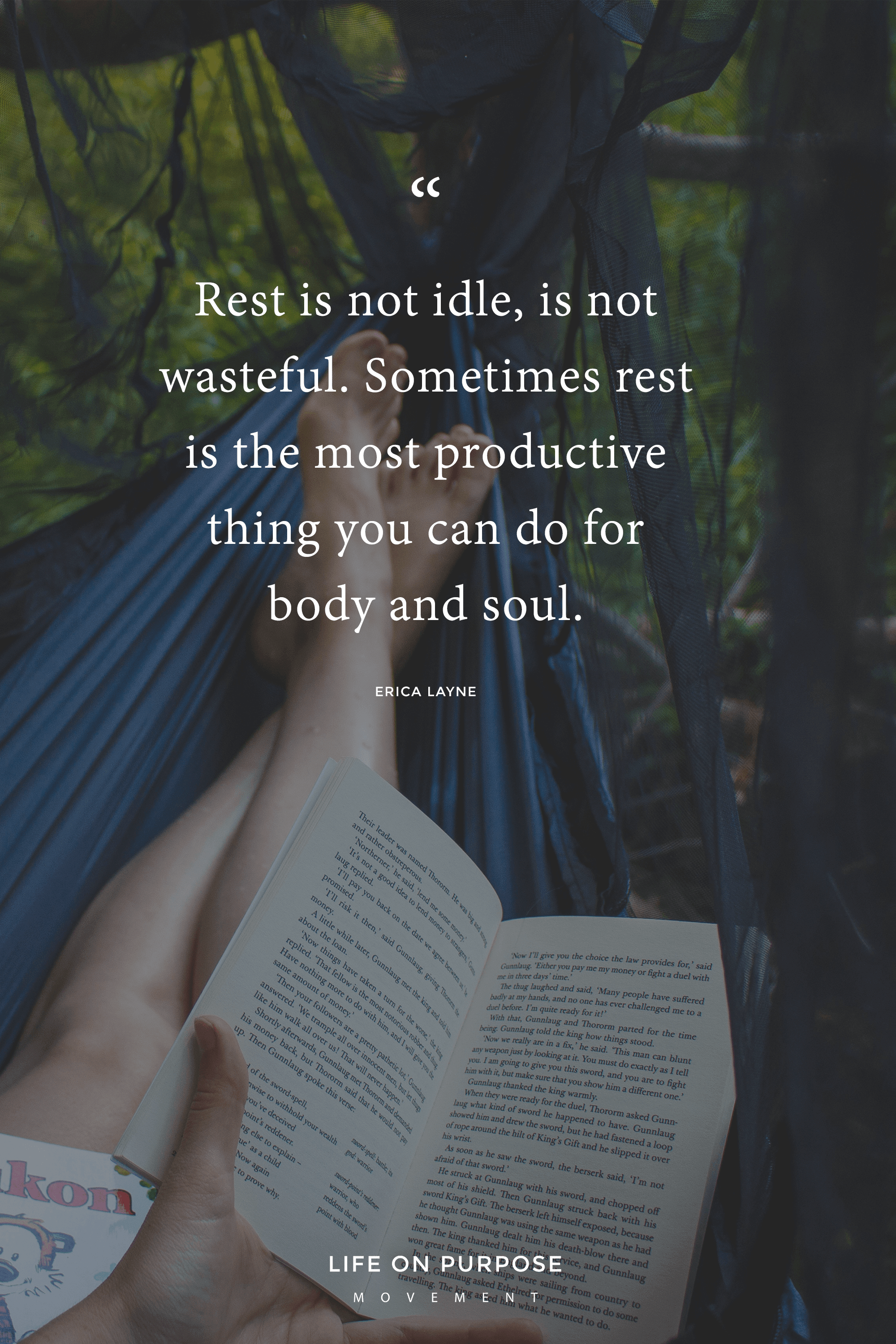 The Call to a Season of Rest
But sometimes, the bravest and strongest thing we can do is accept a season of rest. It's brave because in a time and a culture where "hustle" is prized over almost any other value, rest almost feels subversive. It takes courage to go against one of the most prevalent messages around us.
Your call to rest may look different than a broken kneecap. Maybe it's a long-term illness, the loss of a job, or the loss of a loved one. Maybe it's a mental health challenge or a difficult season for one of your kids.
In 2014, at only the age of 27, a reader named Caitlin got her call to a season of rest when she was suddenly diagnosed with cancer.
"It was a year I planned to run a marathon, bike a 50-mile event, and more. My diagnosis forced me to the sidelines for months. I wasn't patient at first, and it caused more damage and a longer recovery. But once I realized I had to slow down, it did give me a huge appreciation for life and my ability to be active. So I allowed my body to recover and in the meantime, I planned a slow comeback… events and activities to look forward to once I was well enough. And since then, I don't take any activity or moment for granted."
Where sometimes a call to rest is as sudden and unexpected as Caitlin's cancer diagnosis, other times it's nothing more than a quiet voice inside calling you to a different way.
Just a few weeks ago, another reader, Missy, started feeling a deep sense of exhaustion. Missy works full time, is building a business on the side, and is the mom of two.
"I decided I had to listen to my body—to my soul. I've been pulling back. I'm not completely absent, but I am slowing down and allowing myself to do things that refuel me. Even if that's doing nothing. I hope to be renewed soon."
Rest Is Never a Waste
Whatever your reason is for this season, know this: Rest is not idle. It's not a waste. Sometimes rest is the most productive thing you can do for body and soul.

7 Ways to Accept and Lean Into a Season of Rest
1. Don't try to have one foot in and one foot out of your season of rest or recovery.
Pushing yourself will only slow down the process.
When our seasons of rest aren't obvious from the outside, we have to consciously set boundaries and say no when needed.
3. Focus on what you can do, instead of getting stuck on what you can't.
Can you read a really great book, watch the SNL skits that make you belly laugh, have friends over to visit, or enjoy quality time with your partner or kids? Find things that bring you joy, and give yourself permission to do them.
4. Fight the trap of comparing yourself to others.
I can't think of many times when this is as important as when you're in a season of self-care and rest. It's during these seasons that the contrast will feel painfully stark. While you're sitting at home with a book in your lap or a newborn in your arms… it will feel like everyone else is juggling their full lives with utter ease. Especially on social media. Fight back. Unfollow accounts that make you feel less than; remind yourself of your why.
Which leads me to…
5. Continually get back in touch with your why for this season of rest.
Whether your goal is rediscovering your center, getting rejuvenated, or experiencing physical or emotional healing, remind yourself of that goal often. Returning to your why will help you sink into this season and appreciate it for what it is, without feeling guilt or rushing your recovery.
6. Let yourself dream about the future.
When you're ready, begin to look to the future with hope. Joyful plans on the horizon can help us get through the low points of these seasons.
7. Believe that you have nothing to prove.
This last one is the most important.
You are already enough. Everything you need to be is already inside of you. Your worth is not based on your productivity. You are worthy of rest.
---
For so many of us women, one of the biggest barriers to real, restorative rest is everything we have ON OUR MINDS. If this is you, try my Mental UN-Load Checklist. ? Take a second now to enter your info below and have it sent straight to your inbox!
---
Related Articles I Think You'll Love
---
Have you found yourself (whether by choice or force) in a season of rest before? What helped you accept and lean into it?