Krista O'Reilly-Davi-Digui, joyful living educator and writer of A Life In Progress. 
When my mom died, I was devastated. She was my safe space—the one person in the whole world with whom I felt completely safe and known. Her death woke me up and sparked in me a fiery determination to ensure that my own children received this same gift.
My mom saw me for the fullness of who I was and liked me. She didn't try to change me or mold me into her image. She listened well and delighted in me. She was my best friend.
I was hurting and angry when she left 15 years ago. I still needed her. But the only thing I could control was my decision to pass along her legacy to the next generation. I had a lot to learn.
Parenting can feel like incredibly hard work at times, but it can help to remember that the parenting journey is not primarily about our comfort. It's about learning to love, about helping our children identify the gifts they are meant to bring to the world, and about doing our own growing up along the way.
Here are 5 lessons I've learned over the past 15 years that can help us settle into the discomfort of parenting and enjoy the messy but beautiful ride:
1. Get Curious
Our children tell us who they are from a young age if we pay attention. We can listen to their dreams, support them in their interests, and remember we are each a messy tangle of strength and weakness. The Love Languages, The Four Tendencies, figuring out their primary learning style, the Enneagram or Myers Briggs are all imperfect yet useful tools we can use to become students of our children as they grow. Gathering knowledge and doing our best to honor each child's wiring can go a long way to helping everyone feel respected, healthy and happy.
Read: Reading People: How Seeing the World through the Lens of Personality Changes Everything by Anne Bogel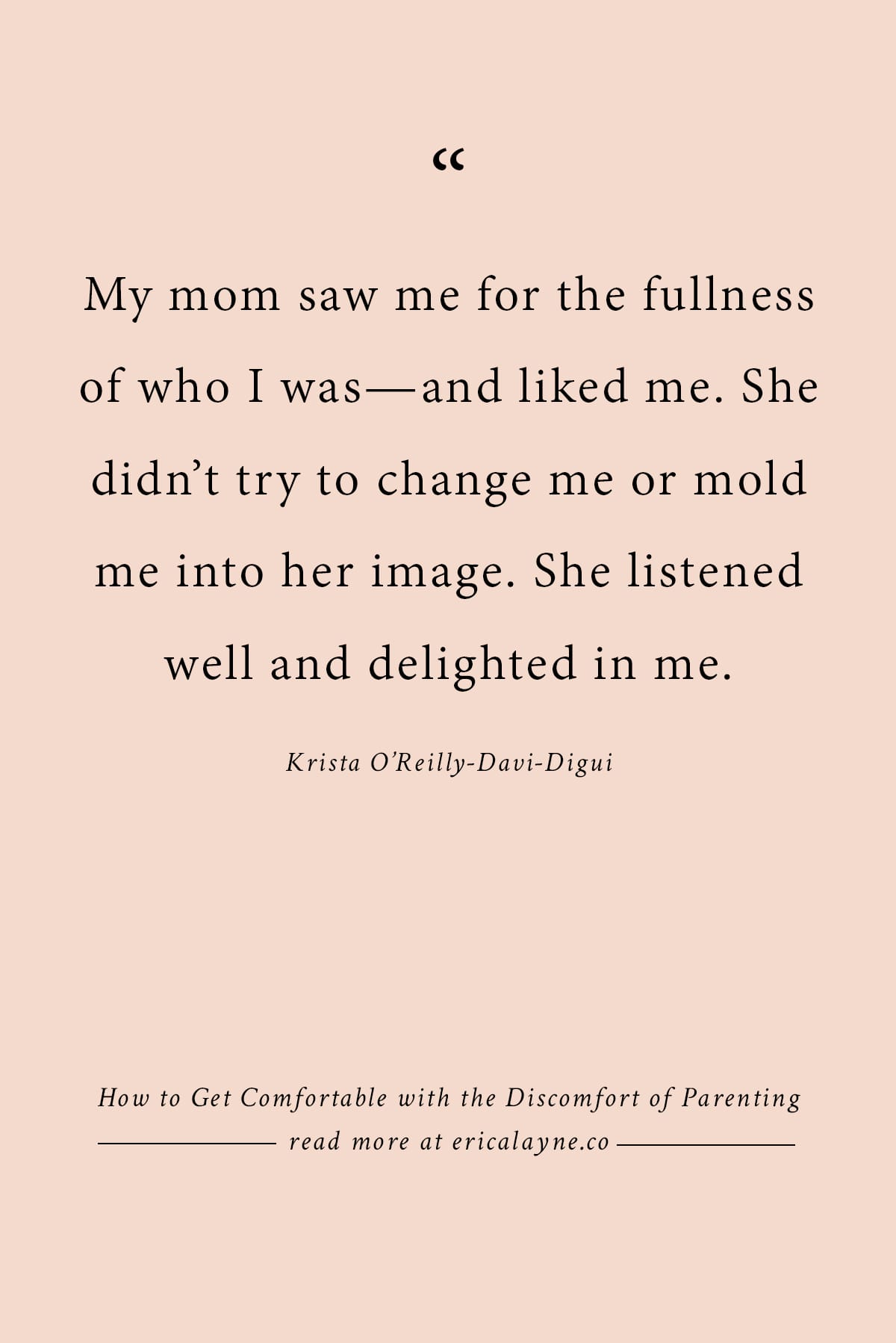 2. Enlist Help
I've learned along the way the importance of allowing others to support us—it takes a village to raise a mom, after all. This is not a judgment on our abilities as moms but a strength when we can remember that we don't have to do it all alone. Outside observers can sometimes see what we don't see—and the help we most need might come in the form of a speech pathologist, a teacher, a grandparent who babysits while we sleep, a medical professional, or a teary coffee date with a compassionate friend. And if all else fails, put the kids to bed, climb into your jammies, and curl up with a good book.
Read: Operating Instructions: A Journal of My Son's First Year by Ann Lammott
3. Focus on Connection
When we capture our children's hearts from a young age, even as teens they'll know we are a safe-place. We need time to connect and have fun together; the rewards are great. We shouldn't pour out until we run dry, but I do believe we need to enter into their world (even when it feels hard) instead of expecting them to just adapt to ours. Our kids need to know that we like who they are and that they matter. It was hard but essential in my parenting to learn to hold space for an upset child yet not allow them to push my buttons or dictate my behavior. And one of the healthiest shifts I made as a mom was to get clear on how I wanted these people to feel in our home—and then to very purposefully align my behavior and lifestyle decisions to this goal.
Read: Connected Parenting: How to Raise a Great Kid by Jennifer Kolari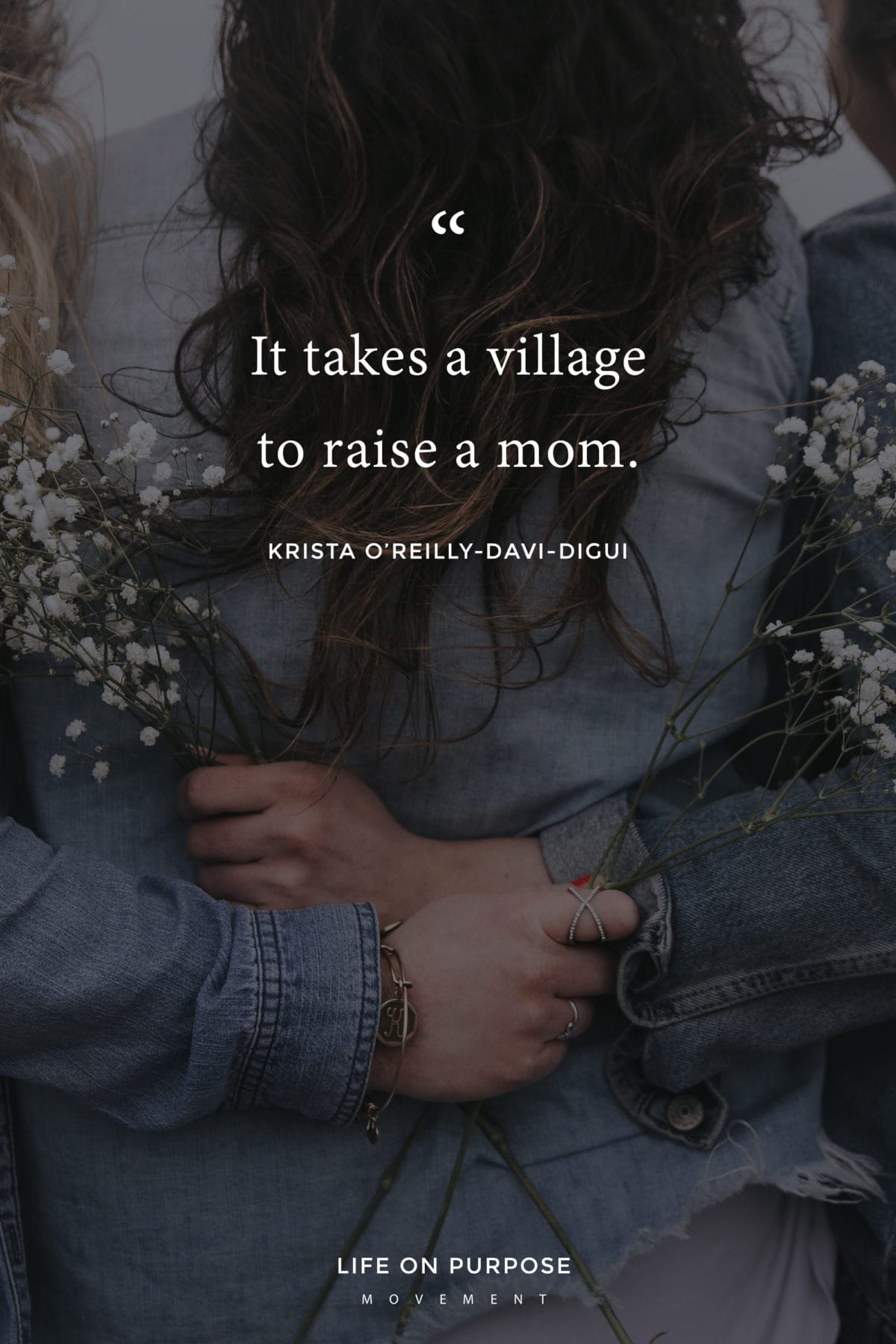 4. Make Peace with Messy
As physically tired as we may feel during some stretches of parenthood, it is the emotional challenges that can take us out of the running. Developing a healthy stress mindset, and learning to be the boss of our own thoughts instead of letting them run the show, is likely one of the greatest superpowers we can develop. We will be stretched. We need to let go of perfectionism and comparison with some imaginary mom ideal and choose to enjoy the messy process. But also, on a more literal note, making peace with actual physical mess will serve us well too. 
Read: Carry on Warrior: The Power of Embracing Your Messy, Beautiful Life by Glennon Doyle
5. Be All In
We are often learning to do the work of growing up ourselves as we learn to parent. When we decide to be fully present for life, for the joy and all the painful bits without running or numbing… When we deepen self-awareness and self-compassion, this spills over into our relationships and allows us to show up with less judgment and more delight. We are the primary role models for our kids—this means demonstrating what it looks like to say sorry and forgive, to do hard things and rise above. It means modeling self-care and offering ourselves the very same kindness we wish for our children. Developing a mindfulness practice that reminds us to pull our thoughts back from yesterday and tomorrow so we can be all in today, is a helpful mom tool.
Read: The Gifts of Imperfection by Brené Brown
—
Our kids are amazing gifts, interesting humans hand-picked to help us grow. They delight us and change us in ways that we would never have imagined or chosen for ourselves.
Embracing the messiness and challenges—all of the discomfort along with the joy—inherent in parenting helps infuse our relationships with humor and compassion so that we enjoy this journey of growing up alongside our kids and so that they grow up knowing that they are truly loved.
And who knows, these people might just become our best friends one day.
---
This post contains Amazon affiliate links, which means we make a small percent at no cost to you when you purchase an item through this post. Thank you!