If you had to use a picture to show the inside of your mind, what would you choose?
I'd choose two. First, a photo of my bedroom, the quilt pulled tight so you can't see a wrinkle, the navy accent pillows upright and in position, a candle and a book on my bedside table.
Then, a photo of our boys' shared room. If you know any 7- and 8-year old boys, then you know what it looks like: Pokemon cards scattered on the ground, mixed among a sizable and sprawling lego collection; dirty socks EVERYwhere (because why bother with a hamper when the floor is right there?); dogeared books, broken light-sabers, and some dried play dough that shouldn't have been in their room in the first place.
Which photo shows the state of your mind? The first? The second? Or maybe something in between.
My mind—when left to its own devices—is the boys' bedroom, in all its dirty-sock glory.
If you're like me, you spend a lot of time up there in your ever-whirring brain. It might even be why you like to keep your physical environment so neat. The calm around you balances out the chaos inside.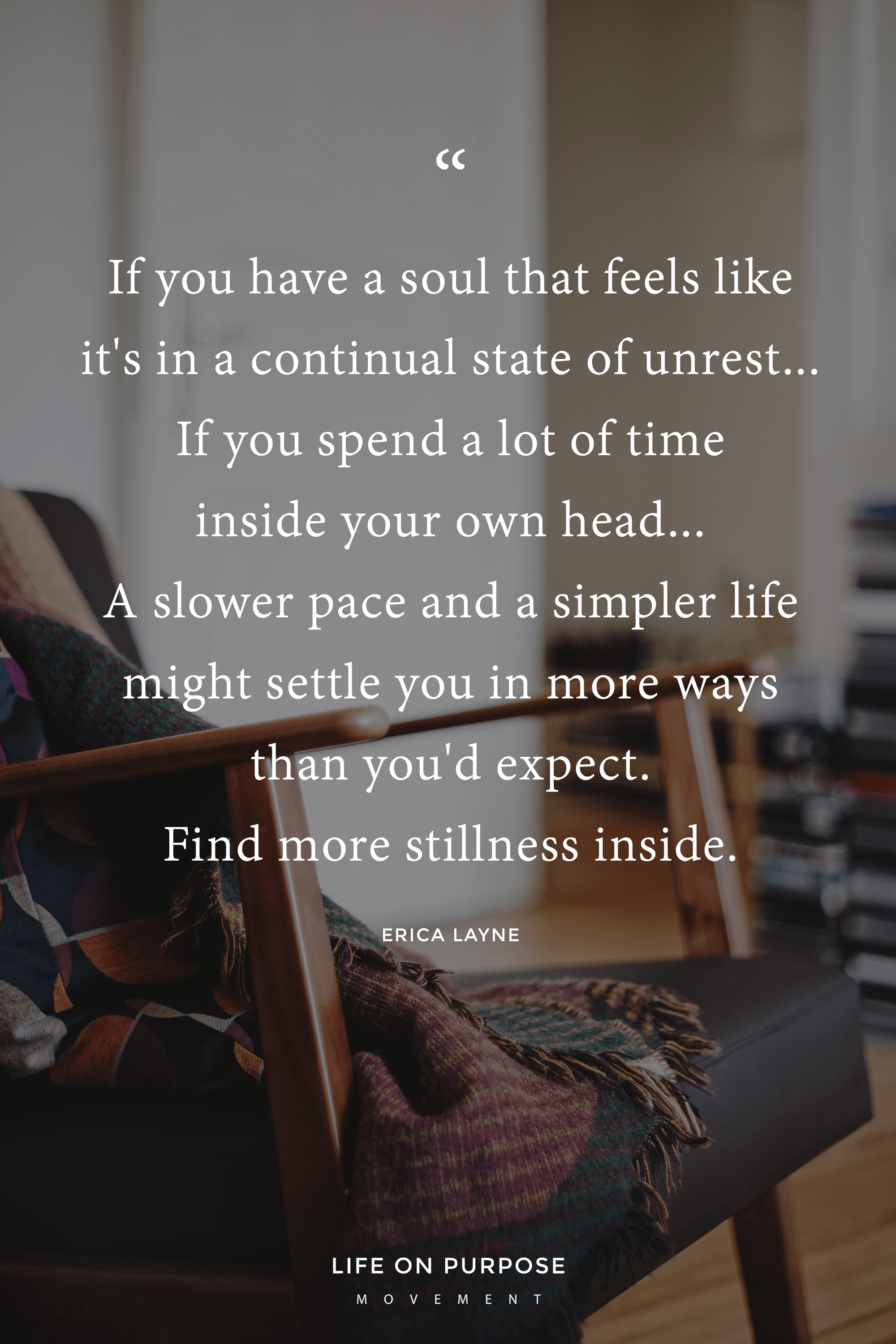 Your Personality Type
Some personalities are predisposed to busy minds. In the well-respected personality framework Personality: What Makes You the Way You Are, Daniel Nettle encapsulates this with the trait he calls "neuroticism," or the inclination to stress out, worry, and harbor negative emotions.
In the Meyers Briggs framework, the N (for intuition) represents people who tend to dwell in their thoughts, explore possibilities as much as reality, and trust their impressions even more than their experience.
Related: 7 Personality Tests to Help You Live Your Truest Story
In short, if you spend a lot of time upstairs in a (metaphorical) chaotic bedroom, you are not alone.
My Path to Simpler Life
Years ago, my husband and I were raising two (eventually three) young kids while living in a small, dated apartment in the middle of a large building, where I worked as the resident manager. People could knock on our door at any time, complaining about overflowing rain gutters or asking me to silence the fire alarm they set off by burning toast at 2am. (I know.)
It was then—amid the intensity of raising little ones and the boundary-less life of being an apartment manager—that I started scaling back on anything I could.
I couldn't control who would knock on our front door (or when). I couldn't lessen the demands of parenting a baby and toddler while my husband was away on work travel. It was an intense stage of life, on top of the usual busyness of my mind, so I consciously chose to edit my life.
I slowed down my pace with my online writing and handed the week-to-week family finances over to my husband. I hired a babysitter every other week so I could have a few hours to myself. I donated several loads of toys and clothes so I'd have less to manage around the house. I became purposeful and proactive about the belongings we brought into our home.
At the time, I didn't call it minimalism; I didn't know it was a movement.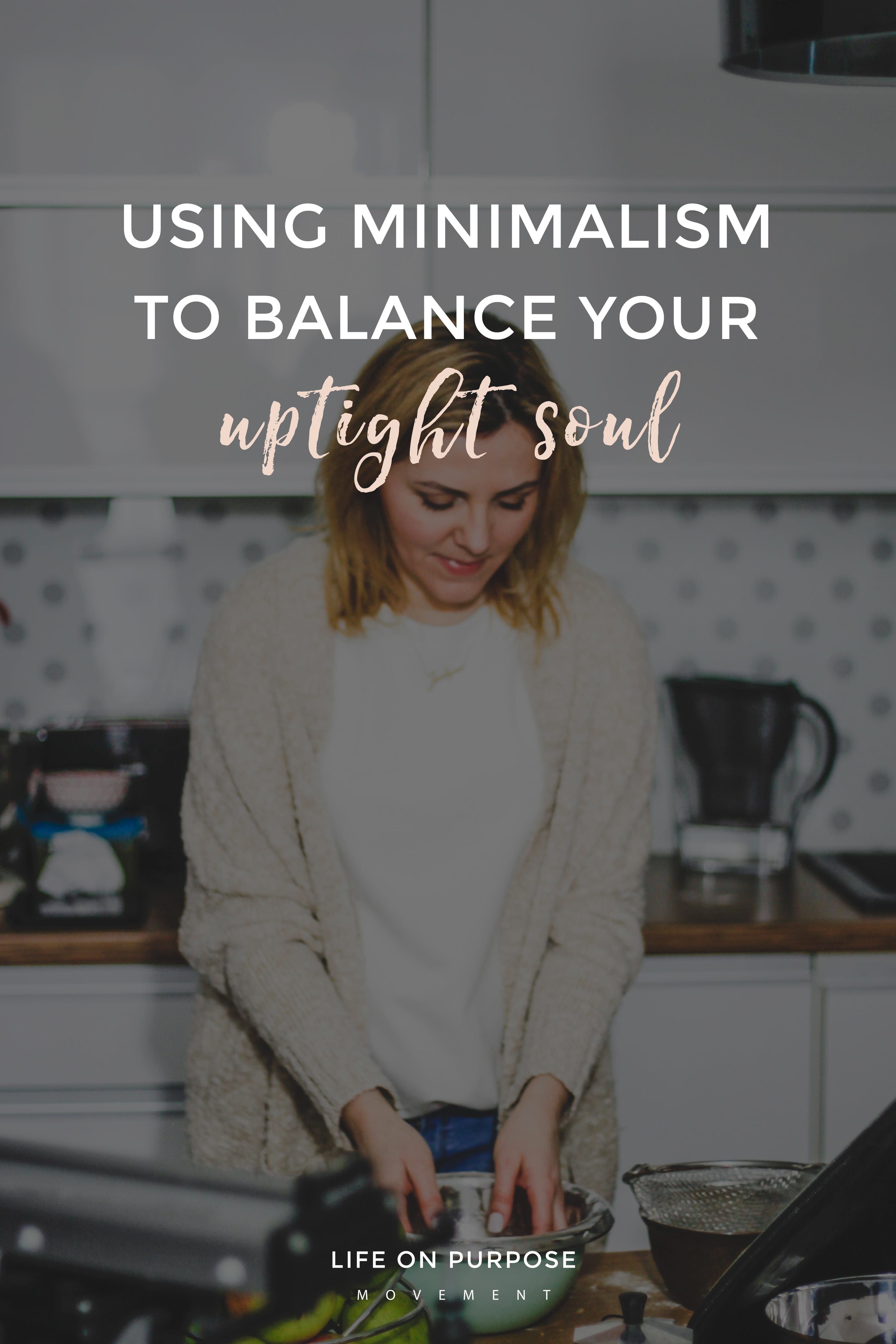 An Unexpected Benefit
Going into it, I hoped these changes would free up some space in my calendar and some time in my day-to-day life. What I didn't know to expect was the impact it would have on the state of my mind and soul.
The wildly messy bedroom inside of me slowly began to put itself in order.
I discovered an ability to play—really play—with my children that I never knew I had. I tickled them more and laughed at their unintentional jokes. We hid under beds together, wide-eyed with excitement, from creatures we could only see in our imaginations.
I found myself inhaling more when I was outside, taking in the smells of each season. I didn't need to walk as quickly from one place to the next, and I attribute that as much to a quieter soul as a freer schedule.
Remarkably, I found it easier—less stressful—to spend time in my boys' lego-covered bedroom. 😉
What You Can Do
If you have a soul that feels like it's in a continual state of unrest… If you spend a lot of time inside your own head… A slower pace and a simpler life might settle you in more ways than you'd expect.
Your metaphorical bedroom may never be as tidy, as restful, as your easygoing sister's or your perpetually late-but-happy friend. (How do people DO that?) But I think it can be much calmer—and much more joyful—than it is now.
With any luck, you'll find that fewer commitments means less worry and a loosened-up calendar means more stillness inside.
---
Resources
52 Obtainable Ways to Simplify Your Life
10 Outstanding TED Talks to Inspire You to Live Simply
8 Hard Truths About Clutter You Need to Hear
---
Where are you in your journey to a simpler life? Does your brain tend to be busy, like mine? Have you found that your environment impacts it?