Podcasts. Episodes are longer and by association sometimes meatier than
TED talks
but shorter and more digestible than audio books. You can listen while you make dinner or run errands, and they're topical, so you can choose episodes that interest you and skip the ones that don't. Basically, there's so much to love about podcasts! I personally am drawn to podcasts that give me pieces of wisdom I can immediately implement in my life. I also love a great speaking voice and
tend
to shy away from slow-paced conversations and super-long interviews … but that's just me! Because my whole life runs better when I have great content to listen to while I change sheets or work online, I feel like I owe it you as friends to share my favorite listens. Enjoy! 12 engaging podcasts for purposeful women—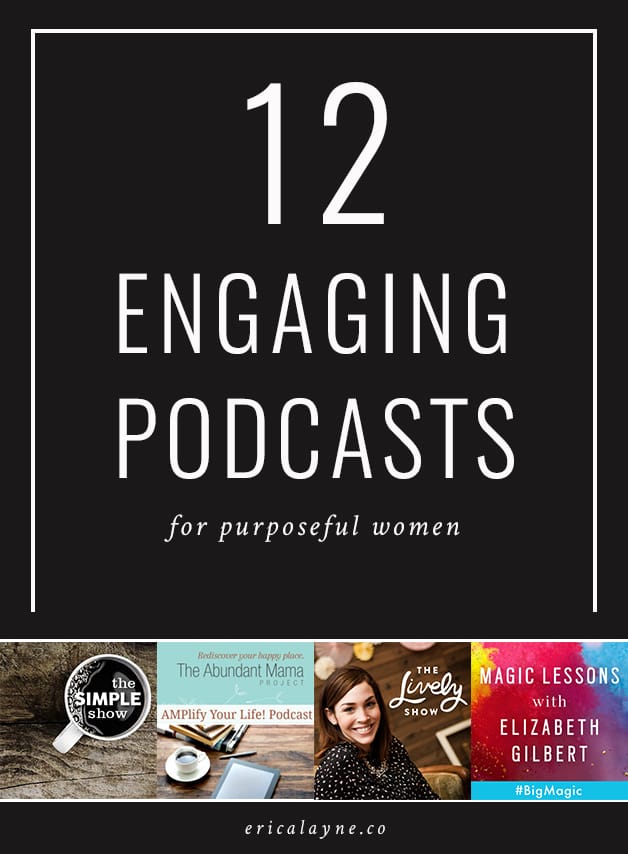 Purposeful Living
This podcast is a game changer for anyone wanting to clean her mind and change from the inside out. Let's just say it's first on this list for a reason.
In this show, Tsh (the writer of
The Art of Simple
) explores the idea of "living holistically with your life's purpose," which sounds deep and serious, and it
can
be, but it generally has light and conversational tone that is a pleasure to listen to.
"For the ever-growing group of people who are saying no to life lived at 110%." What a great line, right? I'm new to this one but was absolutely gripped by the name of their show. Brooke and her husband (bonus, Australian accents!) host fascinating guests in the field of psychology, minimalism, mindfulness, and more.
That Michael Hyatt. He is just an all-around standup guy. I wish I were related to him. 🙂 This podcast has a bent toward entrepreneurship, but it's also about just living your best life wherever you are. (They're not currently recording new episodes, but you have a couple hundred to catch up on, so knock yourself out!)
Creativity & Entrepreneurship
Great subject matter, great guests. In this podcast Liz Gilbert builds off the topic she explored in her book,
Big Magic: Creative Living Beyond Fear
. Occasional adult language. 22 episodes, released in 2016.
I'm a big fan of Don Miller, author of
A Million Miles in a Thousand Years
and
Scary Close
, and his podcast is one of the first I listen to every week. He has SUCH great energy with his co-host, and the interviews provide actionable (not just inspirational) content.
Motherhood & Parenting
From mindfulness to ditching perfectionism to fitness for you and healthy eating for your family, this podcast covers
so many
topics that are directly and immediately applicable to moms. Denaye is a charming host and a genuinely good human being. Enjoy!
A great new-ish podcast for women who want to be more playful, present, and peaceful. Hosted by my friend Shawn, founder of
The Abundant Mama Project
. I'll take Shawn's wisdom any way I can get it! I was lucky enough to be a guest on the show, which you can find
here
!
I love that this podcast covers such diverse topics related to motherhood, from reducing your family's materialism to putting more nature into your nurturing to sex talks and road trip tips. This show has big-time practical applications, along with a lot of fun, recognizable guests.
Happiness
Hosted by the writer of
The Happiness Project
and her sister, Elizabeth Craft, this show has an easygoing pace, like you might expect between two sisters, but it's filled with really practical tidbits to help you live happier. (Be warned that there are a lot of ads, but you can always fast forward.)
In this podcast, co-hosts Jolenta and Kristen choose one self-help book to live to the letter for two weeks, and then they report on what they learned, what nearly killed them, and what principles
actually
changed their lives. (Language warning.) I feel like I know these women IRL, and this is easily one of the most entertaining podcasts I listen to—while still helping me live a better life. I'd start at the beginning with this show, just because the first couple of seasons were my favorites. (There are a lot of ads, but you can always skip through them.)
I'm a longtime follower of Anne's blog,
Modern Mrs. Darcy
, and because of her, I am never without something to read. 🙂 In her podcast, she and her guests talk about all things books, with conversations about personality types and work/life balance thrown into the mix. (I put this in the happiness category because books = happiness, right?) — In case you need any help subscribing to podcasts, Anne walks you through how to subscribe in
this post
.
Do you listen to any of these? Let me know in the comments if you have other favorites you'd add—I'm always on the lookout for more!