It's no secret that I love this outlet. I write because putting words out there is a part of me. It is how I process life. It's how I grow as a person. And I am so grateful to you beautiful women who join me every week as we blunder our way through motherhood and never stop trying to offer our families our best.
Before I started writing Let Why Lead, I made a friend who always treated me like I was interesting. She was curious about my life experiences and often asked about my interests. But I was submerged in the newness of motherhood—the strict adherence to naps, the obsession over nighttime sleep, the elbow-deep diapers! I could barely remember what time I had gone to sleep the night before, much less remember what had interested me before I had a baby.
Eventually, though, the exhausting and yet exhilarating baby fog lifted, and I started finding my old self again. But it is because of writing this blog that I have completely found her again—and grown even more.
For the most part, I'm good at focusing on why I really blog. After all, "the why" is the whole point of this space! That said, I still find myself wondering every now and then when I notice other bloggers celebrating, say, 500 facebook likes—why isn't mine growing as quickly?
In this saturated blogging market, there is an abundance of information out there about how to do it "right." How to "skyrocket your numbers." But after a year and a half of faithfully writing here (and reading a great many other blogs), I can tell you exactly how to grow, with one minor clause: how to grow slowly. And after that, I'll tell you why you might want to.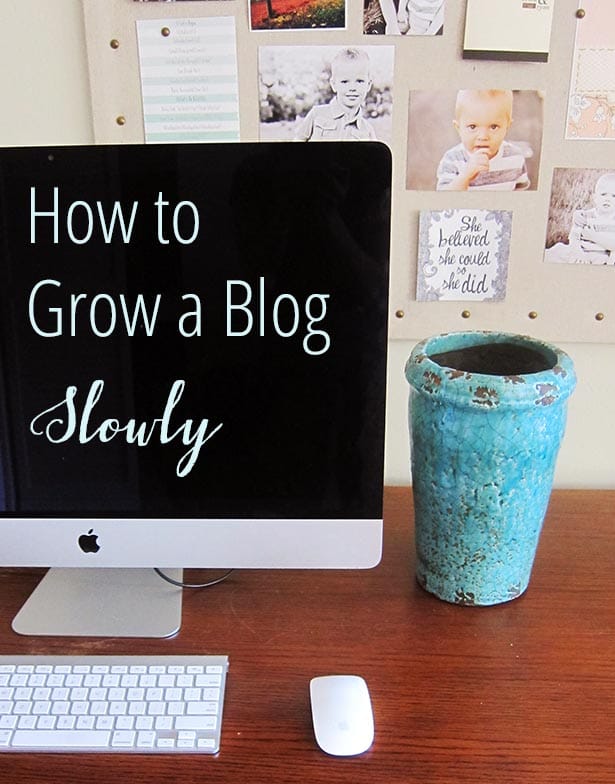 How to Grow a Blog Slowly
Be judicious in the linkups your participate in, because you actually want to be able to participate in them, not just link and run.

Don't host a linkup unless you are certain it will benefit your readers.

Don't host or participate in a ton of blog or social media hops. You may gain a dozen likes in one day, but how many of those will become genuine, invested readers?

Don't host so many giveaways that your audience forgets what your blog is really about.

Try not to apologize when you go quiet for a bit, because it assumes that people are holding their breath waiting for you to post.

Never call the people who read your blog or follow your Facebook page "fans."
The beautiful thing about growing slowly is that you gain friends, not numbers. Connections, not stats. My growth has been slow but steady, and I am sincerely touched each time one of you comments…or shares something I wrote on facebook or pinterest…or mentions a post of mine in real live conversation (for all my local girls!). Those little touches make it feel worthwhile. They take this part-time, unpaid, purely because-I-want-to job and turn it into a privilege.
But like life, blogging is a constant balancing act. I want to grow and I want to stay grounded. I want to be happy with my numbers, but honestly, I still want to extend my voice.
So rather than than turn this space into something you don't recognize in order to boost my numbers, I'm going to keep writing what I feel matters, and I'm going to ask you to help me grow in a more organic way. When you read something that sticks with you, will you share it with friends? If you know someone who would benefit from reading this blog, will you tell her about it? I'm happy—honored, actually—to grow the old fashioned way, by word of mouth. No excessive linkups or fishing for likes.
Just me. And you. Helping this space bloom.
Thank you so much!