The shots rang out again and again, the deafening explosions of the bullets leaving their chambers echoed in my head. I covered my ears like a child, a feeble attempt at blocking out the sounds of horror. There was blood everywhere, coloring the pavement red, and the sight of it made my stomach churn.
I felt light-headed and unstable on my legs as I walked away, leaving the crowd, the carnage, and my love behind. I sought refuge in a dingy bathroom stall. Closing my eyes, relishing the quiet, I steadied my breaths and counted backward from 60. I was brought out of my reverie by the sound of a toilet flushing.
I wasn't caught in a war zone. This was my experience in a crowded theater, watching a violent movie with my husband.
I hate violent movies. Loud noises, flashing lights, a crowd – it was a recipe for a disaster from the get-go, but I wanted to go on a date and do "normal" things, like watch a film and eat dinner. I hadn't realized the title we'd chosen would be quite so murderous and brutal.
I'm in that lucky 15-20% of the population that has the trait of high sensitivity. This means that I feel things deeply, experiencing great pain, great joy, and everything in between.
I become easily overwhelmed, either by too much sensory input or having too much to do. I'm very affected by smells, and strong or unpleasant smells are a complete assault on my senses. I seem to absorb the emotions of those around me, even when "those around me" are on a screen. I am easily able to "read" people. It's sort of like having my very own "spidey sense" but not nearly as cool. Although I cannot physically climb walls, my high sensitivity has certainly caused me to climb my fair share of figurative ones.
Like other sensitive people, I cry at commercials and beautiful art, and I can be deeply moved by music and poetry. I react very strongly to criticism and can harbor hurt for days afterward. Big decisions stress me out. My wide array of exercise DVDs confirms that I prefer to work out alone, and if you buy me a gym membership, I'll trade it in for a cup of coffee. As it were, I also prefer to work alone, which makes writing in my room a wonderful occupation.
But wait, is that because of my introversion or my high sensitivity? They often overlap, and I can't tell which is which.
Yes, along with my high sensitivity, I also happen to be an introvert.
In fact, if introversion were on a sliding scale, I'd be toes off the ledge on the "extremely introverted" side. In her book, The Secret Lives of Introverts: Inside our Hidden World, author Jenn Grannemann describes introversion succinctly. She says,
"Introverts live in two worlds: we visit the world of people, but solitude and the inner world will always be our home."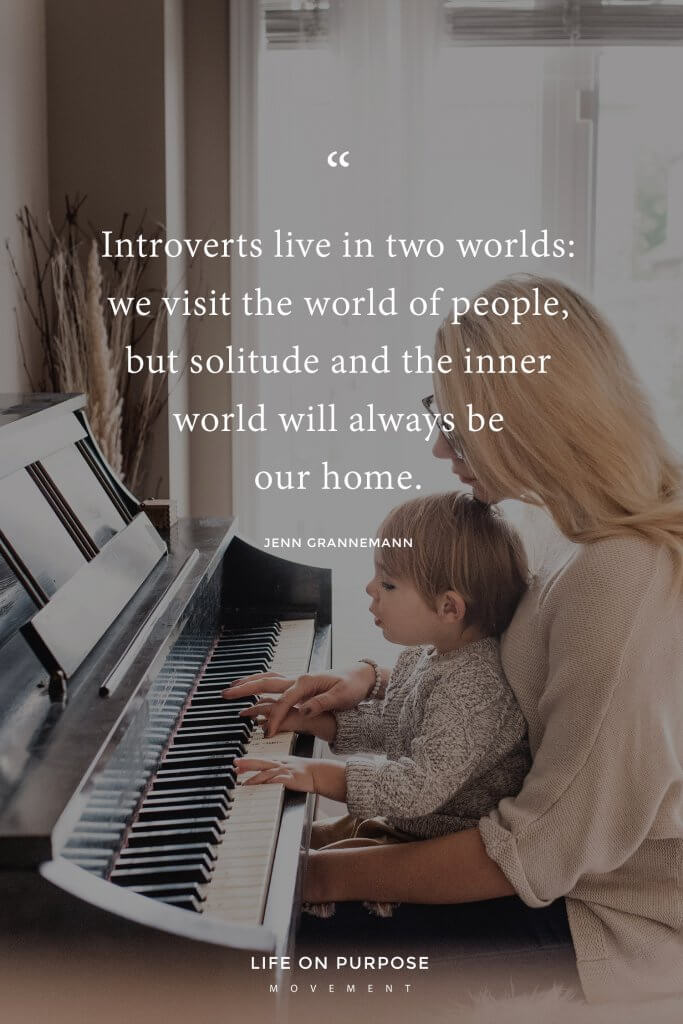 My traits have greatly affected my motherhood, both wonderfully and unpleasantly. Being intuitive, conscientious, and empathetic help me to be a better mom. I often know what my kids are feeling before they have even had a chance to verbalize it. I put myself in their shoes often, and this has helped me see things from their perspective and relate to them better. Because I'm also raising a highly sensitive introverted son, I'm able to understand him ways no one else can, even if sometimes our high emotions collide.
But there are also challenges to being a highly sensitive mom. Motherhood is a roller-coaster ride for the senses. Children are, by their wonderful natures, very loud. They are exuberant, spirited, energetic, and did I mention that they are loud?
My ears have been subjected to both quiet coos and high-pitched screams. My nose has experienced a plethora of smells, from light and sweet baby shampoo to dirty diapers and chunky vomit. My eyes have witnessed bloody noses that nearly made me faint but also the sight of a peacefully sleeping baby that I grew inside my own body. It is simply amazing. I've tasted sweat from forehead kisses and the "banana milk" experiment my 7-year-old made in a dusty teapot. I've experienced the gentle caresses of a loving toddler and the painful yank of a fistful of hair.
Many times, I've been overstimulated from the barrage of sensory information to the point of being completely frazzled and utterly touched out. The need to escape to find peace and quiet is very real for sensitive moms, but the means to do so are often very limited, particularly when your children are young.
The overstimulation leads to feelings of emotional overwhelm, and this can cause you to get irritable. Because of your sensitive and often perfectionistic nature, you may carry guilt both for feeling the need to escape and for becoming agitated, possibly to the point of yelling or locking yourself away in the bathroom for several minutes.
You may wonder why you can't handle things better.
3 Sanity Savers for Introverted and Highly Sensitive Moms
There are adjustments you can make as an introverted or highly sensitive mom that will help you feel significantly happier. Self-care is important for all mothers, but it is absolutely essential for highly sensitive moms. Here are 3 sanity savers that have helped me to manage my sensitivity:
1. Create a sanctuary.
I turned my bedroom into a calm and delightful area with ambient lighting, a soft comforter, and I filled it with books. If you can't transform a whole room, take over a small area. Fill it with things that are pleasing to your senses. A soft pillow. A lightly fragranced candle. Listen to something calming or inspiring.
2. Organize your spaces and keep them clutter free.
Believe me, I know this is a challenge when you have kids. Their bedrooms and play room are a different story, but the main living areas I dwell in—the living room, kitchen, and my bedroom—are kept relatively tidy. It seems that my head space is directly related to my living space. If one is cluttered, they both are. Is it just me? All I know is that I feel much more at peace when everything is in its place.
3. Learn to honor your sensitive self and live a slower, more intentional life.
It's okay to say no to that invitation if you know it's going to drain you. You don't have to have your kids signed up for every sport and extracurricular that comes around. You're not obligated to help run everything you're involved in. When we are stretched too thin, it takes a toll on our already sensitive nervous systems, and when there are no blank spaces in the calendar, there is no room for cozying around and recharging.
Strategy to Thrive: Honor Who You Are
I personally believe highly sensitive people are an asset to society. We make the very world that often overwhelms us softer, kinder, and brighter. Our strengths are needed to remind people to slow down, quieten down, feel, trust your instincts, and be aware of the world around you.
There is nothing wrong with you, mama. Honor who you are, come to love the person you see in the mirror, appreciate your traits and see your sensitivity as a superpower. You are more attuned than 80% of the world, and that makes you pretty special. Welcome to the club. We will not be having meetings.
Understand that these traits are part of you but they do not define you and they do not limit you. You can still be rowdy with your kids, take a trip to the ever-crowded theme parks, and enjoy a road trip with your family. You just have a take a little extra tender care of yourself along the way. Listen to your body and mind. Honor your needs. Get out there and enjoy your life.
Remember, you are the mother your child needs. You are the mother he loves.
---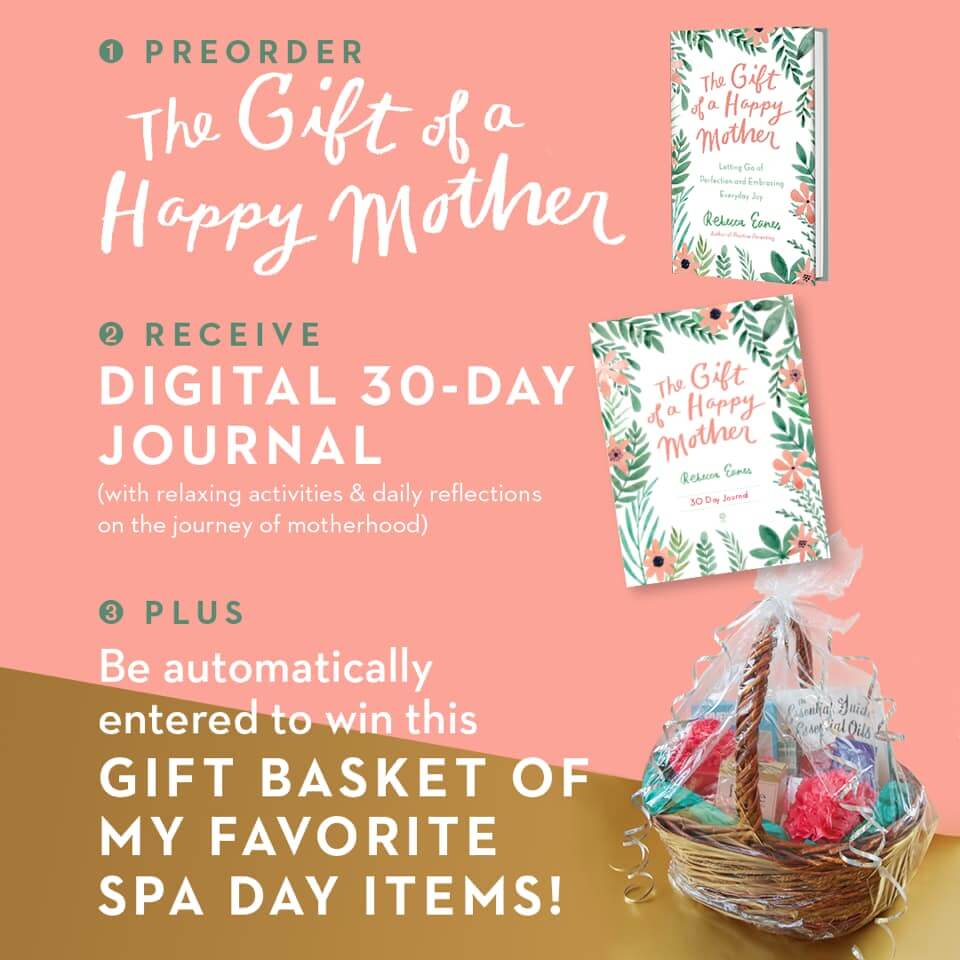 This is an excerpt from Rebecca's new book, The Gift of a Happy Mother: Letting Go of Perfection and Embracing Everyday Joy. For more encouragement and inspiration like this—as well as the gifts Rebecca has put together for those who pre-order—visit here and pre-order the book today!