Exactly a year ago, I was walking my kids home from school, engrossed in my own thoughts—there in body with my children but miles away in my head.
I was running through my mental list of holiday to-do's.
Despite my racing mind (and probably more out of habit than anything else), I asked my middle kid how his day was.
His reply yanked me down from the clouds and back onto the sidewalk that lined the park, the sidewalk we walk together twice a day, every day.
My typically even-keeled boy melted in front of me, saying, "Fourth grade is actually pretty stressful!"
After he told me why it felt stressful, I asked him what he does to work through his stress. He thought for a second before saying that he tries to think of something his teacher has been telling the class.
"If you're stressed," he said, "it's probably because you're either thinking about something in the past or something in the future. And if you just forget about all that and think about THIS moment, then it doesn't feel so bad."
I reeled at this nugget of wisdom he dropped on our walk home (and I wanted to aggressively hug his teacher for sharing it with him!).
I'd had stress and anxiety coursing through my body for the last few days, and it wasn't until that very moment that I tore my mind from the past and the future and planted it exactly where it should be—right there in the present with my son.
And just like he promised it would, so much of that stress melted away.
I hope that when you think about the holiday season, you picture cozy layers and nights sitting next to the fire, red cups from Starbucks and holiday music in all the stores. I hope you remember heartfelt acts of service and look forward to frosted sugar cookies and the glow of your tree.
But if you're like me—and almost any woman I know—the holidays also mean ever-growing to-do lists, a watchful eye on your bank account, and higher-than-normal stress levels.
You might be looking forward to the magic of the holidays while simultaneously dreading the anxiety.
Let's make a plan to cut your holiday stress by half this year.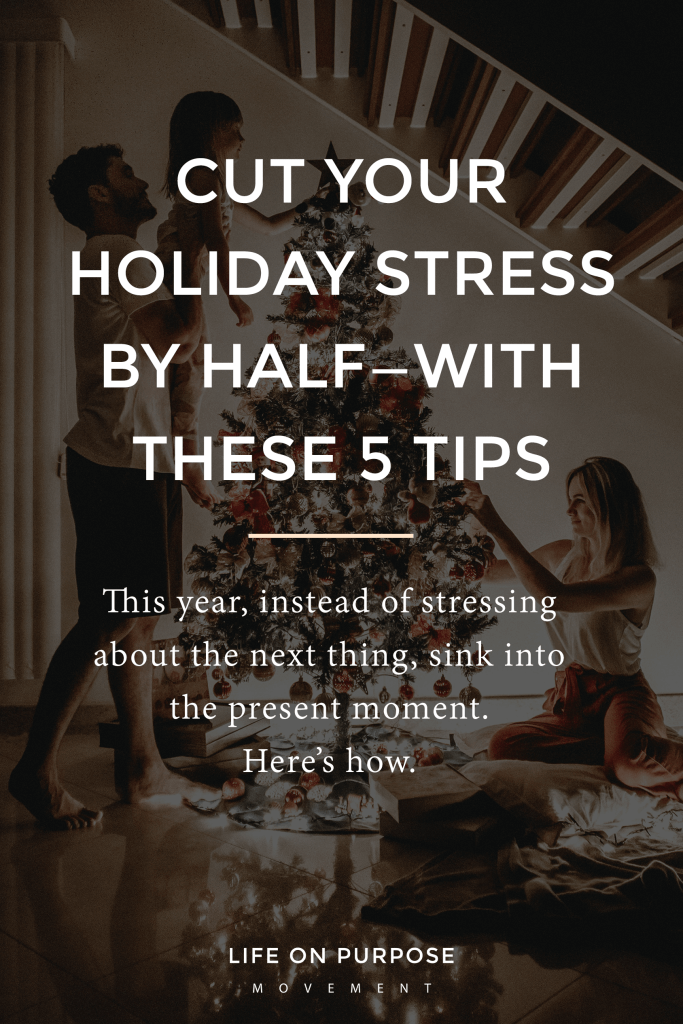 5 Tips to Cut Your Holiday Stress In Half
If you're inwardly raising a hand, I'd love to offer some simple ways to rein the stress in and to pull yourself back into the present moment this holiday season.
(In this episode, I'm referring to the stress and anxiety that most of us experience in the course of day-to-day life. As always, if you have questions about your mental health, please seek the help of a doctor or therapist.)
1. Do a mental clear-out
One of the biggest causes of my anxiety is having too much on my mind. My heart pumps as fast as my thoughts race. But I always find relief when I take pen to paper and simply get it all out.
2. Prioritize
After you've written out everything on your mind, you may find that it's less intimidating on paper than it was in your head. From here, you can evaluate your list and find tasks you can (1) eliminate, (2) delegate, (3) table for now, and (4) address (or quickly knock off your list). Remember: Not everything needs to be done by you, and not everything needs to be done at all!
I've got a worksheet that'll walk you through exactly this! It's called The Mental Clear-Out—
3. Choose a mantra for your holiday season.
You know how a lot of people choose a word for the year? One word that will be their guiding principle for the year? Something like "presence" or "focus" or "joy." You can do the exact same thing for your holiday season. Choose one word or a short phrase that you can repeat to yourself whenever you feel your stress level rising. Here are a few ideas:
Be here now.
Be still.
All is calm, all is bright.
Present over perfect.
Heart and eyes wide open.
4. Practice saying no
Listen to your gut, and only commit to the things that are most in line with your personal values (which we've talked a lot about in episodes 5 & 8) or with your vision for your holiday season—as determined by your holiday mantra!
When saying no, try one of these lines:
"I'm really trying to focus on family this month, but thanks for thinking of me!"
OR
"You know how crazy the holidays can get. I'm trying out a different approach this year, so I can't help, but I'd love to another time!"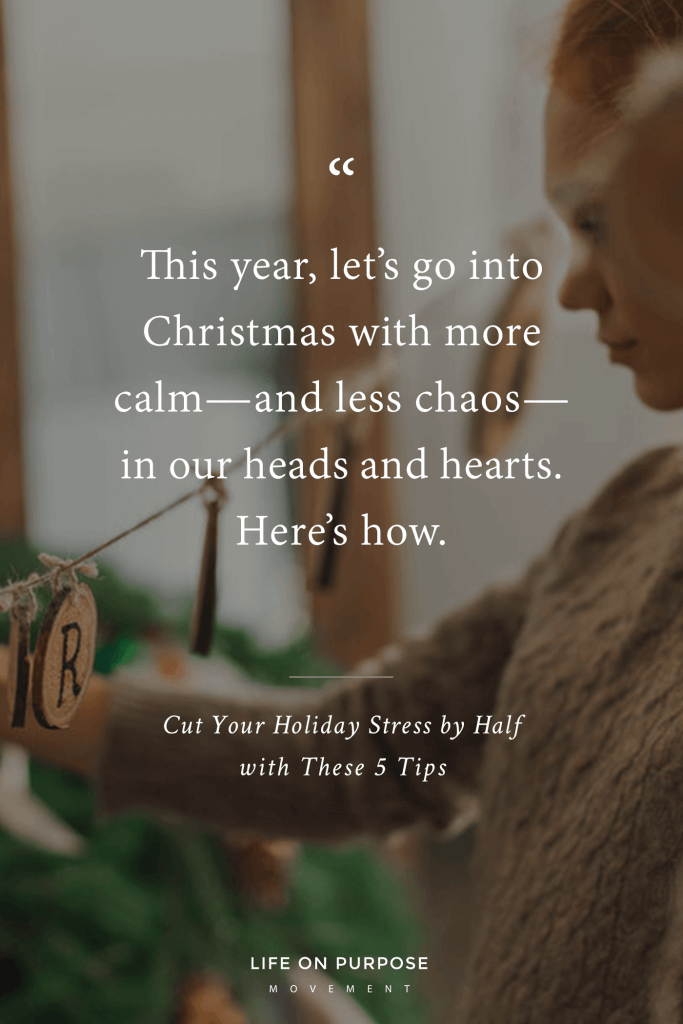 5. Focus on the exhale
Inhaling is connected to the sympathetic nervous system (or the fight-or-flight response) and can even lead to hyperventilating. Exhaling, on the other hand, is connected to the parasympathetic system—or your body's ability to relax. Focus on thorough exhales for two minutes when your anxiety is high.
This year, let's go into Christmas with more calm—and less chaos—in our heads and hearts.
---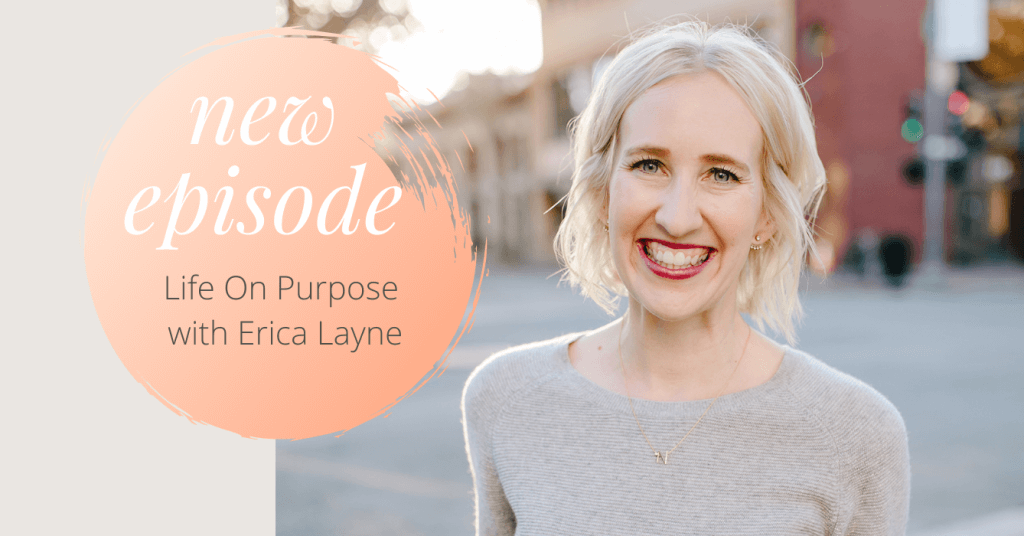 More from Episode 10 of "Life On Purpose with Erica Layne"
Here's what else you can hear in the latest episode of the podcast!
Try On Session: A segment where I propose a new thought you can try on for size. Today…
What Matters Most: A segment to help us take our eyes off the nonessentials and refocus on the essentials! In this episode …
The Introverted Moms Facebook Group: If you are a mom i
Personality Isn't Permanent by Benjamin Hardy
Listen to the full episode in your favorite podcast app, or in the audio player below! And be sure to hit subscribe!
Apple Podcasts | Google Podcasts | Spotify | Overcast | Stitcher
Show produced by Callie Wright
---
---
Do YOU struggle with holiday overwhelm? Leave a comment here letting me know which of the 5 tips above you're going to start with!