If I asked you right-this-minute what your parents believed in and what values guided them while you were growing up, how succinctly could you answer?
I'm guessing for most of us, a few phrases our parents repeated come to mind, and we can picture them leading family prayers or volunteering at the school. We're grateful for the values they passed on to us (by example more than anything), but it would be hard to sum up their legacy in a few sentences.
When my kids are grown, I hope they can succinctly and confidently (proudly!) answer what it means to be a member of our family.
Not JUST because I'll feel like I passed down something meaningful 🙂 🙂 but even more because I think a distilled list of values will give our kids something to look to when they come to crossroads as they grow.
So if our goal is to build families with a deep sense of identity (and thank you so much for you positive response last week!), I can't think of a better place to start than with a family purpose statement. It's all about boiling down your family values into something that becomes an integral part of you.
One of my favorite things about a family purpose statement is that it can help individual members and the family as a whole make decisions, as it reminds us where we want our priorities to be.
Should we use a good part of our savings to take the kids to Africa this summer, or should we keep saving for a house? Should Dad serve on the PTA board? Should Sarah sign up for another extracurricular?
It helps us loosen our grip on the things that don't really matter to us.
In essence, a family purpose statement is the why of your family. (And you know I love a good why!)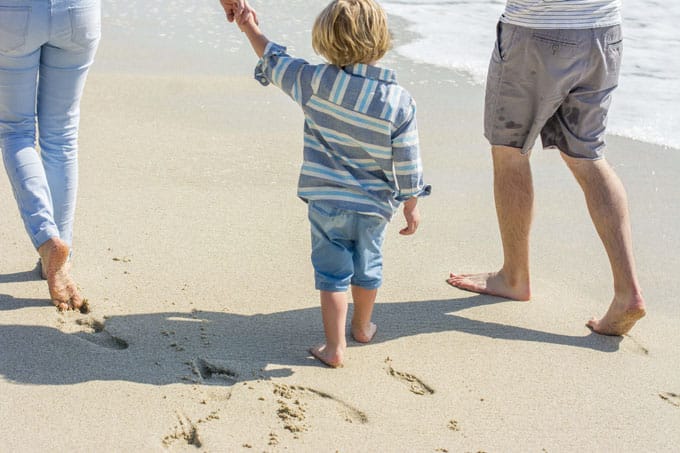 Our family's statement is a work in progress because I want our kids to eventually play a big role in creating it. So until they're old enough, Ryan and I are gathering ideas and letting a few concepts guide. (I'll be sharing our rough draft soon!)
But once the kids are ready, I have my game plan prepped, and I thought I'd share it today for anyone who wants to jump in feet first.
Create it together
Getting the kids involved—and genuinely valuing their input—is key to getting them to take ownership of what you create.
Make it a special event
To help the kids associate positive memories with writing your family's statement, build up some hype and then kick it off with their favorite dinner or (even better) a weekend retreat.
Narrow it down
Start with a question like, "What are some phrases we say a lot?" (to which you might get some funny answers), and progress to "What are our values?" Write down every single answer you come up with. (For 20 more questions to get you thinking, read this great post.)
Then spend some time narrowing it down to what you really care about—values you would make sacrifices for before abandoning them. It may take the whole weekend or even several weeks to get to this point, but it's worth it. Brevity will allow your children to internalize it.
You may even consider having a full-on statement, as well as an abbreviated version, like a three-word mantra or motto that even the littlest member of your family can recite with pride.
(I have a feeling we'll be tweaking ours for years, and I'm okay with that.) 🙂
Choose values that are already a part of you
(not just ones you hope to adopt)
"Only if they're deeply authentic can you hold on to them when it's inconvenient, and that's when you know it's core." Bruce Feiler (Love that!)
Display it! 
I really believe that what we have on our walls seeps into the mind and hearts of those who live within them, so I can't wait to display the essence of our family. (Check here for Tsh's family statement on canvas and here for Shawni's.)
Refer to it often 
…in order to stitch it into the hearts of those kids who helped make it.
photo credit – and a big thank you to my beautiful friend for letting me steal pictures of her darling family!

---
Update! I've built on this post and developed it into a more comprehensive guide, which you can now buy on amazon for $2.99! I'd love for you to check it out!
How to Craft a Family Purpose Statement: A Guide to Discovering the "Why" of Your Family and Building an Identity that Will Stay with Your Children Forever