If there are two things I can do in life, it's pizza and banana bread. And maybe tomato soup.
Over the last eight years, I've devoted a lot of time to perfecting the art of homemade pizza, and I figured I could save you some trial and error by passing along what I've learned. Besides, what mom doesn't want crazy great pizza in her arsenal?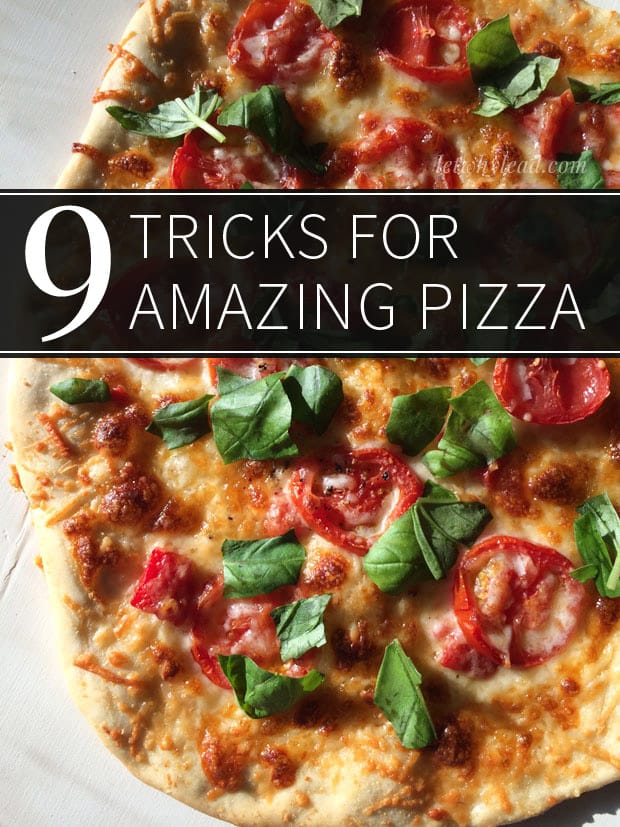 9 Tricks for Making AMAZING Homemade Pizza
1. Pizza stone. Pizza stone. Pizza stone. When I mentioned this post to my husband, he said, "Are tricks 1-8 going to be 'use a pizza stone'?" Yeah, it's important. A pizza stone will give you that crispy crust that you can't achieve with a regular pan. And as you use it over time, it becomes seasoned and gives your pizza an extra depth of flavor. (By the way, don't wash your pizza stone with soap; a pizza stone is porous. Brushing it off or giving it a quick rinse in water is all you need.)
2. Preheat the oven with the pizza stone inside. It's gotta get hot! And putting a room-temp stone into a hot oven could cause it to crack.
3. Crank up the heat. I worked my way up gradually to high heats, because they made me nervous, but now I'm comfortable going as hot as my oven allows (550). Pizzas cook fast (about 7 minutes) and develop a perfect crust (never an underdone middle) and some beautiful browning on top.
4. Cook pizzas on the middle rack. I experimented with the bottom rack, because I wanted to get a nice crisp crust, but then the toppings wouldn't brown. So I'd have to choose either a too-dark crust or underdone toppings. If you cook on the middle rack—with the oven cranked up—you can get the top and bottom to finish at the same time.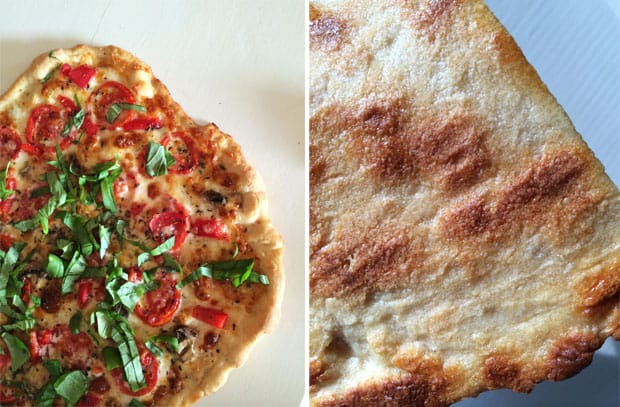 5. Use parchment paper. Shaping your dough right on lightly floured parchment paper eliminates the hardest part of making pizza: getting a stubborn pizza to slide OFF the pizza peel! The pizza slides right onto the stone. If you like, you can pull the parchment out after a few minutes of baking. I've found that the crust cooks great either way, so I usually don't bother.
Full disclosure: Parchment paper is rated to 420 degrees. I've never had a piece spontaneously combust, but I thought I should warn you all the same. 🙂 I also know of great bakers, like the team behind Artisan Bread in Five Minutes a Day, who use it all the time, too.
Side note: If you don't have a pizza peel, an upside down cookie sheet (the smaller the lip the better) works in a pinch.
6. For thin crust, find a dough that is pliable. To stretch to 1/8th of an inch without tearing, it needs to be just the right texture. In an upcoming post, I'll share my favorite recipe, which is as unfussy as it is delicious. You can pull it across your fingers until it is really thin, but as long as you keep it moving, it won't tear. (I've tried more than half a dozen pizza doughs, so I know they're not all made equal on this account.)
They say using a rolling pin "agitates the gluten," which makes it retract. I like to stretch the dough by hand anyway, because I like a little imperfection in the finished product. 🙂 For a thin crust, rotate the dough in the air, letting the weight of it stretch it out. If it isn't going as thin as you want, let it sit for five minutes and then try again.
7. The stickier the dough, the crisper the crust. And inversely, the drier the dough, the chewier the crust. Aim to err on the side of sticky, because a sticky dough is easier to correct (without sacrificing quality) than a dry one.
8. Make your own sauce. If you have time, making your own sauce will take your pizza over the top. This sauce recipe is my favorite. I like to use San Marzano (canned) tomatoes and an extra clove or two of garlic.
9. Use the best ingredients you can, and don't load up the toppings. Going too heavy can make the crust not cook well; it only takes a handful of toppings for a small pizza. Also, remember to add any fresh greens (arugula, basil) after the pizza comes out of the oven. The heat of the pizza will soften them up and make them more pungent, but they'll retain their color and texture.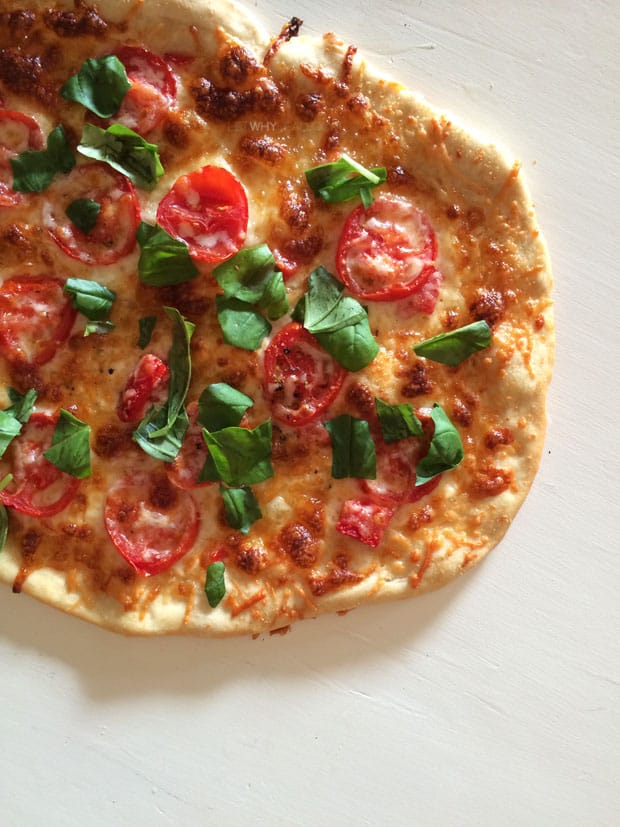 That's it! I thought I would mention that I left all of the pictures unedited, straight out of my iPhone, so you would know that you can TOTALLY make pizza just like this at home. (Or are you already??)
Let me know if you have any questions; I LOVE to talk pizza!
Check here for our family's favorite pizza dough recipe!

Update!
While I no longer share recipes, I do have LOTS of great content for women who are looking to trade overwhelm and fatigue for focus and peace. ❤️
If you're new here, I'd love to point you to my top 5 articles! Make a cup of tea (or a slice of pizza? 😉 ) and stay a while!
You're also welcome to grab this free PDF—to help you clear out some space in that overcrowded mind of yours!