I was nursing at a park the other day when my friend who also has a newborn came and sat beside me. She joked right away about how she doesn't particularly like nursing, and I burst into a smile! In my experience, it's not often that women voice that admission.
I'm in the same camp as my friend. Of course I cherish the closeness I've shared with my children through nursing them. If you have nursed a baby, you know about those moments when the house is still and your baby wraps her tiny fingers around one of yours while she nurses. The rest of the world loses focus, and it is just you and your baby. Those plump cheeks and fine hair, those long fingernails and miniature toes. It is beautiful.
But the reality is that there are a lot of other moments too. Like when you are so sore you're not sure you will get through the next nursing session. Or when your toddlers are running wild around you and there is not a thing you can do, because you're nursing. Again.
I know I don't need to sing the benefits of breastfeeding to you. I agree with them! Regardless, nursing doesn't come naturally to all of us, and all we can offer is our best. We can't measure our success as mothers by our level of success with breastfeeding—or by how much we enjoyed it. Not liking every minute does not make you less; it makes you human.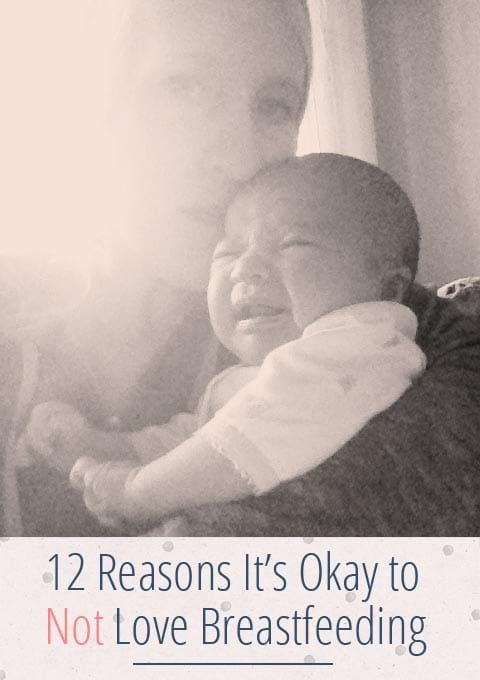 You wonder constantly if you're doing it right. Is the baby latching properly? Is she getting enough milk? Are you feeding often enough? Should you do both breasts each session or drain one per session?? The insecurity!

You are not a fan of sore nipples, engorgement, leaking, or that nasty yeast infection. (Who is?)

You've discovered you have a new full-time job: breastfeeding. You clock so many hours sitting on your tush that you begin to notice that your sofa sinks deeper in that spot where you always sit for nursing sessions. 

You cannot figure out how to keep your older children entertained while you nurse around the clock. You feel guilty about how much TV they're watching for that reason . . .

You don't like feeling like you're being chewed on all the time. (Again, who would?!)

You feel tied down, committed to the clock. Especially if your baby won't take a bottle, you can't be away from him for more than a few hours.

You are more comfortable nursing at home than in public, which ties you not only to the clock but to the house.

You feel like no matter how you position that baby, you cannot fully straighten your back. The backache wears you down!

You wish to high heaven that you could let that baby sleep! But to ensure good supply and proper weight gain, your pediatrician has encouraged you to wake him up every three or four hours.

At risk of sounding crude, pumping makes you feel like a milkcow. (Right?!) And if you have other children or need to pump at work, it can be hard to find a private space and a quiet minute for it.

You're drowning in all the water you drink to maintain supply, and you are hungry all the time!

You miss your old bras. Finding a good nursing bra is as hard as finding that long-lost sippy cup somewhere in your house. Maybe harder.
If you haven't yet nursed a child and I just struck fear into your heart, please know that many of these complaints dissipate after the first two or three months. As your baby grows and drops a feeding here and there, I would bet you'll find yourself enjoying it more. You'll establish a rhythm that you're comfortable with, and those beautiful moments where you connect with your baby will start to stand taller in your memory.
I love those moments. I'm nostalgic for them. I wish I had taken pictures of me nursing each of my babies, especially because for us, it never lasted more than a few months. But I'm also perfectly comfortable saying that it was a challenge for me.
I don't intend for this to be a discussion of how much you should sacrifice to make nursing work for you or how long you should keep it up. I simply hope for this post to be a place where women can find common ground, even if it is as simple as a distaste for nursing bras. 🙂
What was your experience? Did the challenges of nursing surprise you? Did I miss any complaints? 
To read more about my breastfeeding experience with all three babies, check out my guest post at the Girl in the Red Shoes.