This is a guest post from mindfulness mentor, blogger, and host of The Mindful Kind podcast, Rachael Kable. 
I was studying psychology and volunteering on a helpline at an anxiety recovery centre when I really began creating my own mindfulness practice. After struggling with stress for much of my life, I was grateful to discover such an empowering way of managing it.
And the more mindful I became, the more benefits I discovered. Better sleep, stronger relationships, more calm and enjoyment, increased self-awareness and so much more.
Being more mindful has helped me learn how to sink into the present moment and actually experience it, rather than constantly be distracted by the future or the past. It's given me so many opportunities to discover richness and depth in daily life, whether I'm going for a slow walk around my neighbourhood or spending time with the people I love.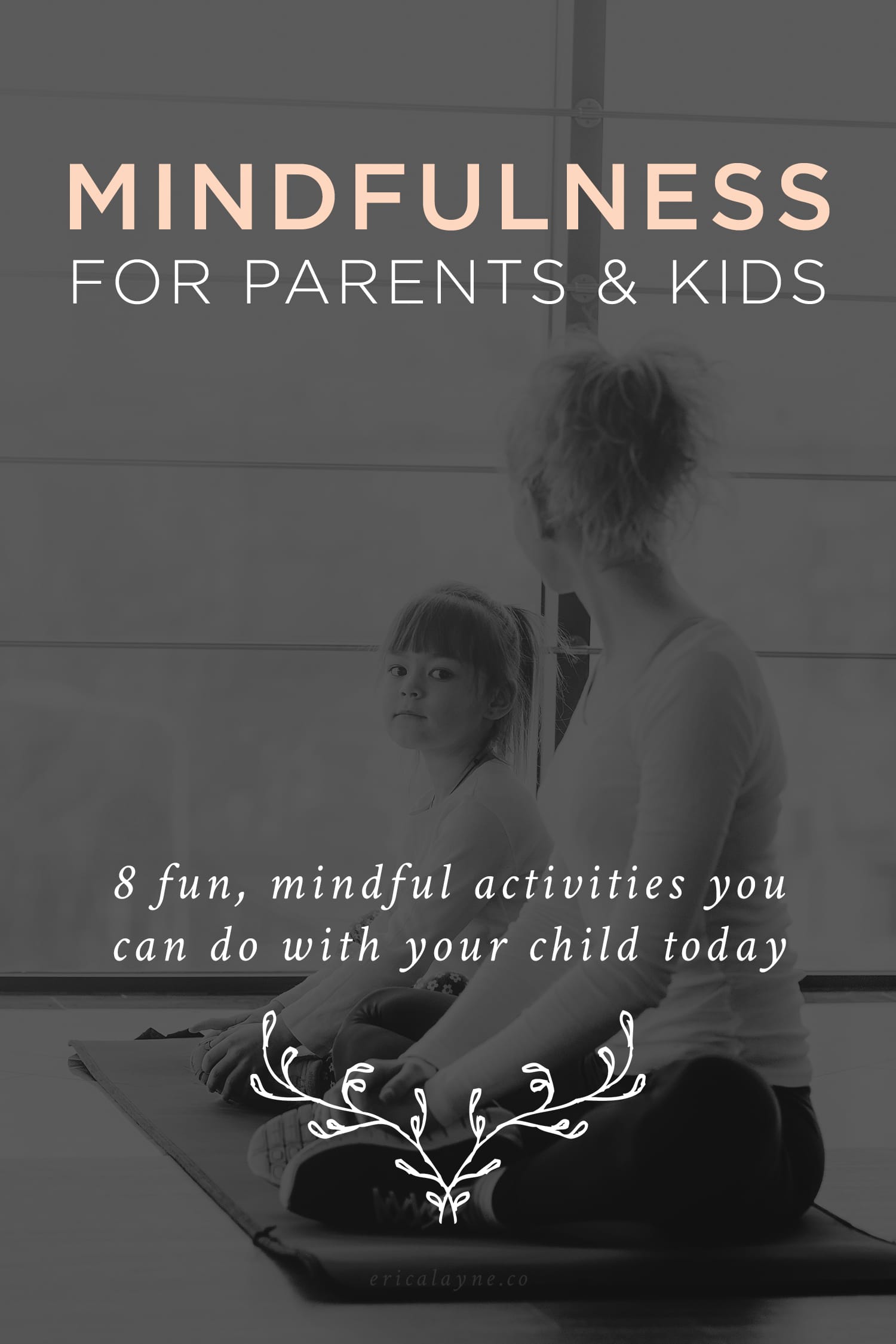 If you'd like to experience the benefits of a more mindful life and teach your kids at the same time, here are eight simple, fun, mindful activities you can start trying today.
8 Fun, Mindful Activities for Parents and Kids
1. Taste Test
Choose 5-10 (safe!) things to taste test, and have your child put on a blindfold. Ask her to try and guess which items she's been given, using only the senses of smell, touch and taste. When she's tried everything, swap roles so she can choose things for you to taste test.
Encourage your child to explore her senses and describe what she notices about each item of food.
2. Press Flowers
Go out in the garden with your child and find some fresh flowers to press! Put each flower in an old and heavy book (make sure it's one you don't mind being damaged; you could always pick up a book from a second-hand shop if you prefer!), and spread the flowers out so there are thick spaces in between. Close the book and place something heavy on top.
Every few days, move the flowers to different pages so they can continue absorbing the moisture. After two or three weeks, the flowers should be dry and you can very gently move them. Your flowers can be framed, used in art projects, or preserved in a scrap book.
Creative projects like these are great for cultivating mindfulness as they help us focus our attention on what we're doing and express ourselves creatively!
3. Communicate
Make intentional communication a regular part of your day and practice mindfulness in a meaningful way. Simply ask your child to describe their day and listen carefully and non-judgmentally, taking the time to reflect back what they've said to show you're paying attention.
Need a few more interesting ways to communicate? Try some of the questions below.
Tell me which emotions you felt today and how they came about?
What is your favourite thing to do at the moment?
Describe what you like about yourself?
Who do you look up to?
4. Go On An Adventure
Adventures are wonderful opportunities to be mindful as they naturally draw our awareness and bring us into the now. Here are a few ideas for fun adventures you can go on with your child:
Berry picking
Beach hopping
Exploring local gardens or nurseries
Visiting a museum, art gallery or chocolate factory
If possible, leave unnecessary technological items at home so you can immerse yourselves in your adventures together.
5. Colour and Create
You can scrapbook, take photos, colour, paint, make a blog, press flowers (see tip number 2!), play music—whatever you would both like to do. Talk about the creative process and discuss ideas, trying not to judge the final outcomes or be critical. The focuses for these creative sessions are to have fun, connect and pay attention to each moment you have together. 
6. Yoga
Do some research and find if a yoga centre offers child-friendly classes, or look up an easy tutorial online to try in the lounge room.
Encourage your child to listen to his body and tune in to his breath, and make sure you try, too!
7. Meditate
Try attending a class together, using a meditation app, or downloading a simple meditation script and reading it to your child. Related: A Meaningful Mindfulness Routine for Beginners
8. Journal
Journaling is another mindfulness practice that we can easily incorporate in everyday life, and it can be a fun and meaningful way to spend time with your child. Here are a few ways you can try it:
Buy matching journals for you and your child and dedicate ten minutes each night to sit down and write about your favourite memories from your days.
Keep a memory box. At night, write down with your child a favourite memory to place in the box. Before the start of the New Year, read through all the memories you kept from the year.
Create a gratitude journal by passing a journal back and forth between you and writing down 3 things you're grateful for.
No matter which exercises you try, keep in mind that mindfulness is the practice of being present in the moment, letting go of the past and future, and being open to your experience (without being judgmental of it). Enjoy!
For more mindfulness ideas and inspiration, I'd love for you to head over to my website at www.rachaelkable.com. 
---

Erica note—You and your kids might also appreciate some of these fun reads! (I just ordered A Handful of Quiet!) 
Sitting Still Like a Frog: Mindfulness Exercises for Kids (and Their Parents) 
The Lemonade Hurricane: A Story of Mindfulness and Meditation
What Does It Mean to Be Present? 
A Handful of Quiet: Happiness in Four Pebbles