Do you ever feel like your time isn't your own? Like you've parceled it out to everyone and everything around you?
Over the summer, my husband took our kids out of town for a week. I noticed during that week that I woke up every morning instantly feeling FREE, just knowing that the entire day was open to me and I could use it however I wanted. (It was VERY strange. 😂)
When my family came home, I noticed that I wasn't waking up with that feeling anymore—that hope of a fresh, new day. My time no longer felt like it was MINE.
I'm sure you get this. We are the meeters of needs. We get the small humans where they need to be; we get the food inside the house and onto the table; and we try our hardest to look into the eyes of our loved ones and listen to their problems when they're hurting.
We meet the needs around us, and it's important, society-building work we're doing. 👊
But sometimes it feels like all of that serving comes at a cost. A loss of autonomy, maybe? A loss of empowerment… Sometimes even a loss of SELF.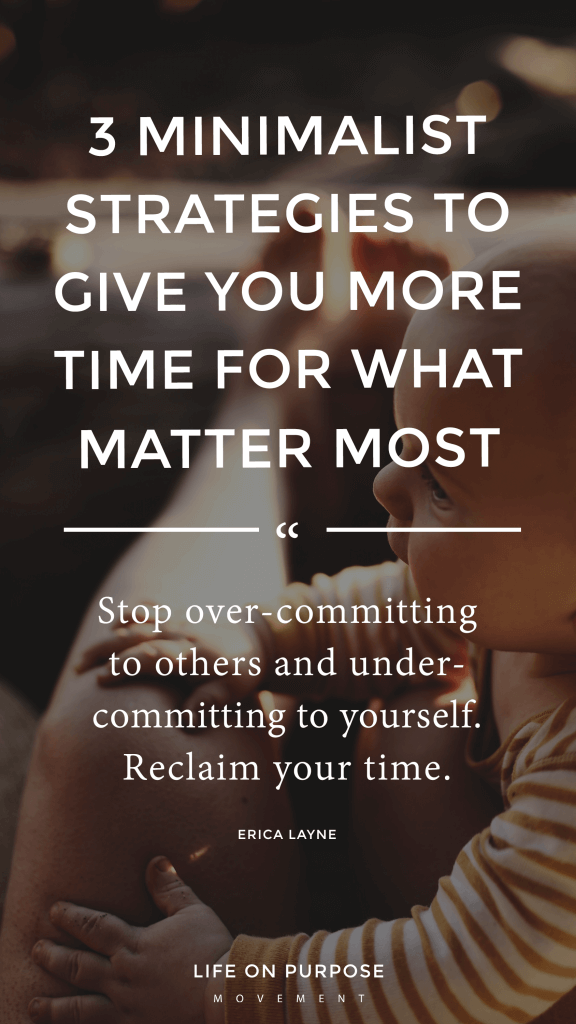 Here's the thing (that you might not want to hear): No one can decide how to use your time but you. No matter how many needs you feel like you have to meet each day, no matter how many to-do's you want to cross off your list, it's up to YOU to decide.
So how about we make a pact? Let's take back our time. (And in the process, if we're lucky, more parts of OURSELVES.)
Today I'm sharing three minimalist strategies for reclaiming your time and putting it toward the things you care about most!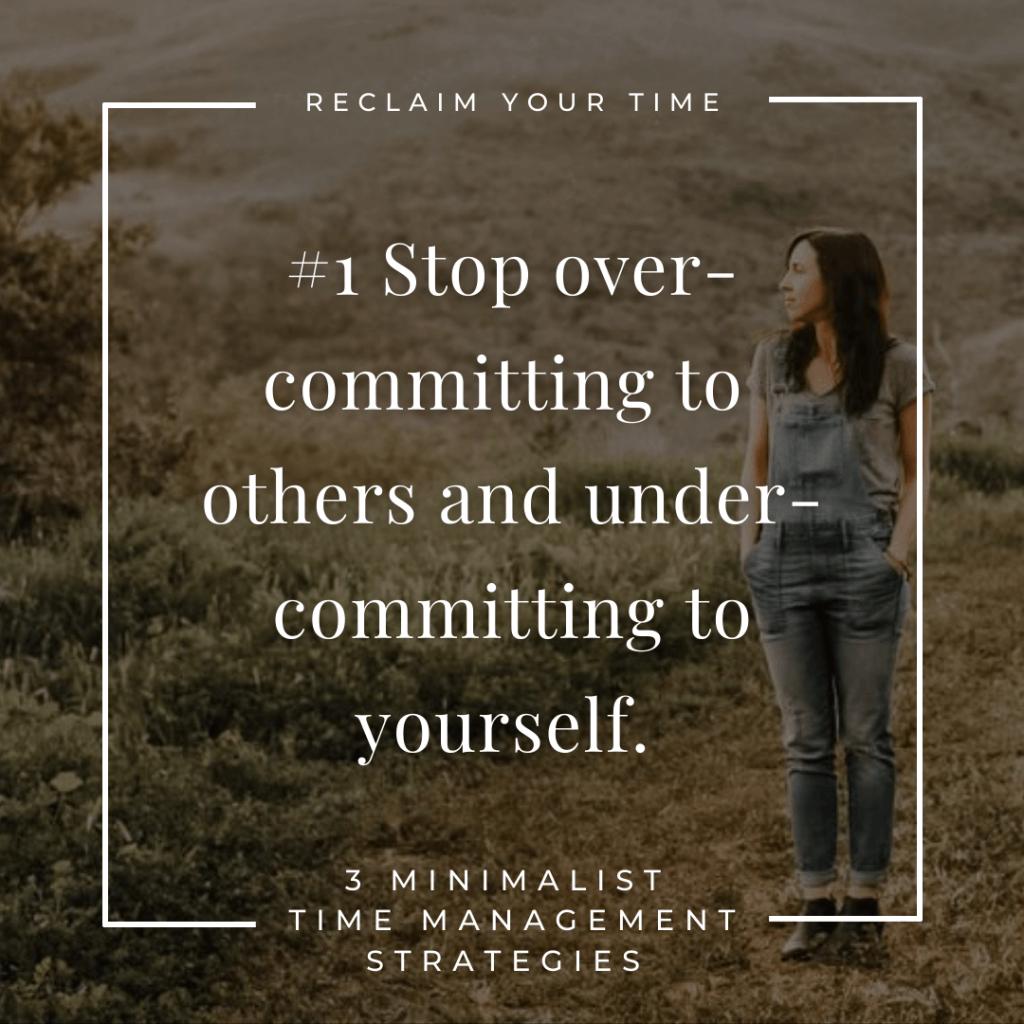 Reclaim Your Time: 3 Minimalist Strategies to Give You More Time for What Matters Most
1. Stop over-committing to others and under-committing to yourself.
As much as I wanted to hit you with something uber-practical for the first tip, I just don't believe you can really reclaim your time without this essential mindset shift. 👊
Your wellness—your wholeness as a human—MATTERS. And it takes TIME to invest in your own care.
Too many of us are over-committing to others and under-committing to ourselves.
Would you bail on a friend the way you so often bail on your own priorities? I don't think you would!
So friend, I hope you hear this loud and clear: You are just as deserving of your own time as anyone else. ❤️
Our next minimalist strategy for reclaiming your time is…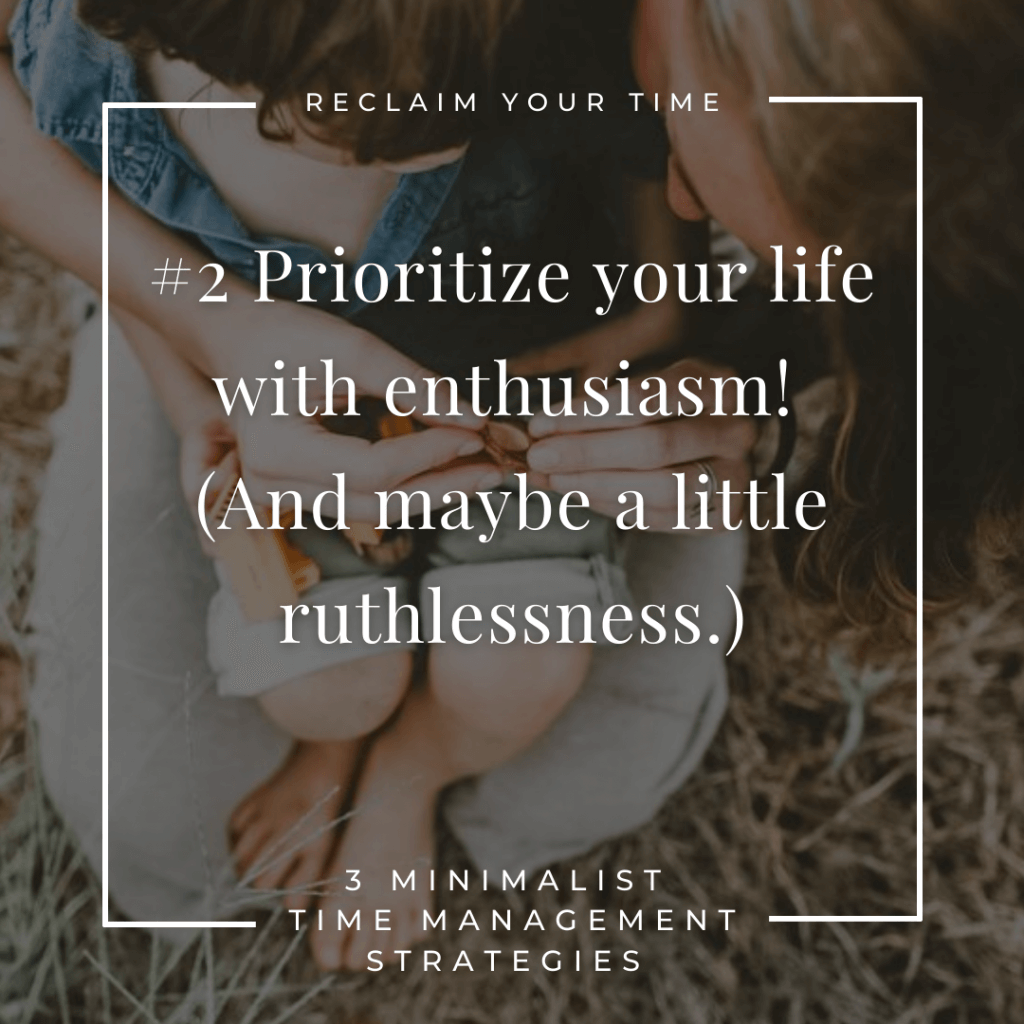 2. Prioritize your life with enthusiasm! (And maybe a little ruthlessness)
Hands down, the best tool I've used for prioritizing my time is knowing my personal values and paying attention to how each activity and commitment in my life is SERVING those values.
Here's a simple exercise to help you do that:
Step 1. Look at your calendar for the next two weeks, and make a list of every activity and commitment you've got on there. If you keep a to-do list, throw those on there, too! This will give you a good picture of how you spend your days.
Step 2. Next to this list, write your top 3 personal values for this season of your life. (Quick aside: If you haven't pinned down your top 3 values, I've got a list of 62 values that makes a great starting point. You can download them here.)
Step 3. Look at the list of activities and to-do's you made in Step 1 and compare each item to your personal values. Ask yourself whether each item on your list is contributing in a meaningful way to the values you're trying to build your life on. If it's not, just for the sake of this exercise, cross it out.
For the record, I'm not saying you should immediately drop everything that isn't in service of your values, but I do think this exercise will help you find some things you can set down for a while, as well as some priorities you want to give more attention to. ❤️
Now for our third minimalist time management strategy, which is to…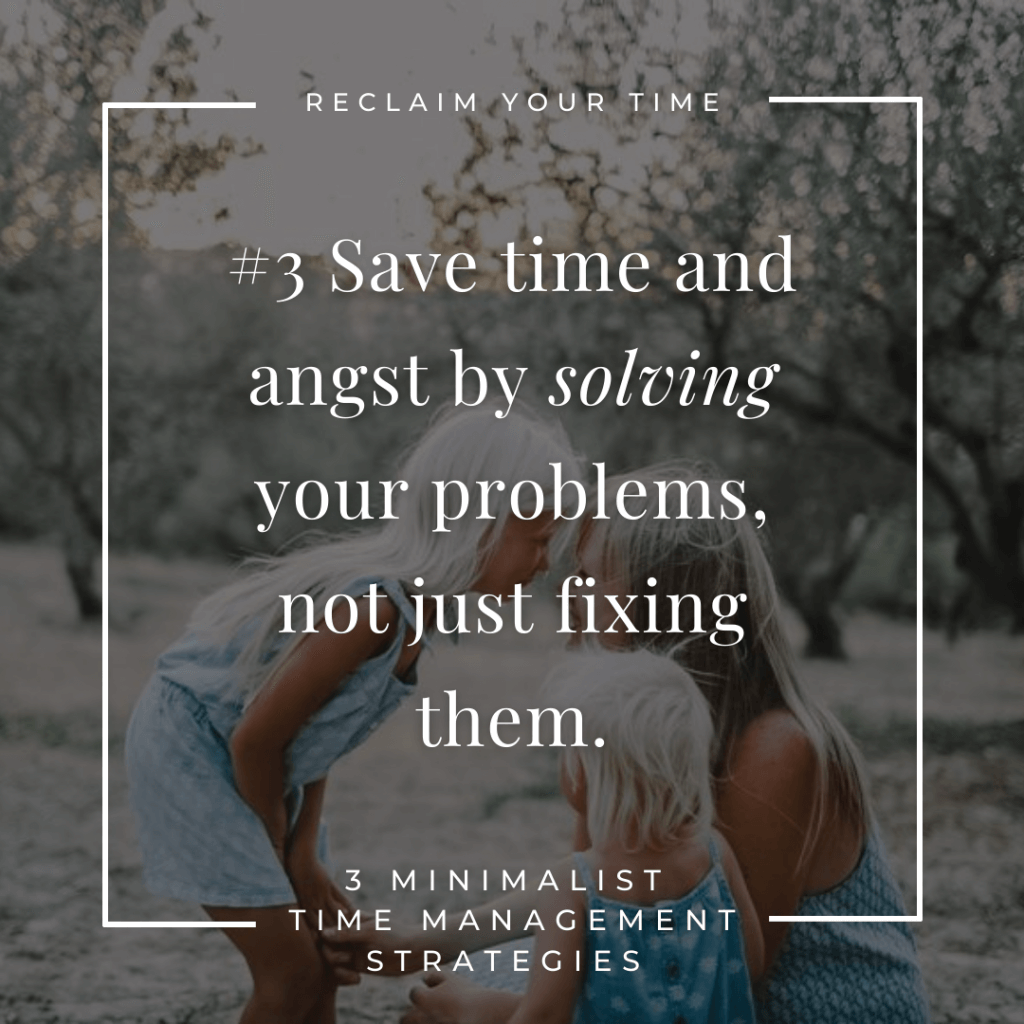 3. Save time and angst by solving your problems, not fixing them.
How many times have you "fixed" a problem—only to have to re-fix it half a minute later?
A fix is quick but—too often—temporary. It's like trying to patch a bike tire when you know it really just needs to be replaced. A solution may take more effort up front, but it saves your booty in the end, because a solution LASTS.
Years ago, I read about a woman who applied the "solve, don't fix" concept to her kids' morning routine.
She worked hard to teach her kids a specific order for their routine (get dressed, have breakfast, pack lunches, brush teeth), so that eventually her kids could wake up, get ready, and even load themselves into the car without her help. (#goals, right?)
Over time, this saved her hours of corralling, coordinating, and cajoling.
What are YOU continually fixing when—with a little more effort up front—you could find a lasting solution?
Maybe it's the unruliness of your email inbox, your system for processing mail and paying bills, your plan-of-attack for your family's laundry… Think creatively, and stretch yourself to find solutions instead of patches. 🙌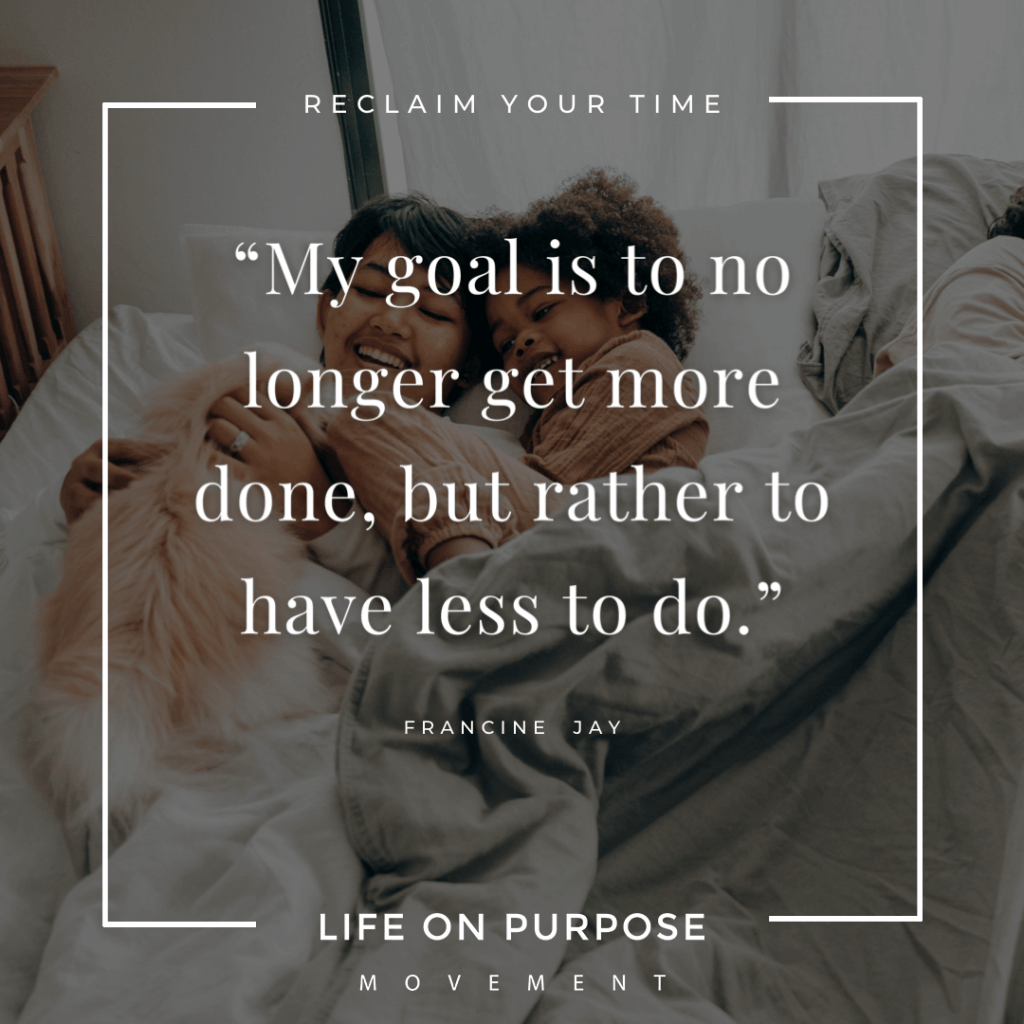 I think this quote from Francine Jay sums it all up perfectly: "My goal is no longer to get more done, but rather to have less to do."
Getting things done more efficiently is GREAT, because it can give you more time for the things that matter most. ❤️ But equally important is making sure that you're doing the right things in the first place.
---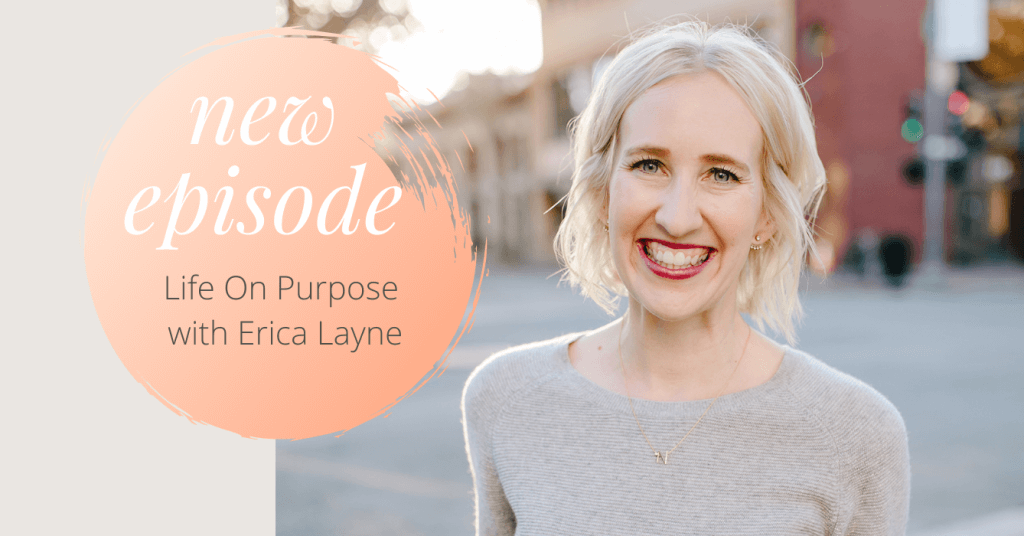 More from Episode 8 of "Life On Purpose with Erica Layne"
Here's what else you can hear in the latest episode of the podcast!
Permission to be you: A segment where I give you full permission to be the person you already are. In this episode, I remind you that it's okay to express your own likes, dislikes, wants, and needs. It's okay to be you.
Self-Care Spotlight: A segment where I remind you not to neglect the person you spend all of your time with—you! Today I share a simple practice that help you clear the chatter in your mind.
Want to discover your top personal values? It's crucial to building a life that fits. Use my free list of 62 values—at the bottom of this post—to narrow down yours!
Listen to the full episode in your favorite podcast app, or in the audio player below! And be sure to hit subscribe!
Apple Podcasts | Google Podcasts | Spotify | Overcast | Stitcher
---
Show produced by Callie Wright