It's February. Gone are the weekends when our toddler wakes up asking hopefully, expectantly, "Beach? Hike?" And a minute later, "Beach? Hike?"
I know, darling girl. I want to get out too. But I'm running dry of ideas—things we can do even when it's cold or rainy—and we're all driving each other even crazier than normal.
Which brings me to today's list.
It's possible… just possible… that this list is a thinly disguised game plan to help me keep my sanity during these last few weeks of winter. 🙂
And this, sadly, is coming from a girl in Northern California. I give major, major props to moms in cold climates! (You Midwest moms deserve to be sainted.)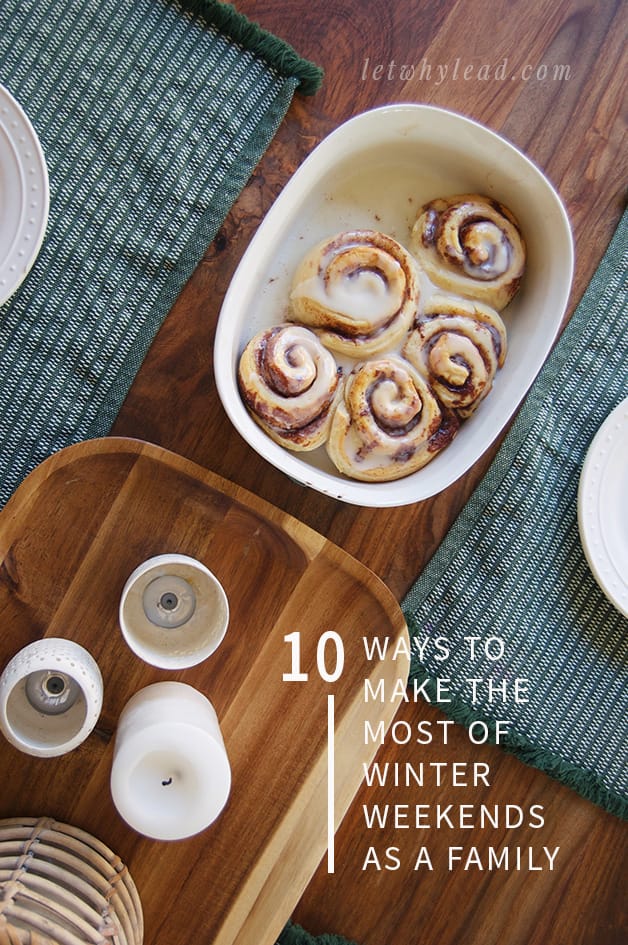 10 Ways to Make the Most of Winter Weekends as a Family
1. Play up family breakfast. With cool morning temps, I'm rarely in a hurry to get out the door on a Saturday morning. Why not lounge a little and make the most of a family breakfast? Check here for more ways to make family breakfast a little extra special. For the breakfast pictured in this post, we were treated to Pillsbury™ Grands! Cinnamon Rolls, which are so pretty, easy, and quickly consumed by my team.
Planning a special family breakfast doesn't have to mean a ton of prep time in the kitchen. I love that these cinnamon rolls let me enjoy time with the family, rather than being near them while I was preoccupied with making the meal.
And as I mentioned in the fall, my kids love jazzing up a simple, sweet breakfast food like Pillsbury Grands! Cinnamon Rolls with sprinkles. It gets them involved and just makes the morning that much sweeter.
2. Restaurant hop. For the foodies out there, winter is a great time to start (or build on) a list of restaurants you've been wanting to try or great food spots you've been meaning to get back to.
3. Get out there anyway! This one is big for our family right now. In fact, as soon as I finish writing this post, we are heading to the beach! Bundled up, of course, but still! For those of you living in colder climates, check out these great Outdoor Winter Activities for Families.
4. Try a winter sport you've never done before. In the post I shared above, I love that Rebecca mentions her family's ice fishing excursion. How fun would it be to have this conversation with a friend— "So, do you have weekend plans?" "Oh you know, just going ICE FISHING!" (Substitute ice fishing for any other winter adventure you've never tried.)
5. Take advantage of early sunsets. Early sunsets are single-handedly the greatest silver lining of winter. It is so much easier for me, especially as a mom of kids with early bedtimes, to catch sunset when the sun sinks at 5pm. Whether you're standing in your front yard or facing the ocean, I hope you find some sunsets to soak in this season.
6. Plan a "food crawl." Ever done a pub crawl? I can't say that I have (or that I ever will…), but I like the idea of it! But rather than cart your family from bar to bar (ha!), try getting your family involved in choosing different restaurants for different courses, all eaten back to back. A progressive dinner. (I think kids of any age would eat this up! #literally)
7. Consider a staycation. Sometimes a night away makes everything better. Our family occasionally uses hotel points to sneak away for a night, even if we're less than an hour away from home. It's so fun to order room service and to all fall asleep piled into the same bed every now and then! We also may or may not choose our hotel based on the quality of the pool / jacuzzi area, even in the winter. (See the next point.)
8. Find yourself a jacuzzi! What's better than soaking in a hot tub in the winter? Kids love it (assuming the water isn't scalding), grownups love it—it's a win-win!
9. Become connoisseurs of hot chocolate. I think this would be such a fun thing to work into your family culture. Let's say every February you hit a couple of local cafes with noteworthy hot cocoa, and you try some fun variations of hot chocolate recipes at home. Done and done.
10. Throw a family read-a-thon. Blankets, popcorn, piles of library books—and all members of your family (including Mom and Dad!) lost in imaginary lands for a couple of hours. (This makes me excited for when all of my kids can read!)A huge thanks to General Mills for sponsoring this post!
So how's winter going in your neck of the woods? You surviving?
---
Disclosure: This post was sponsored by General Mills through their partnership with POPSUGAR Select. While I was compensated to write a post about Pillsbury™ Grands! Cinnamon Rolls, all opinions are my own.